The Daily Escape: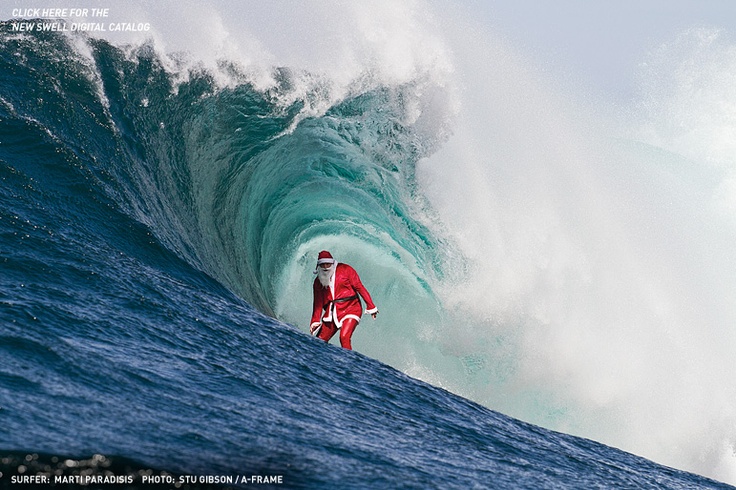 Surfing Santa via Pinterest
After more than 3½ years of pursuit, Rep. Richie Neal (D-MA), Chair of the House Ways and Means Committee finally was given access to Donald Trump's tax returns. Trump had refused to provide them and sued to prevent the IRS from giving them to Congress.
But after a federal district court waited 2 ½ years before opining and a subsequently, a federal appeals court ruled in favor of the Committee, the Supreme Court declined to block the release of the returns to the panel last month. The Committee debated over whether to release Trump's returns to the public and decided by a Party-line vote to do so.
The NYT tells us about the big takeaway from the release:
"The Internal Revenue Service failed to audit former President Donald J. Trump during his first two years in office despite a program that makes the auditing of sitting presidents mandatory, a House committee revealed on Tuesday after an extraordinary vote to make public six years of his tax returns."
It's called the Mandatory Presidential Audit Program, but the IRS never even got around to looking at Trump's. It was only after the Committee asked about Trump's returns in 2019 that the IRS finally opened an investigation of Trump's 2016 returns, even though it had been tasked by that time with auditing him from 2015 through 2018.
That he wasn't audited is strange, to put it mildly. Getting his returns has validated the Committee's stated premise for opening the case. The Committee is now recommending that the Mandatory Audit Program, which has been in place since the Carter administration, be codified into law.
While not auditing the president, the IRS was quite busy auditing the returns of the FBI's James Comey and Andrew McCabe, two enemies of Trump instead.
The Republican objection to releasing Trump's returns was based on the idea that even public servants have a right to privacy about their financial matters. Wrongo has some sympathy for that, but the tax returns of all top government officials should be made public by law.
Rep. Kevin Brady (R-TX) warned that releasing Trump's tax returns could lead to the release of tax returns of Supreme Court Justices: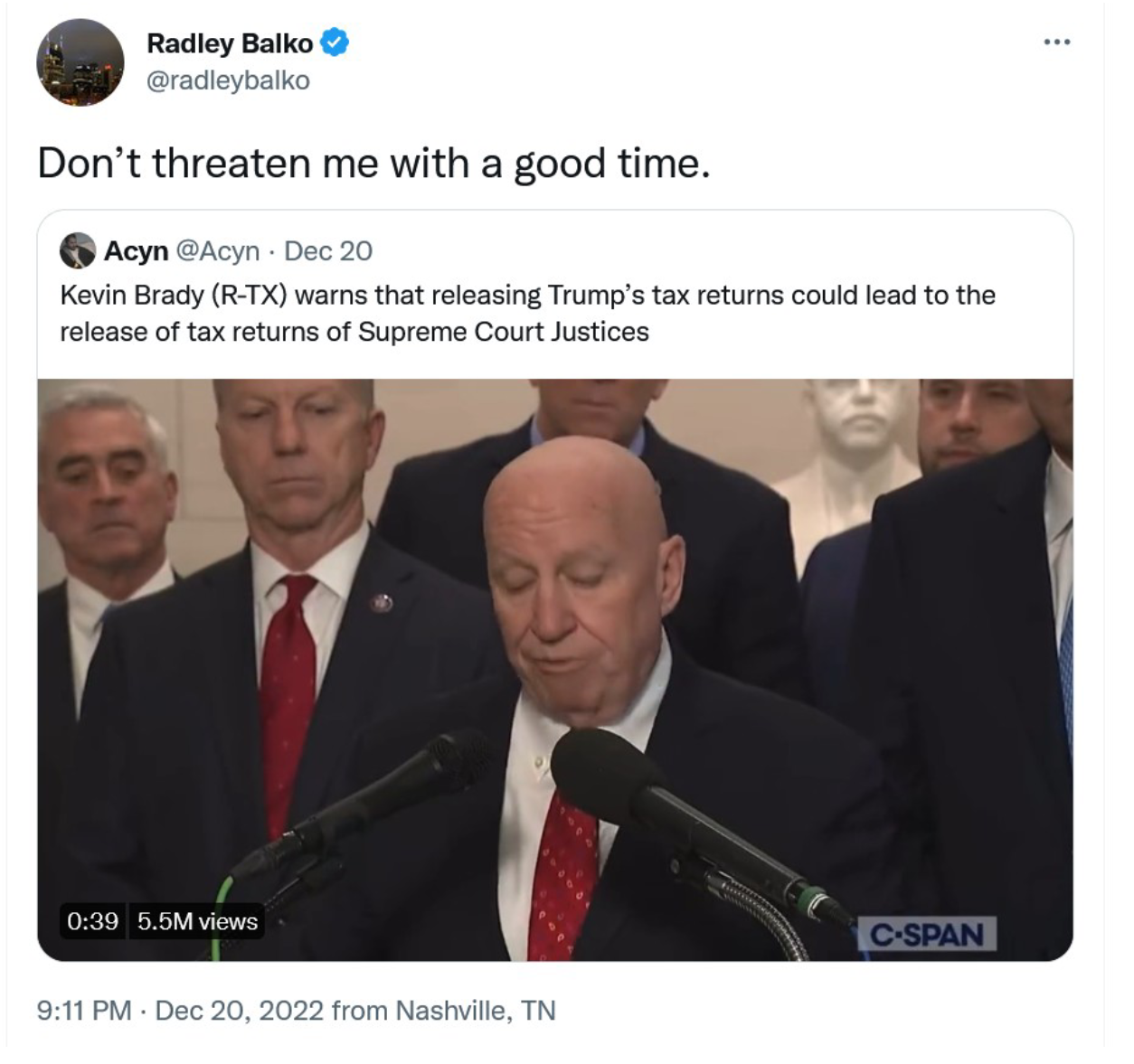 Are you trying to hurt the Democrats, Kevin? Shouldn't we routinely audit every senior government employee? Shouldn't those audits be public? And especially the Supreme Court Justices, for whom ethics seem to be optional.
There's also the threat that Republicans who will control of the House in January, will release the tax returns of Democrats. Wrongo thinks they should release any elected official's return. After all, a government employee is paid by your taxes, so you have some right to transparency.
The difference is that Trump refused to release his, while most politicians release theirs after they are nominated for office.
For those Democrats who are now saying that it was a mistake to release them because of the Republicans' possible retaliation, the last 30 years have been about Republicans going after Democrats with investigations and inventing scandals out of thin air for partisan political reasons. They will continue to do this irrespective of whether Trump's tax returns were released.
Some media are reporting that Republicans are saying:
"….the Democrats don't want to go down the road of releasing tax returns because where will it stop? with releasing tax returns of ordinary citizens?"
This is hyperbole. The media should ask Republicans who say this:
"Why are you so concerned about the House releasing the tax returns of ordinary citizens? Your Party will control the House. Are you concerned that your fellow Republicans would release tax returns of ordinary citizens?"
Next thing you know they'll be asking for official college transcripts! Or, certified birth certificates. Oh, wait, they've already done that.
Because the Committee released Trump's tax returns, we now know is that the IRS did not even begin its mandatory audits of Trump's taxes until 2019 and hasn't completed any of them.
Let's close today with a tune for Hanukkah which this year is at almost the same time as the Christmas holidays. Let's watch and listen to the Maccabeats perform "Latke Recipe" to the tune "Shut Up And Dance" originally performed by Walk the Moon. It's fun, and who doesn't like latkes?: