The Daily Escape: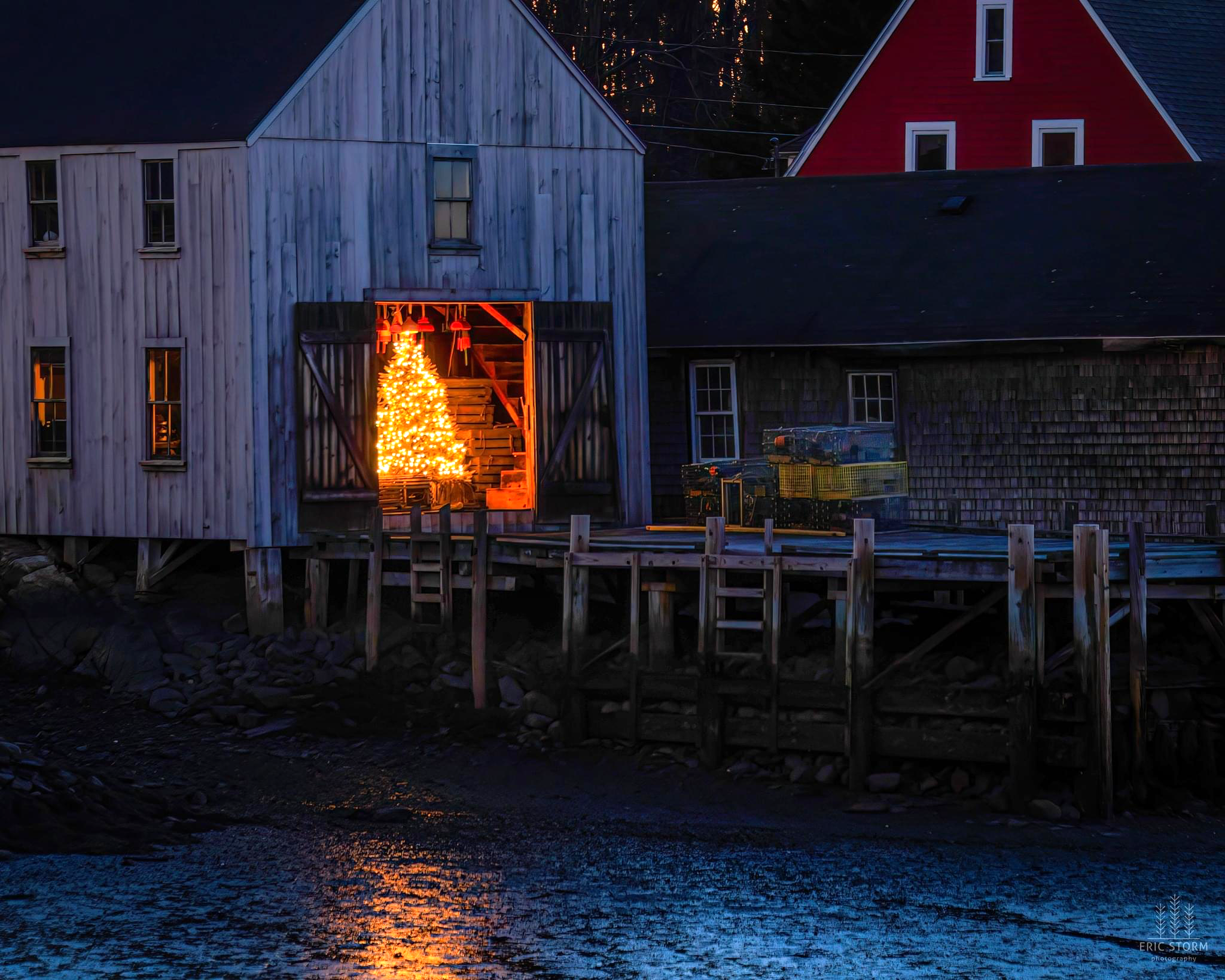 Christmas Tree, Cape Porpoise Harbor, Cape Porpoise, ME – December 2022 photo by Eric Storm Photography
Wrongo doesn't like to write "Dems in Disarray" articles, but here goes. Monday's NYT had a long article about a Republican Congressman-elect from Queens and Nassau County in NY. George Santos won and is set to be sworn in on Jan. 2. He ran as the "embodiment of the American dream", something he wanted to safeguard for the rest of us. Turns out his back story is extremely difficult to confirm.
From the NYT:
"His campaign biography amplified his storybook journey: He is the son of Brazilian immigrants, and the first openly gay Republican to win a House seat as a non-incumbent. By his account, he catapulted himself from a New York City public college to become a "seasoned Wall Street financier and investor" with a family-owned real estate portfolio of 13 properties and an animal rescue charity that saved more than 2,500 dogs and cats."
Ok, here's the issue:
"….a New York Times review of public documents and court filings from the US and Brazil, as well as various attempts to verify claims that Mr. Santos, 34, made on the campaign trail, calls into question key parts of the résumé that he sold to voters…..Citigroup and Goldman Sachs, the…Wall Street firms on Mr. Santos's campaign biography, told The Times they had no record of his ever working there. Officials at Baruch College, which Mr. Santos has said he graduated from in 2010, could find no record of anyone matching his name and date of birth graduating that year.
Grab your popcorn. More:
"There was also little evidence that his animal rescue group, Friends of Pets United, was, as Mr. Santos claimed, a tax-exempt organization: The Internal Revenue Service could locate no record of a registered charity with that name."
Maybe Santos can explain. His financial disclosure forms say he has money.  He lent his campaign more than $700,000 during the midterm election, has donated thousands of dollars to other candidates in the last two years and reported a $750,000 salary and over $1 million in dividends from his company, the Devolder Organization. But several times, he was evicted for failure to pay rent:
"In November 2015, a landlord in the Whitestone neighborhood of Queens filed an eviction suit in housing court accusing Mr. Santos of owing $2,250 in unpaid rent. In May 2017, Mr. Santos faced another eviction case, from a rent-stabilized apartment in Sunnyside, Queens. Mr. Santos's landlord accused him of owing more than $10,000 in rent stretching over five months and said in court records that one of his tenant's checks had bounced. A warrant of eviction was issued, and Mr. Santos was fined $12,208 in a civil judgment."
He sure sounds legit. How does someone who was evicted for non-payment of a total of about $14,500 in rent wind up in a position where he can loan $700k to his campaign? What caused his sudden change of fortune?
But Democrats, why are we only learning about this after the election? Why wasn't this seriously negative information available before/during the election? Democrats do opposition research, even in a state like NY where they expect to win most seats.
And it gets worse. Santos ran and lost in the same district in 2020. So the Democrat's state political higher ups had YEARS to do opposition research on Santos, but they didn't. The Chair of the NY state Democratic Committee is Jay Jacobs, who is also Nassau County Democratic Chairman. Under his leadership, the Democrats lost four Congressional seats in November.
Within days after the election, dozens of Democratic officials from across the state signed a letter calling for Jacobs to be replaced. They accused him of sleepwalking into the midterms. Was Jacobs asleep at the wheel? Jacobs blames low voter turnout, but it's his responsibility to get Democrats to the polls, to motivate voters to show up. And to check out the backstories of the opposition.
BTW, the NYT reached out to Santos for comment:
"We could not locate the congressman-elect and a person living at his stated address had no knowledge of his existence."
The federal government has a False Statements Act for material omissions or misrepresentations on personal financial disclosures. It carries a maximum penalty of $250,000 and five years in prison. We'll see. The House also has internal procedures for investigating ethics violations, but because Republicans who will control the House with Santos' help, have no bottom for the ethical lapses they'll accept, NY is now probably stuck with this guy.
Let's close with another version of the Mariah Carey hit "All I Want for Christmas is You"  this time performed in 2021 by the Welsh of the West End, a group of UK theater performers: