The Daily Escape: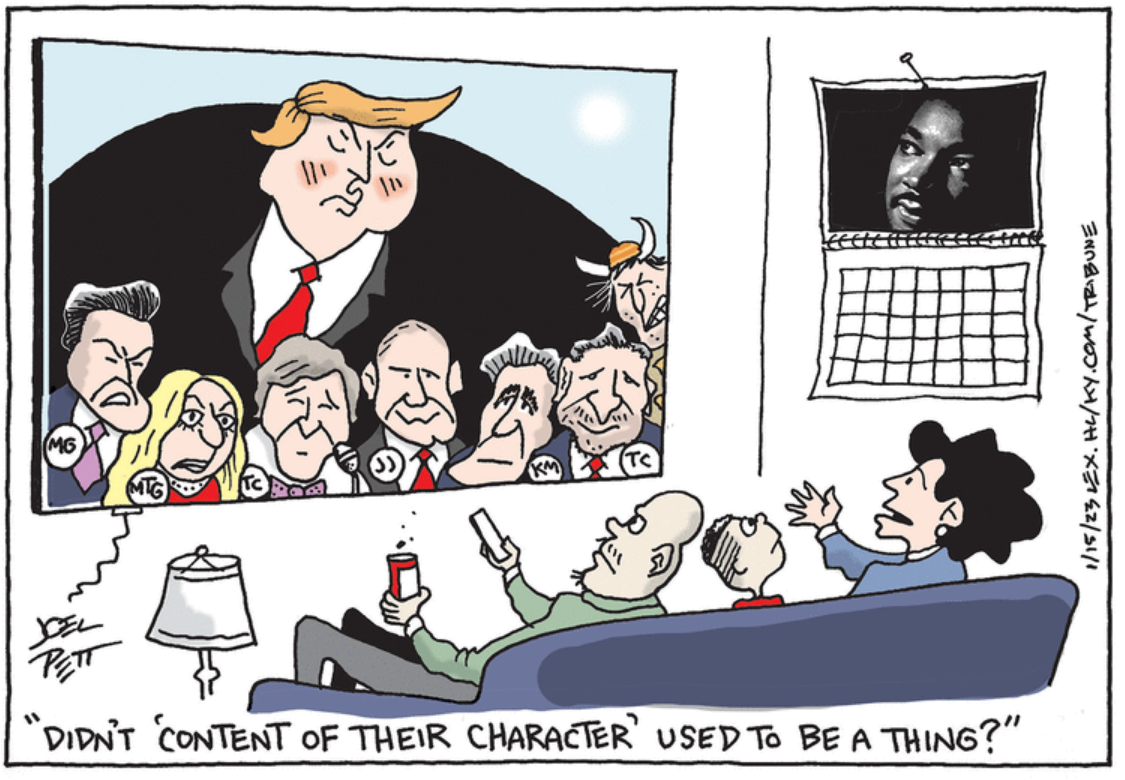 It's MLK day, so let's talk about a topic that was near to his heart: economic inequality. Since 1980, economic inequality has been increasing between the top 1% and the bottom 90% of Americans. It's become so great that today, America now faces the same level of economic inequality that existed before the Great Depression.
Here's a chart from Elise Gould and Jori Sandra of the Economic Policy Institute (EPI) showing the percentage change in annual wages by income group for the last 40 years: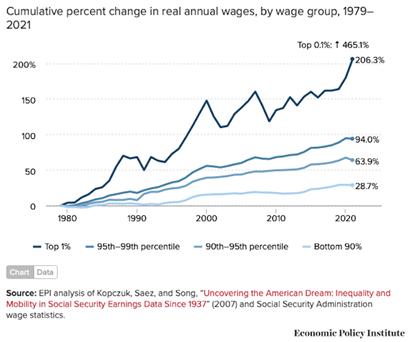 From the EPI article: (emphasis by Wrongo)
"The level of earnings inequality that existed in 1979 could have simply continued…to today. Instead, we have seen a growing concentration of earnings at the…very top of the earnings distribution, while the bottom 90% has experienced meager gains. Wages for the top 1% grew more than seven times fast as wages for the bottom 90% between 1979 and 2021. The top 1% now amasses a record share of total earnings, while the bottom 90% share of earnings has hit a historic low."
Slow growth in real (inflation-adjusted) hourly wages for the vast majority of workers has been a defining feature of the US labor market for most of the last 40 years. Only for about 10 years after 1979 did workers see consistent positive wage growth: in the tight labor market of the late 1990s and in the five years prior to the pre-pandemic labor market peak in 2019.
While some low-wage workers have experienced high wage gains after America reopened from Covid, the truth is that most haven't even kept pace with where they were in 1979.
Today is Martin Luther King Day in America. We mostly celebrate Dr. King's birth rather than acknowledging what he was arguing for when he was killed. His focus at the end was on both economic justice, and voting rights. Perhaps more than any other leader in American history, King could see the different strands of political and social injustice. He was able to tie them together to form a coherent narrative, one that was capable of leveraging dissent for concrete policy change.
Those were the enduring lessons of Dr. King's life.
There's less than three months between the observance of King's birthday and his death. The way each is recognized by politicians reveals the contradictions in his legacy. Most politicians extol the virtues of racial equality, while most ignore King's criticisms of economic injustice.
From his April 30th speech in Atlanta: (emphasis by the Wrongologist)
"A true revolution of values will…look uneasily on the glaring contrast of poverty and wealth with righteous indignation. It will look across the seas and see individual capitalists of the West investing huge sums of money in Asia, Africa, and South America, only to take the profits out with no concern for the social betterment of the countries, and say, 'This is not just'…this business of…injecting poisonous drugs of hate into the veins of peoples normally humane….cannot be reconciled with wisdom, justice, and love. A nation that continues year after year to spend more money on military defense
than on programs of social uplift is approaching spiritual death."
As the EPI report above shows, over the last four decades, policies promoted by the GOP have reduced the opportunities for most workers to achieve wage growth at rate similar to the top 10%.
Time to wake up America! Develop your narrative, one that fights against economic injustice and for voting rights. Add any other issues that are pertinent to you. Take your narrative to your neighbors. Then work to get out the vote.
To help you wake up, watch "People Get Ready", a Curtis Mayfield tune that foretold the turning tide in the battle for racial equality. It topped the R&B charts after its 1965 release by The Impressions. It's been covered by scores of artists, including Bob Dylan, Bruce Springsteen and by Rod Stewart and the late Jeff Beck, who died last week. Early in their careers, in 1969, Beck and Stewart performed together in the Jeff Beck Group. Here's Beck's official music video for "People Get Ready" featuring Rod Stewart:
Jeff Beck was one of one as a guitarist. There was no one better. He had the mindset of a jazz musician playing blues rock. His guitar sound wasn't anything like traditional jazz guitar. He didn't cut his teeth playing the old jazz standards, but he could improvise something fresh every time. OTOH, Wrongo didn't love Beck the recording artist.
Rod Stewart has a secret hobby; he builds model trains. He would take his trains on tour with him, requesting an extra room so he could work on them while staying in hotels. Stewart recently unveiled his 1,500 square-foot replica of post-war Chicago and New York railway systems that took him 23 years to build.