The Daily Escape: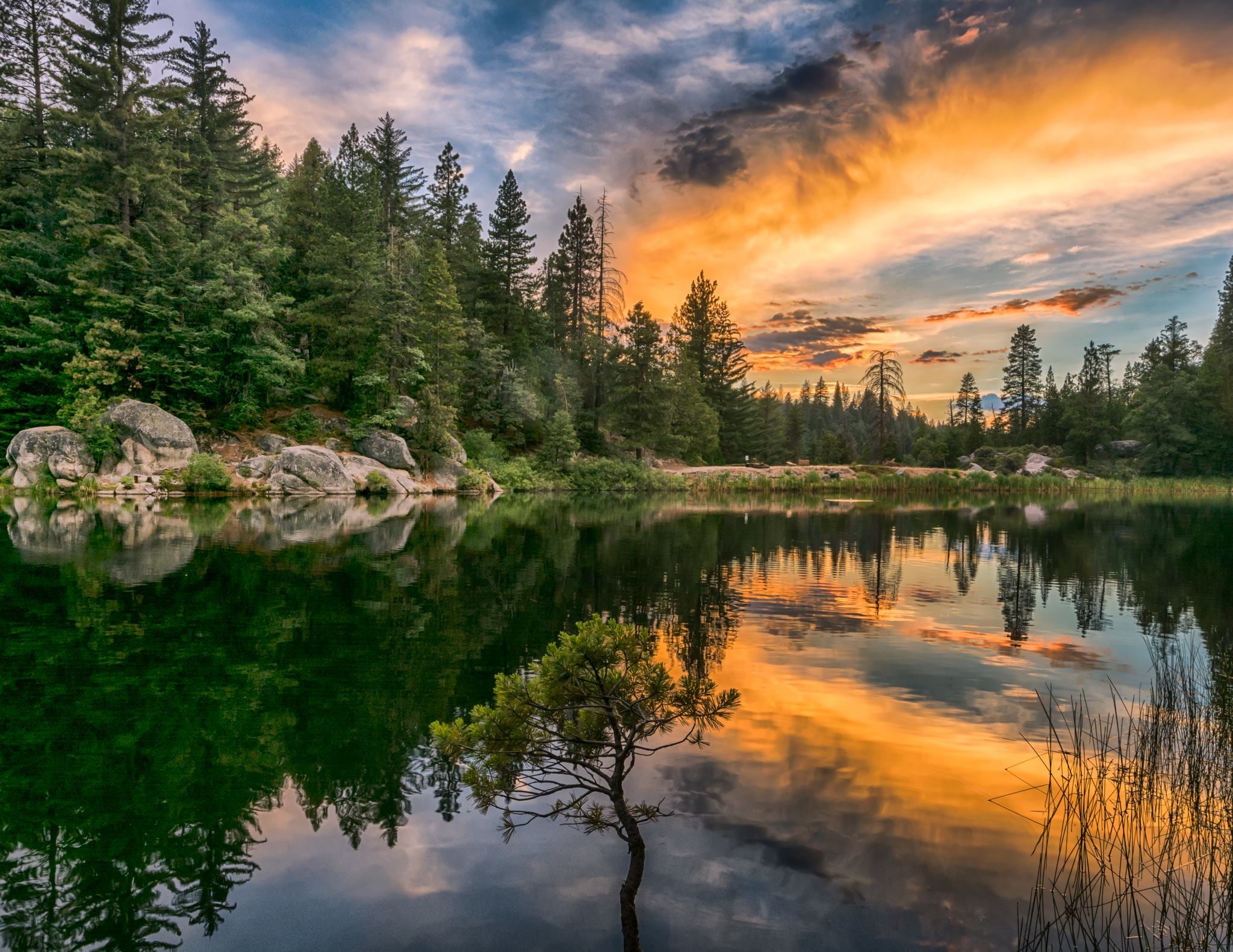 Sunset, Sequoia Lake, CA – April 2022 photo by An Pham
Today is tax day, and Wrongo will get his in on time. But the question of how America deals with its taxing is rightly under scrutiny. Blog reader Ottho H. commented on Wrongo's Sunday post about the IRS:
"To me it's an enduring mystery, and a source of anger and disgust, why Congress starves the IRS…. Doubling the IRS budget (by, say, $12B per year) seems like the best and most "sure thing" ROI the gov't can make….To the extent that the "starve or defund the IRS" movement is due to lobbies and Congressmen out to protect and further enrich the already rich, then at least that should be made more transparent to the public. This is a no-brainer cause that I can get behind."
The IRS is chronically underfunded. Government data show that millionaires and billionaires are rarely audited, while lower-income families are disproportionately targeted (five times more likely) for enforcement actions. The agency is severely understaffed. It works with outdated technology, meaning that any paper returns must first be transcribed into a computer. It also means hundreds of billions of dollars in taxes go uncollected.
The answer to so many of the IRS's woes: antiquated tech systems, congested phone lines, threadbare enforcement –  is more funding. It's one of the few federal agencies that would generate a large and nearly immediate return on investment if it could spend more.
But many Republicans don't want to fix it. Yesterday's WaPo article quoted Sen. Rick Scott (R-FL):
"This additional money for the IRS to target all Americans is absolutely wrong…It will target our families, it's going to target our small businesses, and it's going to go after them to get them to pay more money."
And Sen. Todd Young (R-IN) about how new IRS funding would be used:
"We know that most of this $80 billion will be used to enhance the ability of the IRS to target middle Americans…"
The Economist says that the IRS entered this tax season with a backlog of 24 million returns, 20 times worse than normal. At the end of this tax season, it will be nearly two years late in processing many of our returns:
"Spending [at] the agency has declined by nearly 20% since 2010. At the same time, the number of tax returns has increased by 20%. The backbone of the system, a nationwide taxpayer database, is built on top of a 1960s computer language rarely taught in schools."
The IRS is in the process of hiring 10,000 workers to help clear the backlogs, but the biggest challenge is retaining their senior auditors. About a fifth of agency staff are eligible for retirement. Many have already left as a result of Covid, and they were exactly the kind of people needed to maintain the agency's enforcement efforts.
The Economist says that the IRS audited 0.3% of corporate tax returns filed in 2018, down from 1.6% in 2010. The number this year may be even lower. They quote Charles Rettig, IRS Commissioner, as estimating that the government loses about $1 trillion in tax revenues annually because of cheating.
Even if new funding is appropriated, it will take time to re-build the agency. Money that is appropriated now for that purpose would be spent over the course of the next fiscal year (which ends on 9/30/2023) and the effects of those reforms probably wouldn't start to show in the statistics until then.
It's always been easier to destroy than it is to build. Credit the GOP for understanding this truth.
Time for the Republicans in Congress to wake up! No one likes paying taxes. Even for those who recognize that there's a societal gain when we all pay them, filing our tax returns is a hassle. It's time we had a better funded agency that could return the enforcement efforts back toward the richest corporations and wealthy individuals first.
To help our Congress Critters wake up, watch and listen to Mavis Staples perform "Love and Trust" from her album "Live in London", recorded in 2018 at London's Union Chapel. She's joined by Jump Bluesman Rick Holmstrom on his Telecaster:
Sample Lyric:
The simplest things can be the hardest to do
Can't find what you're looking for even when it's looking for you
The judge and criminal, the sinner and the priest
Got something in common, bring em all to their knees
[Chorus]
Do what you can, do what you must
Everybody's trying to find the love and trust
I walk the line, I walk it for us
See me out here tryin' to find some love and trust
(Love and trust)
(Love and trust)