The Daily Escape: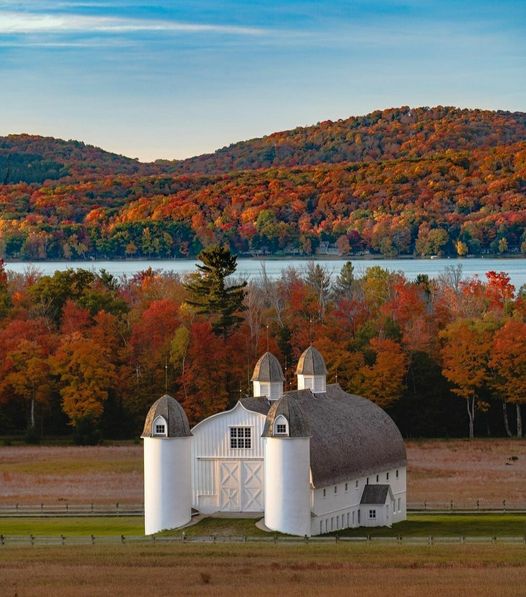 DH Day Barn in Glenn Arbor, MI photo by seedy_reedy_photos
From the WaPo:
"The presidential campaign was roiled this weekend by a fresh outbreak of the novel coronavirus at the White House that infected at least five aides or advisers to Vice President Pence….With the election a little over a week away, the new White House outbreak spotlighted the administration's failure to contain the pandemic as hospitalizations surge across much of the United States and daily new cases hit all-time highs.

The outbreak around Pence, who chairs the White House's coronavirus task force, undermines the argument Trump has been making to voters that the country is "rounding the turn," as the president put it at a rally Sunday in New Hampshire.

Further complicating Trump's campaign-trail pitch was an extraordinary admission Sunday from White House Chief of Staff Mark Meadows that the administration had effectively given up on trying to slow the virus's spread."
The WaPo reported that one of Trump's top staffers acknowledged on Sunday that he (Trump) had tried to avoid disclosing these new White House cases to the public. Some in the VP's office suggested that White House doctors should release a statement saying that [Marc] Short [Pence's Chief of Staff] was positive, and that Pence was still okay to travel. But that idea was scuttled by Meadows and others. Meadows later said:
"We're not going to control the pandemic," Meadows said on CNN's "State of the Union." "We are going to control the fact that we get vaccines, therapeutics and other mitigations."
There is no plan, and no strategy. Trump again said on Sunday in New Hampshire that the country is "rounding the turn", but there's no truth to that. Here are the 7-day average Covid statistics as of October 26: (emphasis by Wrongo)
"Yesterday there were 60,789 new confirmed cases, 16,222 recoveries, 340 deaths. The current 7-day rolling average of 68,768 new cases/day grew 38.8% from 14 days ago, while the average of 794 deaths/day grew 13.3%…"
If cases continue to grow at those rates, the number of cases will look like this:
9,221,976 cases in 7 Days; 9,888,654 cases in 14 Days; 12,042,648 cases in 30 Days
Even if you accept the view that: we can't stamp out the virus, so we've just got to live (or die) with it, this just leads you to the other big idea: We knew back in March that even if we couldn't stop the virus, we had to slow it down enough so that it doesn't overwhelm our so-called "Greatest Health Care System in the World".
If the GOP invested as much energy into fighting COVID as they do in voter suppression, we would have fewer cases and they wouldn't need to suppress votes. Everyone expected that the virus would spread. But the least we should have been able to expect from Trump was an honest effort to inform the public; to do whatever it would take to contain it like the majority of other countries did; and to stop trying to blame someone else for it.
The Covidusa web site says that we've already reached a quarter of a million deaths (225,495) in this country. It's clear that we're being led by a pack of liars who think it's more important to win an election than it is to save American lives. And they have the gall to call themselves "pro-life."
And remember, there are 78 days after the election for Trump to fumble the Coronavirus before he leaves office.
Here's another Trump delusion: This sheet was left on the seat of every member of the press on Airforce One yesterday. (Hat tip: Automatic Earth)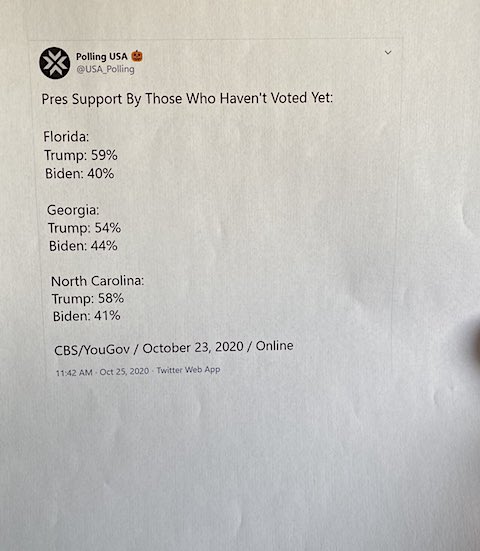 This suggests that the Trump camp expects a Red tsunami on Election Day. That may be true, but it will be very difficult to undo the massive early voting that is already in the books in all the battle ground states.
Every four years we say "this is the most important election of our lives." This time, it's true.
Why? Because if Trump wins again, we may see the freedoms we've long taken for granted curtailed, or in some cases, eliminated. You may think that Wrongo is well, wrong, and an alarmist. But do you REALLY want to take a chance that this isn't the most important election of your life?
Your job is to vote for Biden, and to elect Democrats to the Senate.
There are seven days to go until the election. It's certainly possible that you may never cast a more important ballot in your life. We have no control over what may happen in the future, but we can control what happens in seven days.
We can elect competence, sanity, and a reaffirmation of our democracy, but only if we all vote.