The Daily Escape: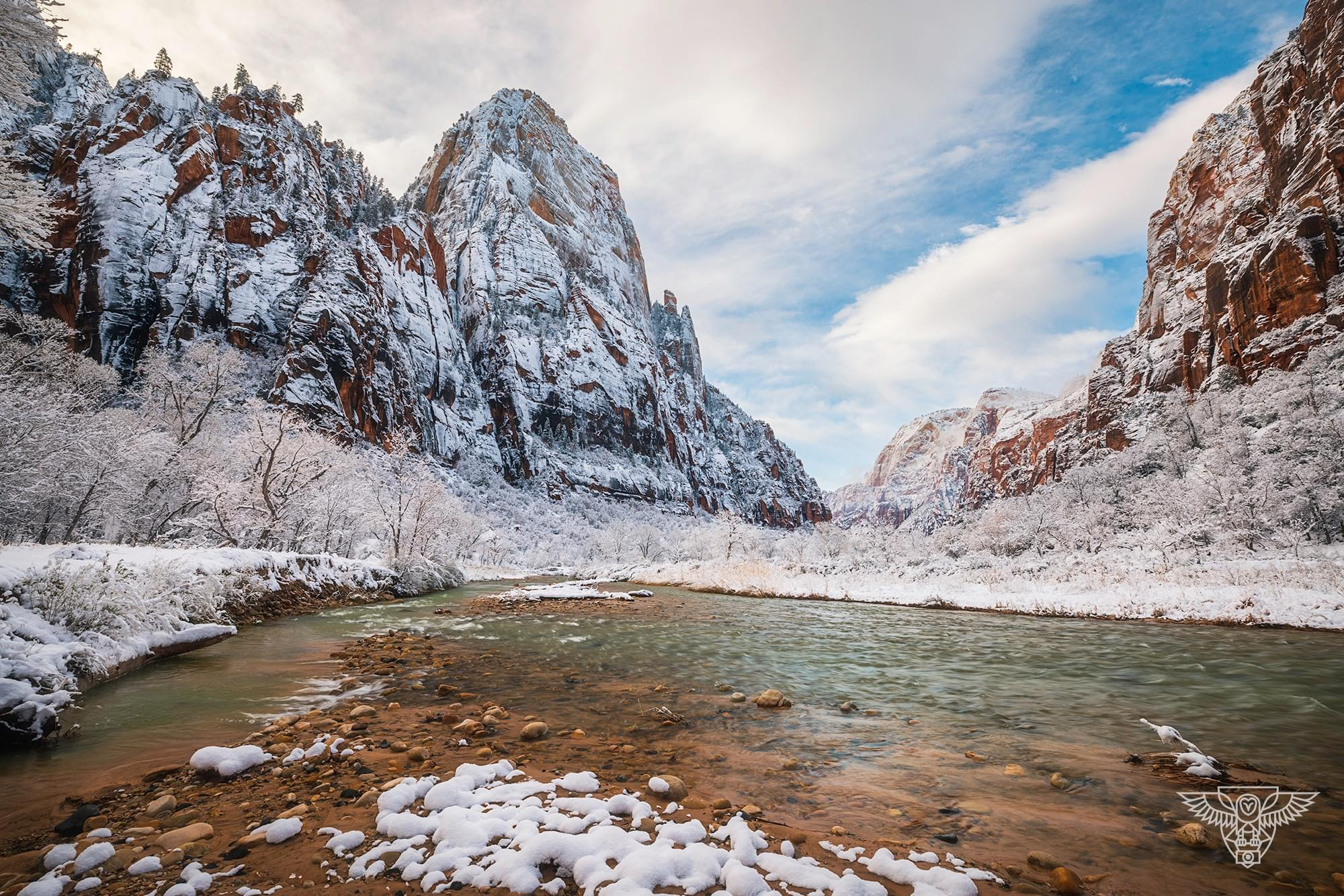 Zion NP in snow – January 2023 photo by Rich Vintage Photography
What is it about the Chinese balloon story? Why did the media and politicians go totally nuts about it? Here's what  Damon Linker thinks: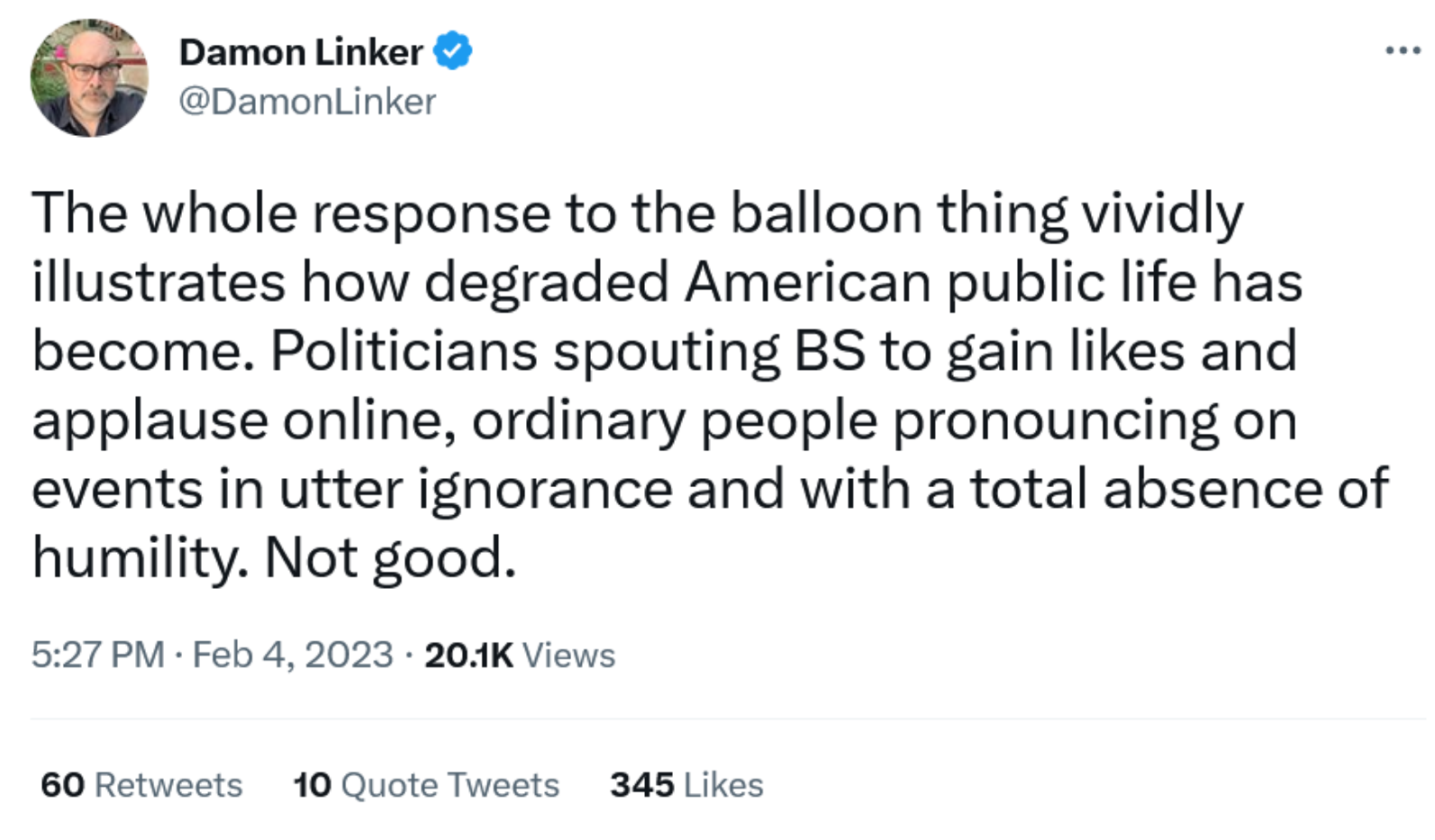 "Degraded American public life". This is another example of Wrongo's column yesterday about how we're all living in our virtual vertical communities. The Republican political vertical immediately locked in, like a cat watching a laser pointer, to this mostly low-risk intrusion into US airspace by China. From Forbes:
"Talking heads on cable TV are up in arms about the Chinese spy balloon that was floating across the continental US, before it was shot down Saturday afternoon. Conservative commentators have insisted President Joe Biden should've ordered the balloon be shot down earlier and that a foreign balloon flying over US territory never would've happened under President Donald Trump. But it did happen under Trump…"
It happened under Trump at least three times.
The Pentagon says it was definitely a surveillance balloon and that China had the ability to maneuver it using external propellers. OK, if you've ever sailed a boat even in a moderate breeze, paddled a canoe across a windy lake, or bicycled on a windy day, you know maneuvering in high winds is very difficult. So how will a balloon generate enough power to overcome the prevailing winds at 60,000'? And the balloon doesn't have an aerodynamic shape. So bottom line, you aren't controlling the path of a balloon in any sizable wind.
A balloon actually sucks for spying. A quick look at earth.nullschool.net shows that the current winds at the specified latitude are running between 50-100 mph. No balloon with a propeller can plow through that. It's likely that the propellers aren't for propulsion, but for changing the direction that the antenna is pointing, so that it can phone home.
It's possible that as the Pentagon says, the deceased balloon was gathering data on our defenses, but all nations do that all the time. So where's our politicians' and the media's common sense? Their hysterical reaction is totally on brand, but as always, very depressing.
We have to hope the politicians and generals who control America's nukes have better minds than our GOP politicians.
Let's deal with the question about why Biden didn't shoot it down over land. One issue was that the debris field when the balloon remains hit the ocean was seven miles long. One advantage of knocking it down where they did is that the ocean is only about 50' deep off the Carolina coast. Imagine a seven-mile debris field spread across any American state: It would be a fantastic opportunity for souvenir hunting.
Back in 1945, before WWII ended, Japan sent thousands of bomb-carrying paper balloons via the jet stream towards North America. Only a small percentage of the balloons reached land. But six people, five of them children, were killed by one balloon that landed in Oregon.
There's a (possibly apocryphal) story about a US Navy ship firing on a suspected Japanese balloon until they finally realized that they were shooting at Venus.
Bottom line, Biden and the US military showed professionalism and caution in tracking and attacking the balloon. The US military was able to jam the balloon's instruments as it crossed America, while collecting information about Chinese intelligence gathering capabilities. They shot it down when and where the risk to civilian casualties and property damage was deminimis. From Robert Hubbell:
"But the 'spy balloon' did allow the Chinese military to glean one significant piece of intelligence about America—that Republicans are clowns who cannot be trusted to run the US military again."
One Republican said Biden should be impeached. Several wanted to "SHOOT IT DOWN NOW". Consider this tweet from Rep. Joe Wilson (R-SC):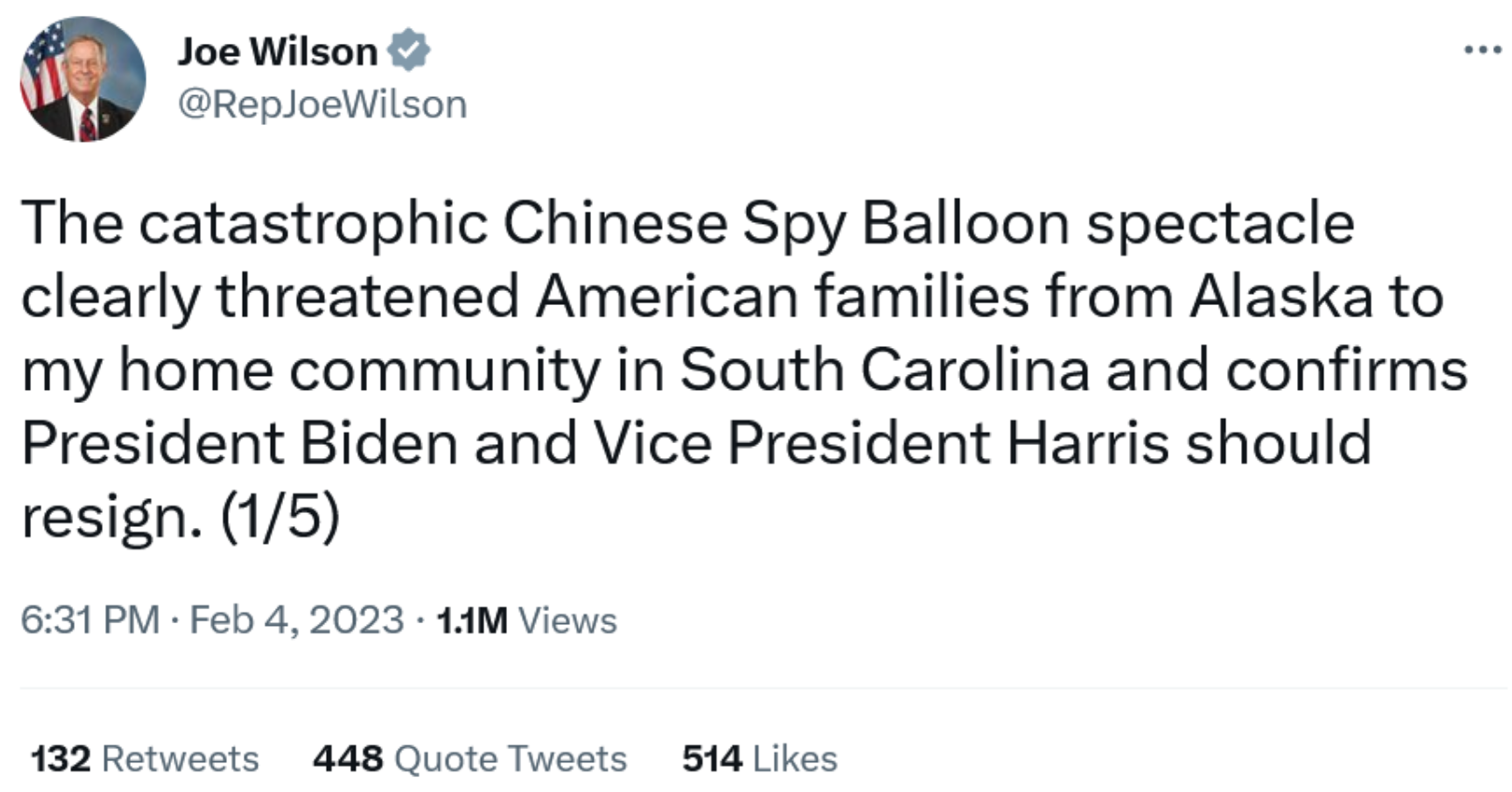 Does anyone believe the balloon threatened the lives of millions of American families? Or that Biden and Harris should resign? Wilson forgets to say that resignation would make House Speaker Republican Kevin McCarthy president. It's just awesome how serious the Republican Party has become.
All of the hostile one-upmanship aimed at China over the balloon served to show that there is no downside to an American politician taking a hawkish stance towards China.
China remains a crucial trading and economic partner and competitor, but both Republicans and many Democrats are happy to take a battering ram to our relationship with China. And the media decided to work the Chinese balloon story rather than spend time talking about Friday's blockbuster jobs report, or how unemployment reached a 50-year low.
That news wasn't important or exciting enough when there was a Chinese balloon on the horizon.
America's relationship with China has always been fraught. If you're as old as Wrongo, you remember 1971's Ping-Pong diplomacy, one of the first official contacts between the countries since before the Cold War.
You may ask, what's happened since then? Well, the balls have gotten bigger.