The Daily Escape: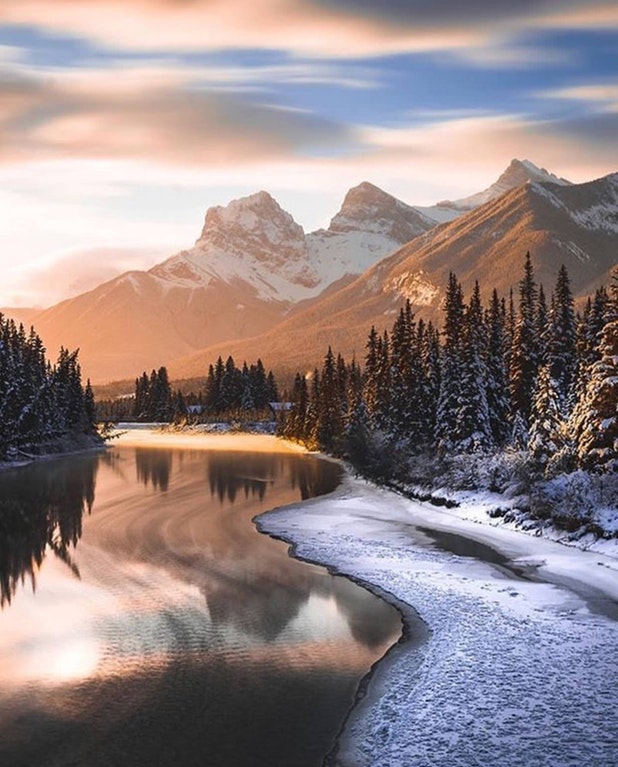 The Three Sisters, viewed from Canmore, Canada – photo by DiscInPc
Strategy must be lost on the Trump administration. We revisit Afghanistan. Pepe Escobar reports that for the past two months, Beijing and Kabul have been discussing the possibility of setting up a joint military base on Afghanistan's border with China. Escobar quotes Mohammad Radmanesh, a spokesman for the Afghan Ministry of Defense:
We are going to build it [the base] and the Chinese government has committed to help financially, provide equipment and train Afghan soldiers…
Escobar says that the military base will be built in the Wakhan Corridor, a mountainous and narrow strip of territory in northeastern Afghanistan that extends to China, and separates Tajikistan from Pakistan. He also reports that, according to local Kyrgyz nomads, joint Afghan-Chinese patrols are already active there.
Beijing is trying to prevent Uyghur Islamic fighters, who are exiled in Afghanistan, from crossing the Wakhan Corridor and conducting terror operations in China's Xinjiang territory. Xinjiang is an autonomous territory in northwest China that has seen years of unrest, primarily from Muslims.
China's concerns are backed by solid evidence. In 2013, al-Qaeda's Ayman al-Zawahiri supported jihad against China in Xinjiang. In July 2014, Abu Bakr Al-Baghdadi, the leader of ISIS, supported a move against Xinjiang.
China doesn't want its Belt and Road Initiative, or the New Silk Road, which will connect China with Asia, Africa, the Middle East and Europe to be compromised by terrorists. And one of its links, the $57 billion China-Pakistan Economic Corridor (CPEC), could be hurt if terror threats abound in Central and South Asia. It could also affect China's investments in Afghanistan's mineral mining industry.
The Chinese are smart. Their new ambassador, Liu Jinsong, was raised in Xinjiang and was a director of the Belt and Road Initiative's $15 billion Silk Road Fund from 2012 to 2015. He understands how the local problems could hurt the New Silk Road. The plan is to prevent terrorists from having access to Chinese territory, and work to broker a deal between Kabul and some factions of the Taliban. If this sounds familiar, it is also Russia's strategy, and Iran's, and India's as well.
Compare this joint approach with Washington's strategy. Trump's plan for Afghanistan involves defeating the Taliban, and then forcing them to negotiate. Since the Taliban control key areas of Afghanistan, the US strategy requires a new mini-surge.
This pits the US "coalition" against all of the great powers of the region. Think we are likely to succeed?
Let's link this up with another Trump idea, his parade. Danny Sjursen, an Army major who served in Afghanistan wrote in an article in the American Conservative, "Parade of Defeat: Trump Prefers Spectacle Over Strategy":
Remember when military parades actually celebrated victories? Those were the days, or, better yet, the day—June 8, 1991…after the US military's 100-hour lightning ground war ejected Saddam Hussein's forces from Kuwait, some 8,800 soldiers marched down Constitution Avenue in Washington, DC…The White House called it the National Victory Celebration.
Sjursen adds: (brackets by Wrongo)
So, one cannot help but wonder what it [Trump's Parade] is…celebrating. Nearly 17 years of indecisive quagmire?
He goes for the kill: (emphasis by Wrongo)
Trump…has turned the petty political appropriation of the troops into an art form. Soldiers are a pawn in the game, a very old game, in which the hawkish interventionists inspire the base and depict the opposition as dovish traitors. This is…meant to disguise what amounts to paltry policy in foreign affairs; it's spectacle not strategy.
Linking our non-strategy in Afghanistan, which all of the region's powers hope to solve with trade and diplomacy, to Trump's parade, a good question is: How are our wars doing? The short answer: Badly. But haven't we "beaten" ISIS?  Not really. ISIS has leaped across the borders of Syrian and Iraq to Africa and Asia. That's why China is building a base in Afghanistan.
For all the talk of new strategies about "turning corners" and "breaking stalemates," more fighting in Afghanistan will just waste more of our resources. Today, a record number of Afghan provinces and districts are under the control of, or contested by, the Taliban. Short-term success isn't sustainable.
Trump has no exit strategy. But no worries, he has a parade strategy.
So, time to wake Trump the (family blog) up. He's got to get focused on closing a deal with his Russian and Chinese friends. To help The Donald wake up, here is the "Unity JAM" by Tony Succar, a percussionist and arranger:
Those who read the Wrongologist in email can view the video here.