The Daily Escape: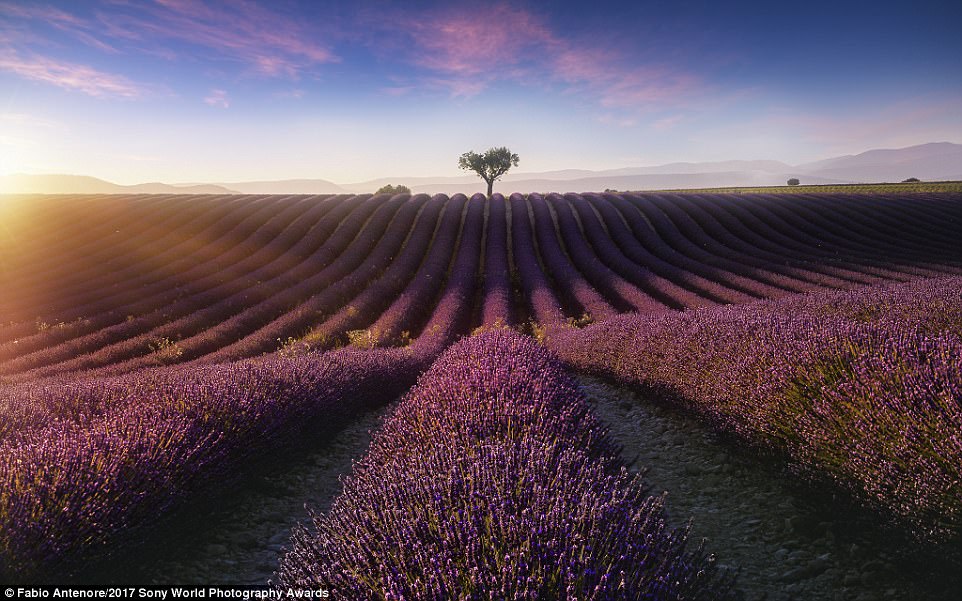 Lavender in Provence – 2017 Photo by Fabio Antenore
This week, Wrongo wrote that 50% of US births are paid for by Medicaid, and how worry about hunger and homelessness has never been higher among Americans. Both of these issues are symptoms of how our economy fails low-income and lower middle class Americans, and neither political party is truly interested in addressing the problems.
Trump won because he led people who used to vote for Democrats to believe that they had nothing to lose if they voted for him. Below-median income voters had long ago lost faith that Democrats, and Hillary in particular, would ever do anything to change their plight.
Trump said he would look out for them. Whether he does or not, remains an open question, but even before Trump, Democrats had already lost a big swath of America. From the American Prospect:
In the race for the White House, the Democratic presidential candidate has won…fewer US counties with average incomes under the national median and with populations that are more than 85% white in every general election since 1996. Concentrated in the Midwest, Appalachia, and the upper Rocky Mountains, there are 660 such counties today. Hillary Clinton won two of them.
Think about that: The Democratic Party's influence in mostly white, lower-income America has eroded to nearly nothing since Bill Clinton was president. This chart documenting their fall is stunning: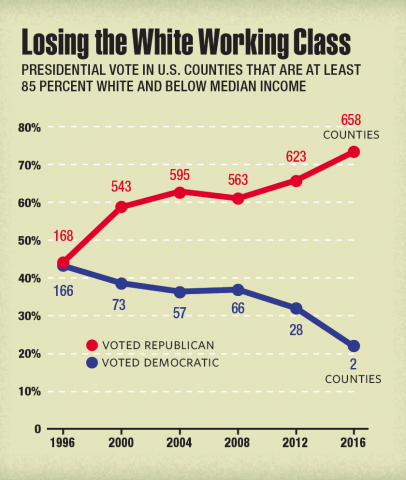 The Parties basically split below-median income counties that were 85% white in 1996. Over a 20-year period, the erosion of the Democrats' control was steady, and complete. This isn't just the result of a poor 2016 presidential candidate, it is an indictment of the Democratic Party, its leadership, and its strategy.
The American Prospect article is about Montana's Democratic Governor, Steve Bullock, who won his state by 4 points while Trump was beating Clinton by 20. Bullock is a rural populist in a party of technocrats. Obama lost Montana by 2 points in 2008. Bill Clinton won Montana in 1992.
But, the electoral failure of Democrats is worse than its showing in these below-median income white counties. The following graphically illustrates the abject failure of Democrats to be competitive in political contests at all levels: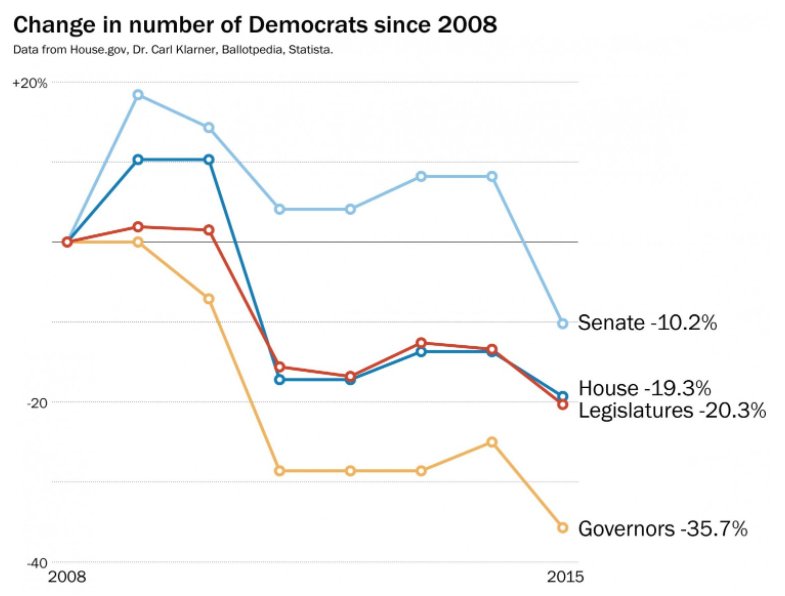 Nothing that Barack Obama did by holding on to the White House for that entire period compensates for these terrible losses.
Democrats remain divided about their Party strategy, many clinging to the thought that if Hillary could have turned about 80k voters in Michigan, Pennsylvania, and Wisconsin, where white working-class people are abundant, she would be president.
But she would not control either legislative branch, and she would have had to propose Supreme Court Justices similar to Neil Gorsuch to get one confirmed by the Senate.
The question is where will the DNC be taking the Party in 2018? In a 2018 mid-term election where the president has a historically poor approval rating with independents and Democrats, like Trump has now, victory is possible.
If Democrats want to win back Congress, and the White House in 2020, they need to field candidates who believe in jobs and economic growth first. The candidates need to be authentic people, who listen more than they talk. And when they do speak, they should use PIE as a metaphor for America's economy, as in: (H/T Seth Godin)
How big is the pie?
Is the pie growing?
What will my share of the pie be tomorrow?
Who allocates the slices of pie? Can they be trusted?
When voters think the economy isn't growing, things begin to feel zero-sum. People begin to think that they may permanently lose their place in our society.
If the Democrats want to win back Congress, they need to describe concretely what they plan to do when they say they support their working-class constituents, regardless of color.
They need to get to be better than Trump on jobs, economic growth and finding a peace dividend.
All of that, and Medicare for all. In Wrongo's Thursday column, Gallup found that health care concerns ranked highest across all income cohorts.
Shouldn't these principles be credible with working-class people—including whites?
A song about pie: Here is D'Angelo with "Devil's Pie" from 1998. It's a dystopian vision of capitalism, where everybody's fighting for more of the tasty, materialistic dish. All is fair in pursuit of a bigger paycheck:
Those who read the Wrongologist in email can view the video here.
Takeaway Lyric:
Fuck the slice we want the pie
Why ask why till we fry
Watch us all stand in line
For a slice of the devil's pie