Elton John inspires WWIII: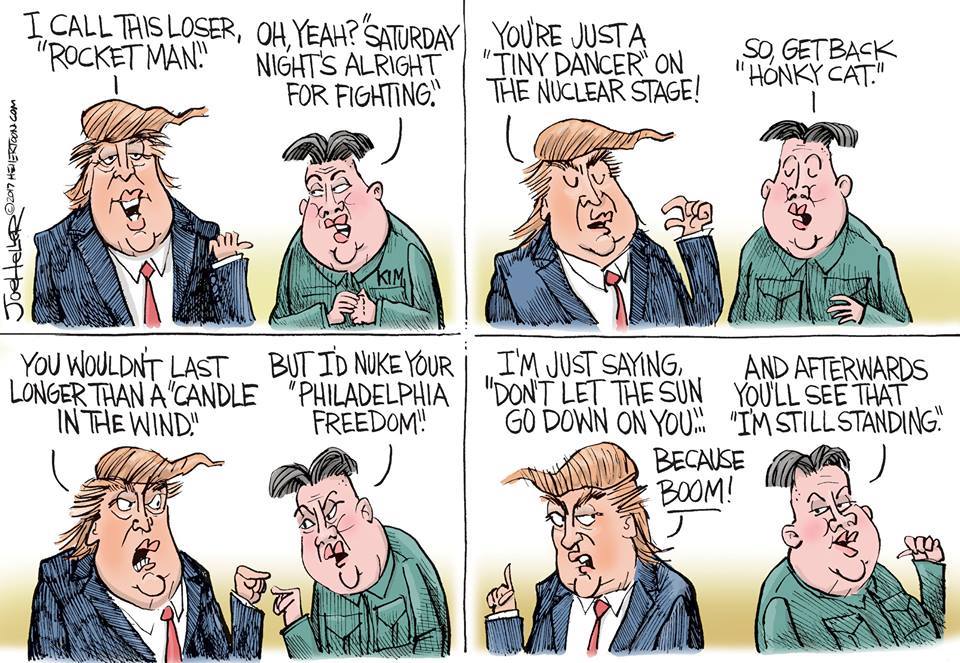 Most people know that Donald Trump was in Alabama on Friday, hoping to turn out the vote for Luther Strange, one of two Republican candidates for the US Senate.
What you may have missed was Trump's divisive words at his rally in Huntsville, Ala. He argued that NFL players who take a knee during the National Anthem should be fired. This was directed at the free agent quarterback Colin Kaepernick, who since protesting during the Anthem, can't find a job in the NFL: (emphasis by the Wrongologist)
You know what's hurting the game…When people like yourselves turn on television, and you see those people taking the knee when they are playing our great national anthem. [audience boos.]

The only thing you could do better is if you see it, even if it's one player, leave the stadium, I guarantee things will stop. [Applause.] Things will stop. Just pick up and leave. Pick up and leave. Not the same game anymore, anyway.

Wouldn't you love to see one of these NFL owners, when somebody disrespects our flag, to say, get that son of a bitch off the field right now. Out. He's fired. He's fired!
Kaepernick's mom said in response:
Guess that makes me a proud bitch!
Trump has re-ignited a debate that on its face, is something he's tried to put behind him. Think about it: He calls a largely white crowd "people like yourselves," and refers to protesting professional athletes, who we all know are mostly African American, as "those people". Guess that he didn't really mean he'd try healing the wounds caused by Charlottesville.
USA Today columnist Christine Brennan, on CNN:
I think we're going to see, potentially more NFL players taking a knee this weekend than we ever would have thought…maybe even college players, too.
Trump wasn't done. He questioned the manliness of NFL players and the NFL itself regarding its concussions policy:
15 yards, throw him out of the game! They had that last week — I watched for a couple of minutes. And two guys — just really beautiful tackle. Boom: 15 yards! The referee gets on television, his wife is sitting at home, she's so proud of him — they're ruining the game. [Applause]…They're ruining the game. Hey look, that's what they want to do. They want to hit, OK? They want to hit.
What is it with this aging, totally out-of-touch former pro football team owner? Could he be unaware of the latest medical research linking concussions to CTE in football players?
If this wasn't bad enough, on Saturday he tweeted about the NBA's champion Golden State Warriors and their star player. Apparently Golden State is trying to decide whether they should go ahead with the traditional White House visit. That got this from Trump: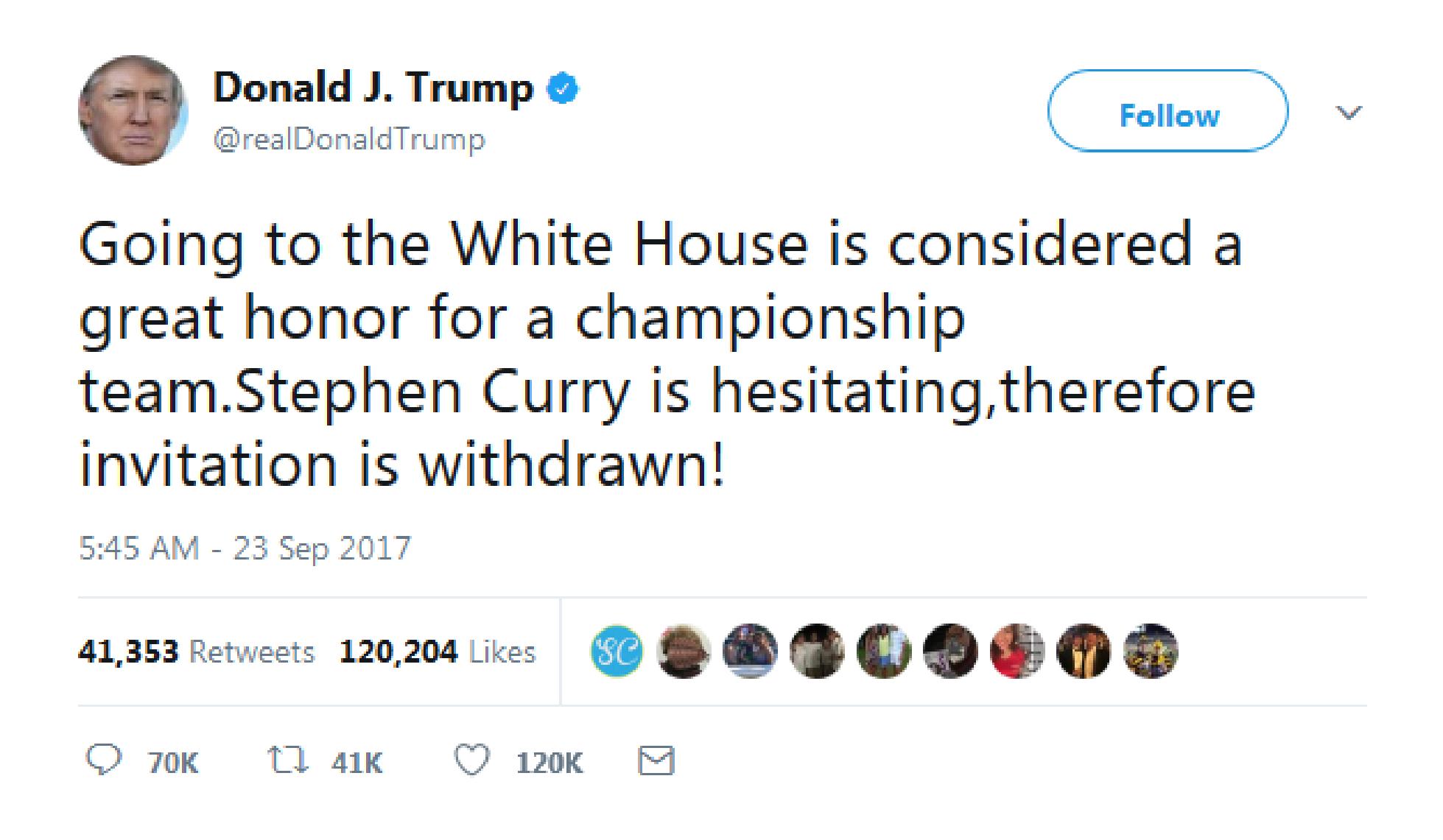 And thus begins a twitter war between Trump and black athletes. Here is LeBron James: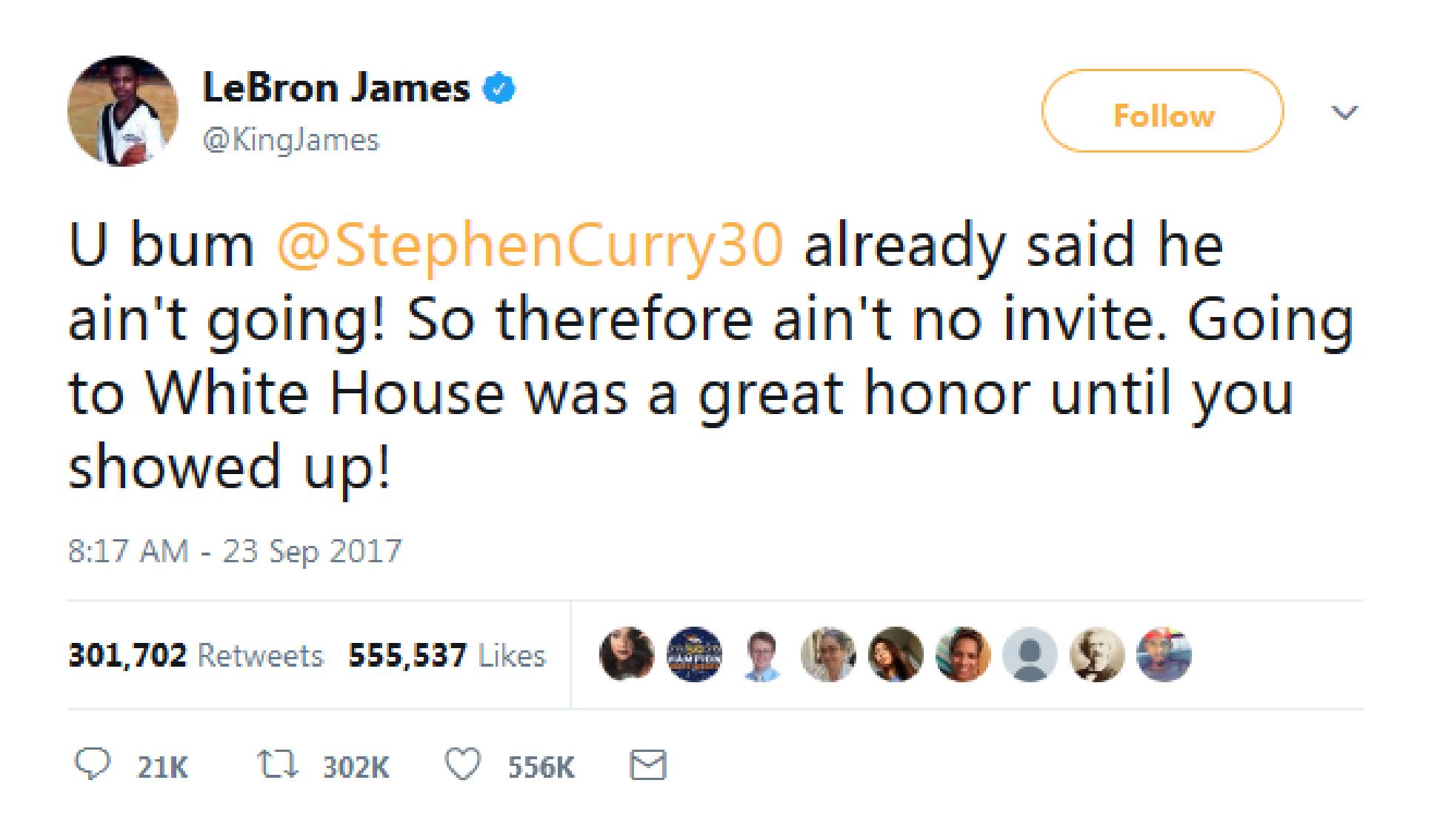 Then, Chris Paul of the NBA's Houston Rockets weighed in: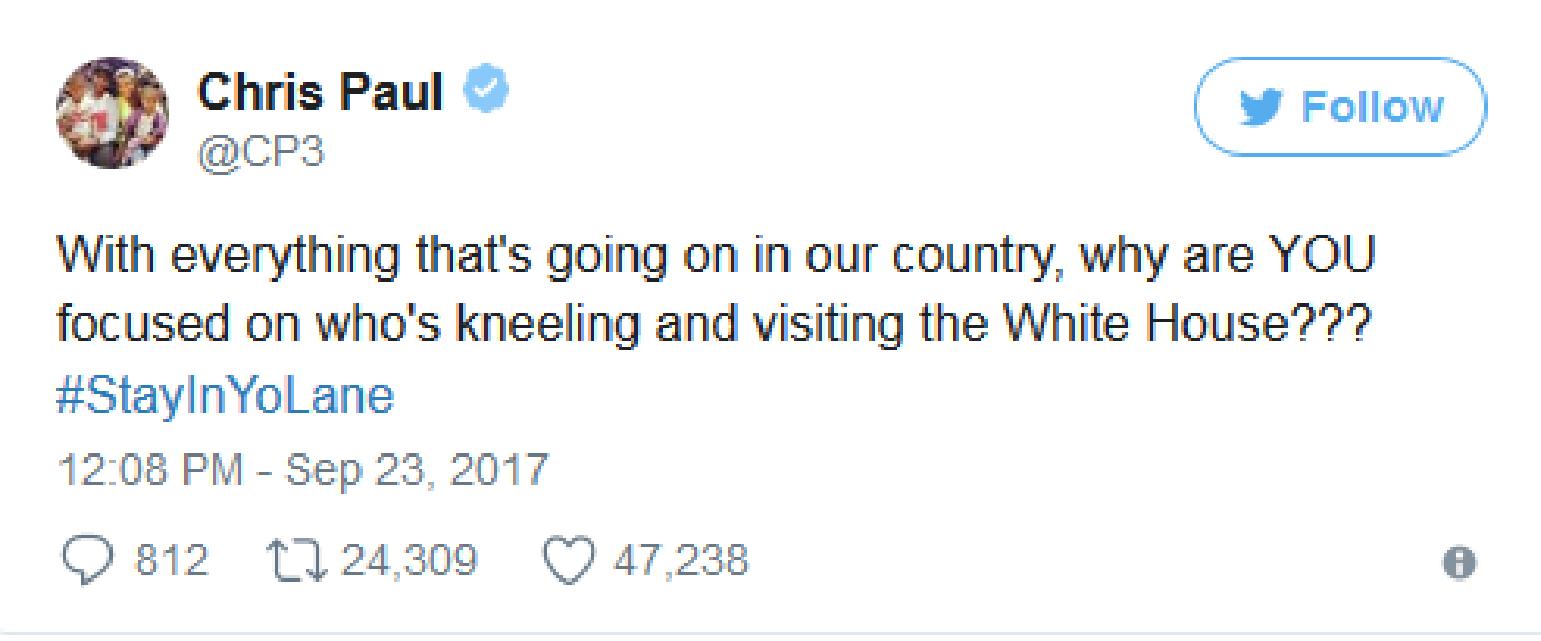 Benjamin Watson of the NFL's Baltimore Ravens made the obvious point about free speech that Trump's Kaepernick comments ignore: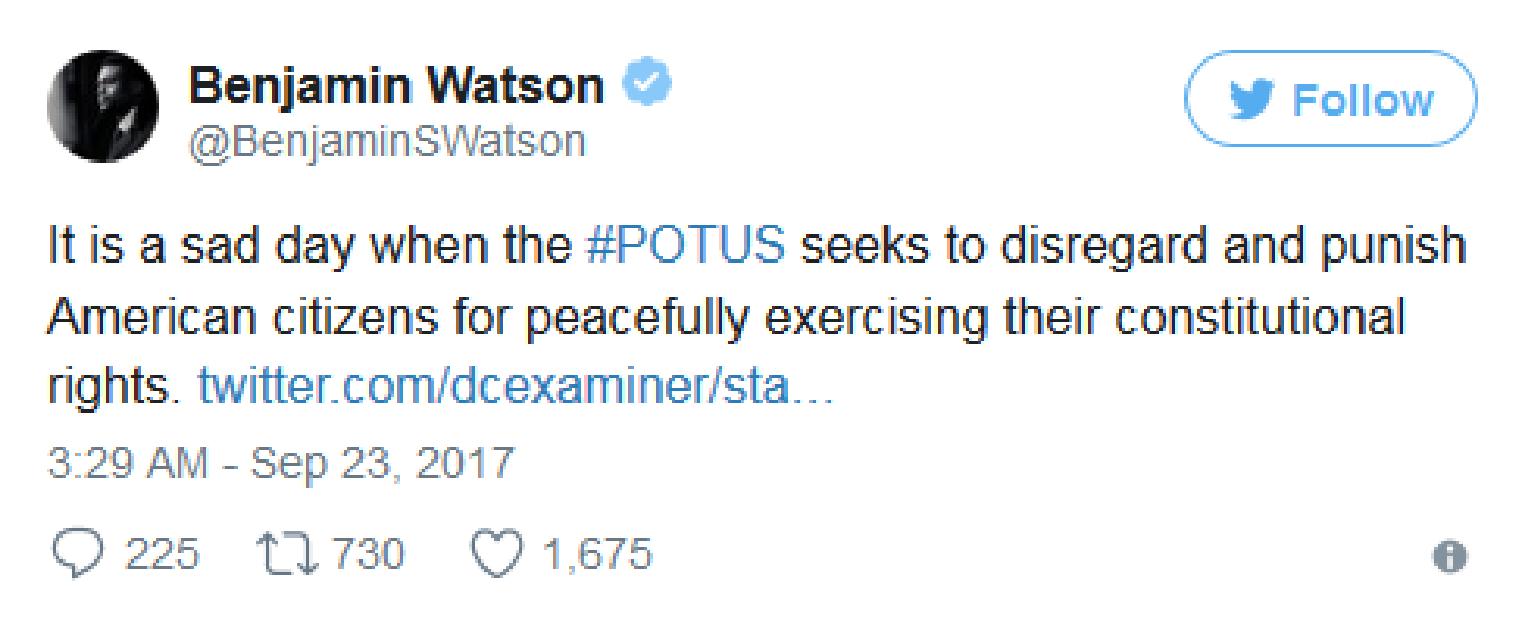 And then, Richard Sherman of the NFL's Seattle Seahawks: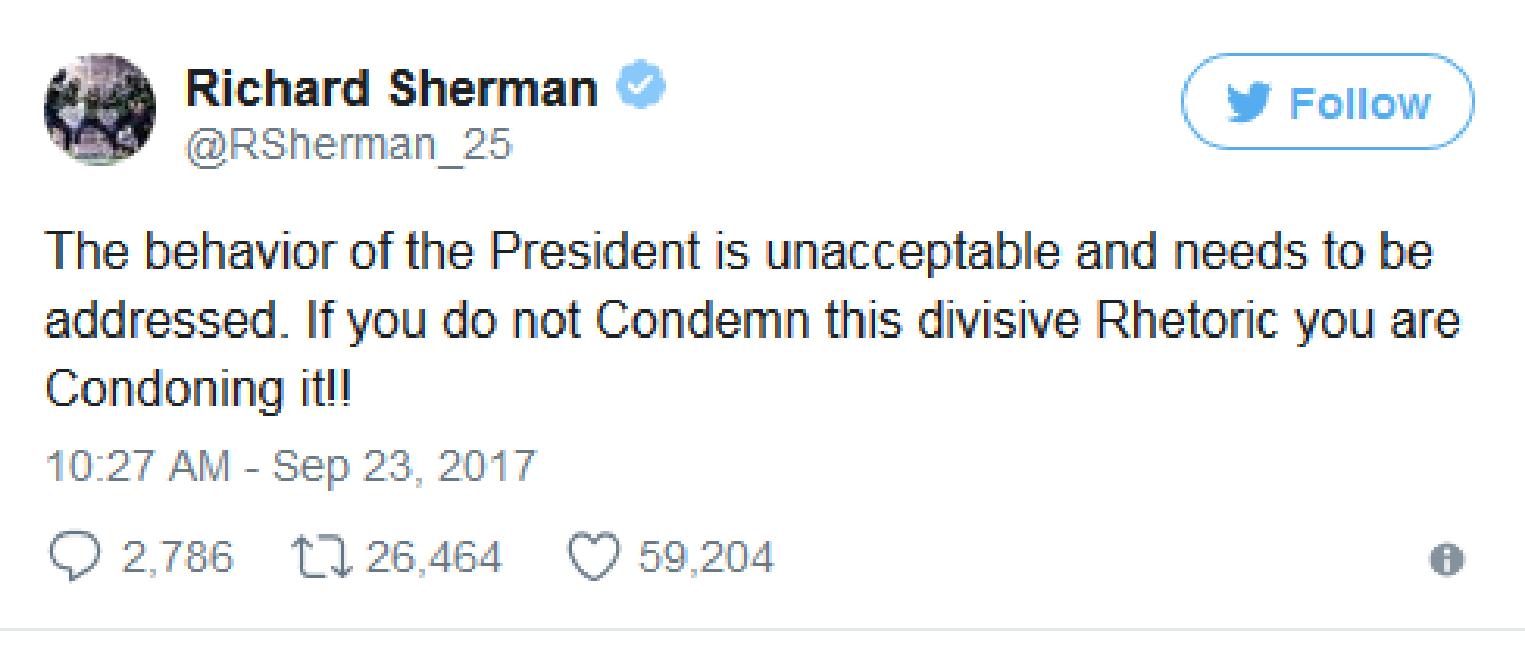 Trump won't let this go. He continued tweeting about black athletes as Wrongo writes this:
It is very difficult to see what Trump thinks he will get out of a war with wealthy black athletes. He is also putting the NFL on the spot, since they have worked hard to minimize the controversy about football players not standing for the National Anthem.
Maybe there is some insight in this Sports Illustrated article describing reactions to a reporter wearing a Kaepernick jersey at a Buffalo Bills football game. There are some predictable reactions, and many that are mostly "live and let live". But that's not something Trump would willingly do.
No Democrat who wanted to energize African-American voters for the 2018 mid-terms and the 2020 presidential election could possibly do better than Donald Trump is doing today.