The Daily Escape: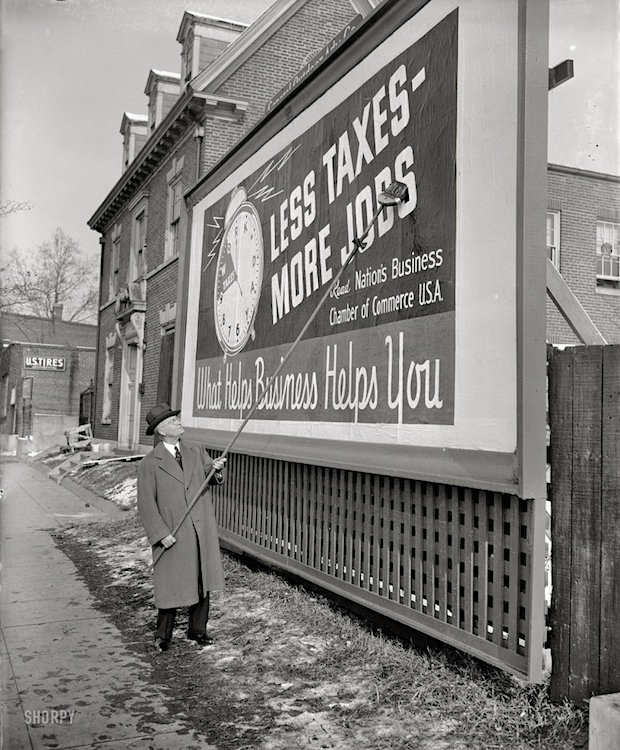 Harris & Ewing "Less taxes, more jobs", US Chamber of Commerce campaign in 1939. Photo via Shorpy. Maybe the sign should have said "lower taxes". It was the first of 25,000 such signs put up all over the nation as part of a drive for a reduction in corporate taxes. And it worked. An alliance between the Chamber, Henry Morgenthau, Treasury Secretary, and Sen. Pat Harrison, (D-MS) conservative chair of the Senate Finance Committee, prevailed over the New Dealers. He blocked further tax hikes, and helped to create new corporate tax loopholes. Roosevelt went along, expecting that business would support him. The following year, the Chamber simply demanded more tax breaks, while backing Wendell Willkie. It's all so familiar. Trickle down is an old idea, and everything old is new again!
 Here's an interesting chart from End Coronavirus.org showing the progress of states toward beating the current COVID-19 pandemic. The numbers are through May 5. Those in green are winning the fight, those in yellow are nearly there, and the red ones still need more action: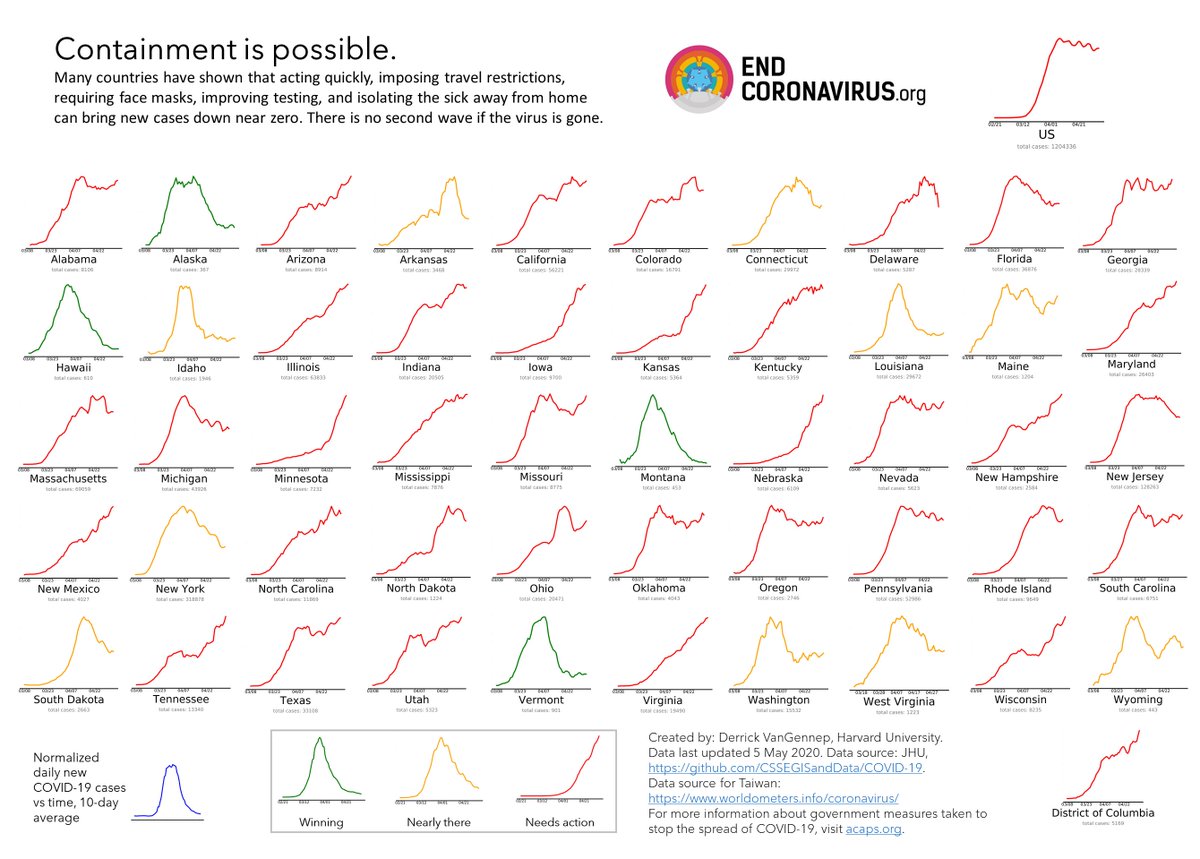 There are four states in the green: Alaska, Hawaii, Montana and Vermont. Ten are nearly there, including Maine, Louisiana, New York and South Dakota. The remaining 37 still need work, some more than others. And many of the "needs more work" states are exiting their lockdowns this week.
So it goes in America. States and cities are going broke, primarily because of the sharp drop in tax revenues since the shutdown. They all face increased costs, from unemployment claims to spending on additional hospital capacity, and overspending on new purchases of PPE because of federal government inaction.
New York City says it will need $7.4 billion in federal aid, while NY state faces a $13 billion shortfall; Alaska's budget gap might top $1 billion; Colorado's at $3 billion. California? Its shortfall may be $54 billion. Red ink will be true for nearly every state, county, city, town and village in the country. States can't deficit spend. They and their local governments must balance their budgets somehow, with some combination of federal aid, budget cuts, or tax increases.
In addition, the WSJ reports that some manufacturers that furloughed employees during lockdowns say their plants definitely won't reopen.  Manufacturing output last year finally surpassed the 2007 previous peak, but factory employment has not returned to levels reached before the great financial crisis. It appears that in 2020, it will again fall below 2007 levels. And the more that job losses turn from temporary to permanent, the bigger the hit to unemployment insurance, to consumer spending, and to every company that relies on it—including manufacturers.
Wrongo spoke by phone with the mayor of his little town this morning. We are still not sure how we will balance the town's 2020-2021 budget. In most years, the budget has been approved by the voters in May, but that will not happen this spring. The consequence is that, regardless of how the budget gets balanced, the town's recovery will likely take several years.
So, states and cities think they have little choice but to reopen. They need the tax revenue, while they face even higher costs if they start an aggressive test and trace program. And they can't expect the federal government to fund that new testing and tracing.
So most states are moving toward opening, regardless of whether they are red, or blue.
But, states may not all be EQUALLY reckless in what they choose to open, some are planning a phased reopen, followed by a re-evaluation before moving forward to the next step. Some are opening up just about as fast as they closed businesses six – eight weeks ago.
We are living in a federal system with a broken central government. The federal government has handled the pandemic badly, and shows no interest in trying to do better now. Even a robust federalism will fail if there is no federal financial help for the states.
It is a hell of thing to be shown clearly and in no uncertain terms that your federal government doesn't give a shit if your citizens live or die.
Or if your state suffers a debilitating blow to its finances and future.
Wrongo can't be sure, but this is probably how black people have felt forever. Now it applies to the rest of us.