The Daily Escape: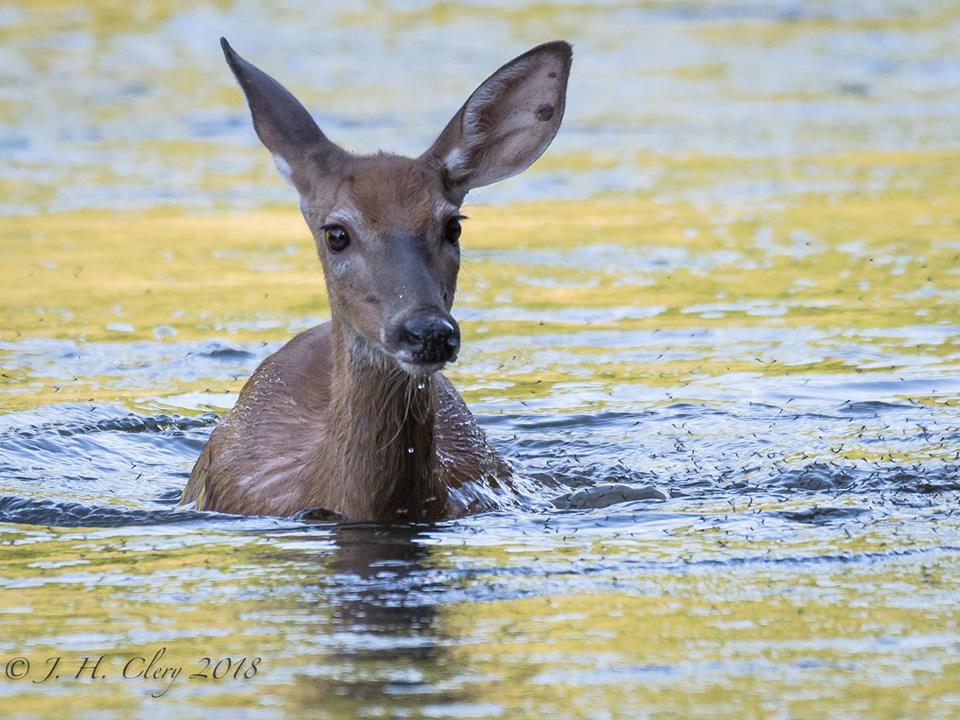 Doe Crossing Housatonic River, Litchfield County CT – June 2018 photo by JH Cleary
Now that the Supreme Court's decision allowing Ohio Republicans to purge voter rolls solely on the basis of not voting, North Carolina Republicans have wasted no time trying to stop groups that vote Democratic from being allowed to cast ballots ahead of midterms: (emphasis by Wrongo)
The last time Republicans in the North Carolina Legislature enacted a law making it harder for some of the state's residents to vote, a federal court said the statute targeted African-American voters "with almost surgical precision," and threw it out.
That was last year. Now the legislators are back with a new set of election proposals, and an unconventional plan to make them stick:
Shortly before midnight on Wednesday, Republican Senators unveiled legislation that would eliminate the final Saturday of early voting in state elections, a day that typically draws a large share of black voters to the polls. That followed a Republican proposal last week to place a constitutional amendment on the November ballot that would require all voters to display a photo ID before casting votes.
In addition, party leaders say they are preparing a constitutional amendment that would curb the power of the Democratic governor, Roy Cooper, over the state board that controls election procedures.
Since Republicans swept into power in 2010, controlling both the North Carolina Legislature and the governorship, the state has become ground zero for struggles over tightening election rules and weakening voting rights.
Democrats have recently made gains in the state, most notably with Mr. Cooper's win of the governorship in 2016. That doesn't mean the Republicans aren't still trying to suppress votes. More from the NYT:
This time, however, the party's tactics have changed. The voter ID amendment would require approval by citizens as well as legislators. The final Saturday of voting has been popular — nearly 200,000 citizens voted on that day in 2016 — and African-Americans turned out at a rate 40 percent greater than their share of the electorate. But the bill to eliminate that Saturday would apportion those lost hours among other early voting days, so the total hours of polling would not change.
Look for more states to adopt the tactic of putting voter suppression efforts into state constitutions the same way Republicans did with gay marriage 15 years ago. The Republicans are willing to be transparent about disenfranchising everyone who isn't inclined to vote for them.
The Republicans know that about half the country doesn't like their ideas, which is why they are trying to suppress voting. If they get their way, their messaging will appeal to everyone who still has the vote.
Maybe it's time Democrats are brutally honest about what they are doing. Maybe Democratic candidates need to start by saying:
I plan to make it as easy to vote as possible. I want every eligible voter at the polls, no matter what we have to do
Time to wake up America, your voting rights are under attack by the Republican Party and the John Roberts court. To help you wake up, here is Twisted Sister with their only top 40 hit, 1984's "I'm Not Gonna Take It"
During this year's teachers' strikes, the song was used as a rallying cry by teachers striking in Arizona.
Those who read the Wrongologist in email can view the video here.