The Daily Escape: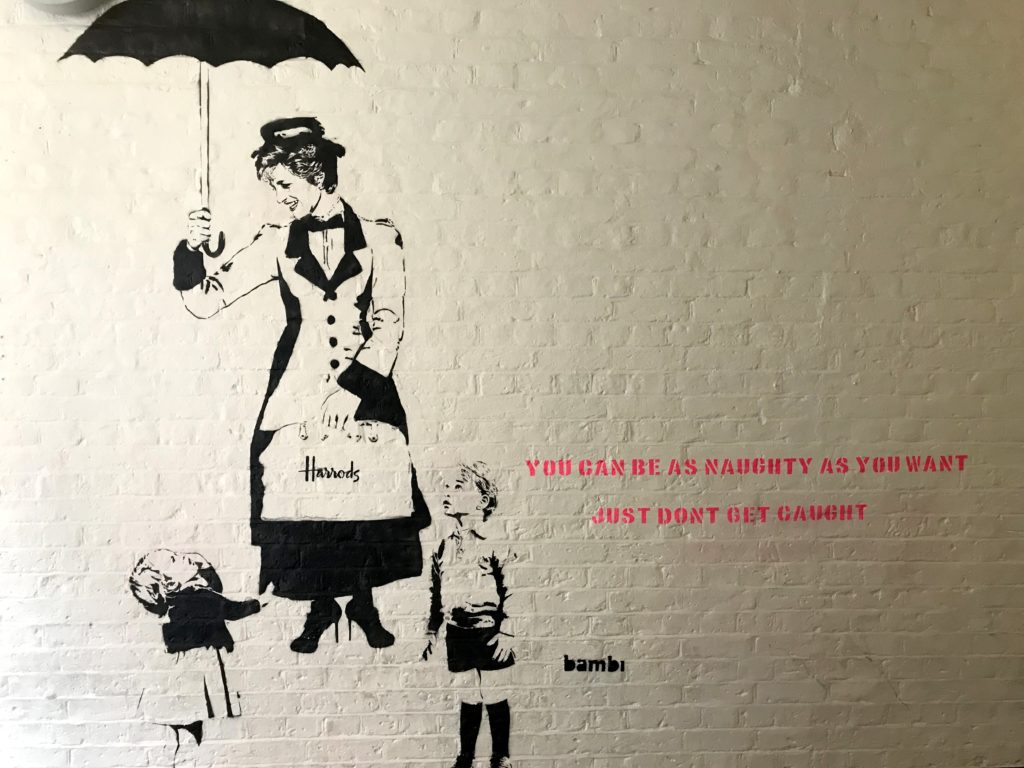 London street art by Bambi  – 2017 photo by Wrongo. Since then, she has done another version, where the bag says: "I love Meghan".
On October 7, 2001 The US military with British support, began a bombing campaign against the Taliban in Afghanistan. That mission was called Operation Enduring Freedom. So, what has endured in the 18 years since we started bombing the Taliban? Mostly corruption. The Economist has a damning report: (emphasis by Wrongo)
"Last year was the deadliest on record for civilians, according to the United Nations. America's air force dropped more bombs in 2018 than at any other point in the war. Despite that support, the government is slowly losing ground. It now controls barely half the country's territory, albeit two-thirds of its people."
US forces have shifted their strategy to trying to inflict maximum casualties on the Taliban, who now control more territory than at any time since its ouster from power in 2001. This is the same as the "body count" strategy that we tried in Vietnam. But the Taliban are winning, despite America's best efforts. We've backed a corrupt government that the Afghan people do not trust. The Economist illustrates that point:
"A group of middle-aged drivers explain the difference between the Taliban and the government. Both groups take money from drivers on the road, says Muhammad Akram…both are violent. But when the Taliban stop him at a checkpoint, they write him a receipt. Waving a fistful of green papers, he explains how they ensure he won't be charged twice: after he pays one group of Talibs, his receipt gets him through subsequent stops. Government soldiers, in contrast, rob him over and over."
We started down a path of nation-building in Afghanistan 18 years ago, but the government in Kabul doesn't provide basic services. It has a huge security apparatus, and a big bureaucracy, but where it matters, the State, in the words of the US DOJ, is "largely lawless, weak and dysfunctional".
No place in the country is completely safe. At boozy parties in Kabul, rich Afghans share gallows humor about the impending arrival of the jihadists at their gates.
The Taliban are no prize. Their brutal attacks make them deeply unpopular, especially in Afghan cities. But The Economist says that in rural areas, they are seen as efficient and willing to challenge arbitrary government power. According to a UN study, Afghan land disputes account for 70% of violent crimes. In government-controlled areas, well-connected figures often grab land for themselves. The Taliban, in contrast, have judges who deal with such cases brutally, but with less corruption.
The Taliban expects poppy-farmers to pay taxes on their crop, but they also provide seed capital and other support. In many areas, they help to police water use, managing disputes and limiting the over-exploitation of groundwater. Over the past few years the size of the opium crop has grown remarkably—especially in Taliban-controlled areas.
Another Economist article shows that solar panels are transforming the landscape of southern Afghanistan. Farmers used to run their pumps with diesel generators, but fuel was very expensive. Now they can pump water all day using solar.
Only 12% of the country is suitable for growing permanent crops, but since 2018, 3,600 square kilometers in south-western Afghanistan were reclaimed for cultivation from the desert by using solar power to pump water to the fields. From the Economist:
"As many as 2.5 million people…now live in what used to be desert. The price of desert land has soared, from as little as $35 for a jereb (about 2,000 square meters) to over $1,000 now. That has made landowners rich, not to mention politicians and senior police officers."
The reclaimed territory is mostly beyond government control: Many of the settlers are hostile to the State.
This has also brought a big cost for the environment. Drinking wells are increasingly contaminated with nitrates from fertilizers, which farmers have spread near the water pumps. Shallow wells have gone completely dry. If the groundwater is exhausted, millions of Afghans will have to move.
The US and the Taliban have been negotiating directly since October over a possible American withdrawal in exchange for a commitment from the Taliban not to harbor terrorists. The Afghan government has been excluded from these talks, and they are concerned that they may be forced into a coalition government with the Taliban.
The Trump administration wants out of Afghanistan, and may not care much about who in the current government survives. The latest round of talks concluded on May 9th, with what the Taliban described as "some progress", but the pace is glacial, and may not lead to anything.
Wrongo has been saying for years that we need to leave Afghanistan. Why are we still there? Vietnam proved we could win all the battles, get higher body counts, and still lose the war.
Will we "win" in Afghanistan? No, it's unwinnable. You can't win when you're on the side that's even more hated and corrupt than our "enemy."