The Daily Escape: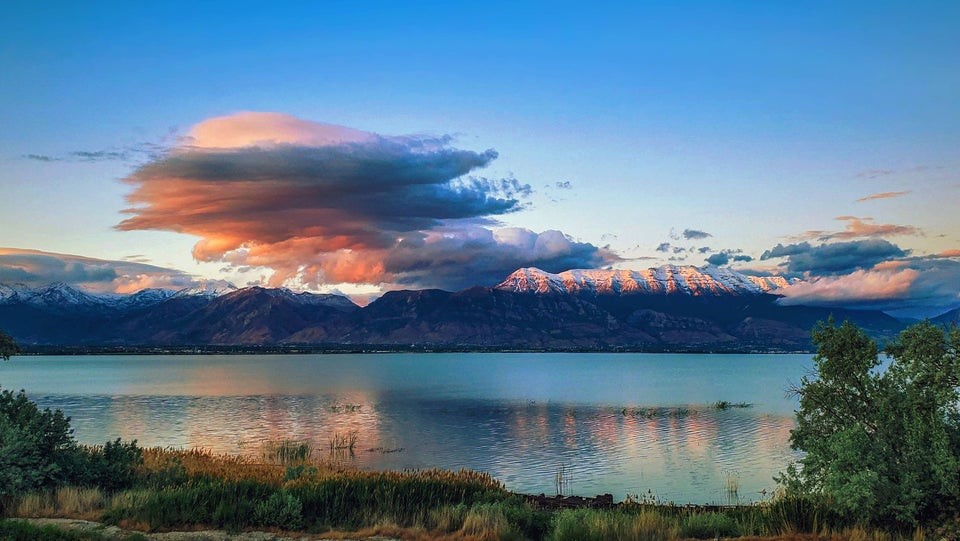 Lenticular clouds over Utah Lake, UT – 2020 photo by jephriB. It's Utah's largest freshwater lake.
One thing that is giving Wrongo hope amongst the (mostly) negative voices about the protests against police violence is how universal these protests have become. People have protested in all 50 states and DC, including in hundreds of smaller towns and cities that have not been in the spotlight during previous nationwide protests.
On Sunday, our little town of 25,000 had a demonstration supporting Black Lives Matter. Here are a few photos: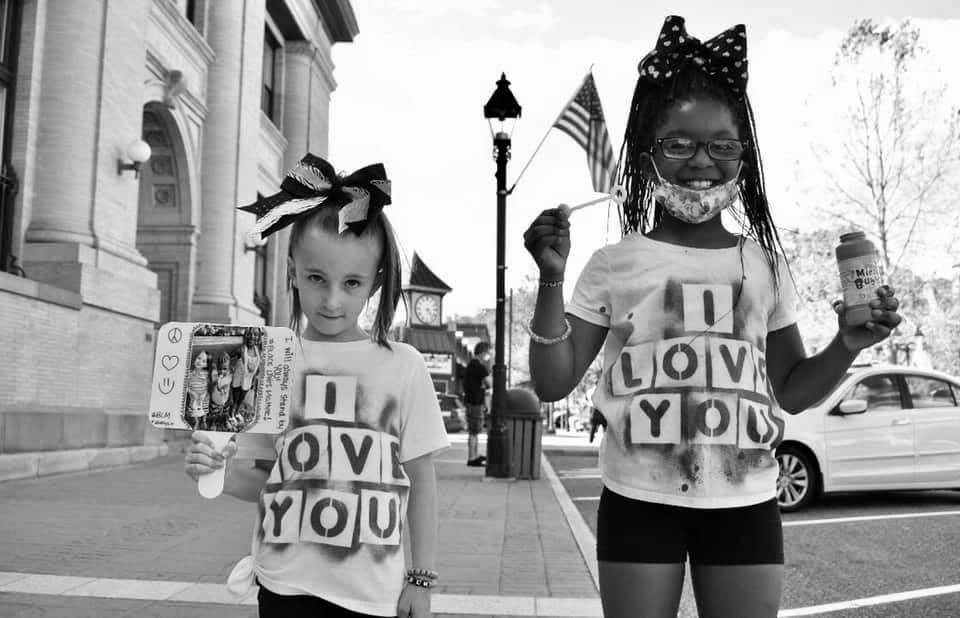 Photo by Pame Ortega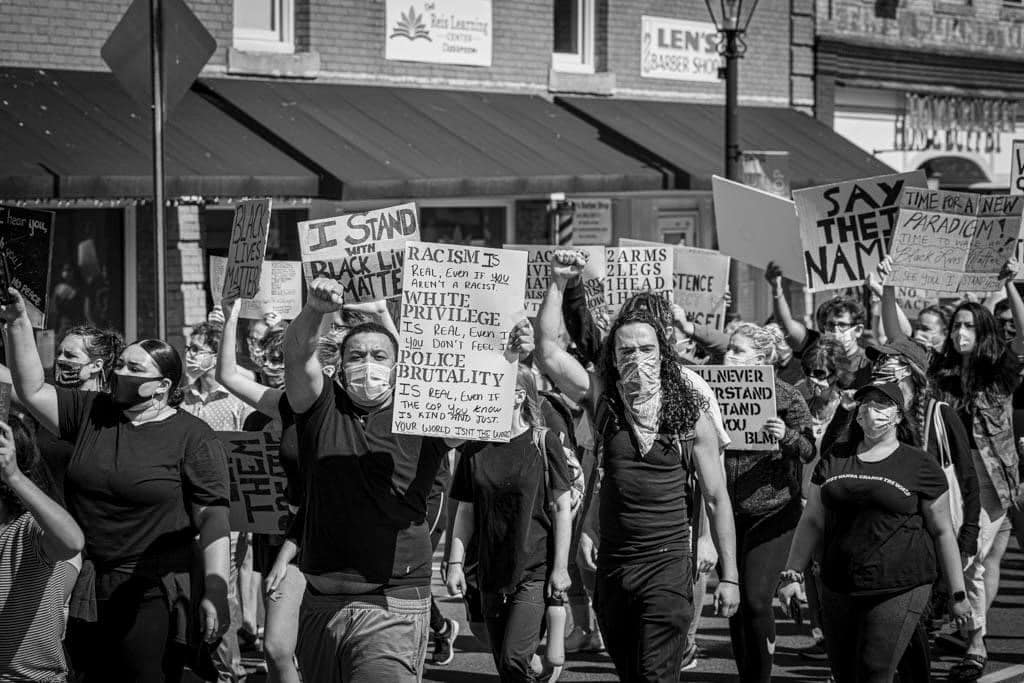 Photo by Pame Ortega
There seems to be something happening on the ground that may have electoral implications in November. Wrongo's home town is in a very conservative part of Connecticut. It voted 75% for Trump in 2016, and is 94% non-Hispanic White. The town Facebook page is a cesspool of right wing comments. Yet the march was well-attended, and the marchers skewed young, white and female. It was completely peaceful: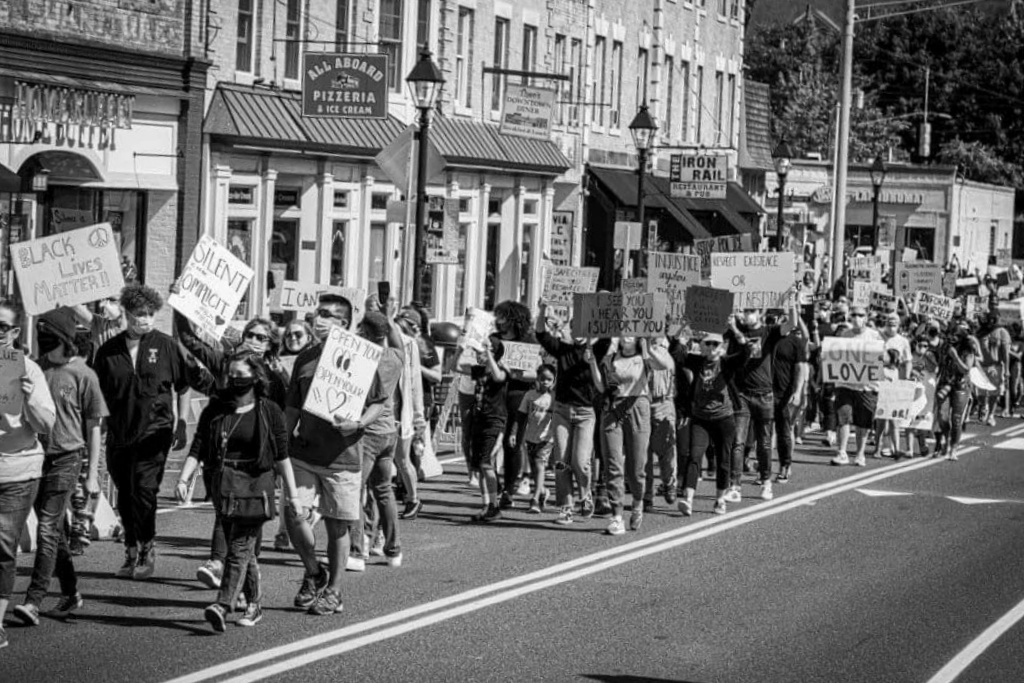 Photo by Pame Ortega
The speakers on the town green included politicians, police, local clergy and rally organizers.
Wrongo has regularly scheduled Monday morning meetings with the town's mayor, a conservative Republican. The mayor had attended the march, and we spoke in passing about the demonstration. He was pleased by the strong attendance, and was happy with the response by his police, fire and public works departments. He was also happy to see peaceful engagement by the citizenry.
Are things changing in America?
The WaPo reports that the closer someone lives to a protest, the more likely it is to change their vote. Moreover, protests influence not just election turnout, but also what types of issues rise to the top of party platforms, and who gets elected to local, state and federal offices.
Demo Memo reports that most Americans believe in the right to protest, but a surprisingly small share of the public has ever demonstrated. According to a 2018 Gallup survey, just 36% of adults have ever felt the urge to organize or join a public demonstration. That is much higher than it was during the fractious 1960s. In 1965 when Gallup asked the same question, only 10% of Americans said they had ever felt like organizing or joining a protest.
What's driving the change in the willingness to demonstrate? Maybe it's the growing polarization of our society. Or perhaps our growing diversity and the relative youth of our population are behind the change.
WaPo also shows that young people in the outer suburbs and small towns are becoming less conservative. They report that statistical analyses suggest that rural voters age 18 to 29 went from supporting Donald Trump by a 17-point margin in 2016 to supporting Democratic congressional candidates by an eight-point margin in 2018. Votes by their older neighbors (40s and older) barely budged.
Even the smallest cities have shifted leftward in recent years.
We're in a new era. First, COVID-19 brought home to us who were the truly essential members of the American workforce, and how many of them were minorities. Now, we're seeing first-hand how those same people are forced to live, and how they're mistreated by our police and by American society at large.
As they say, you can't unsee this.
Much of what is working to bring about change is the Black Lives Matter movement, which has been an organizing force working on these issues at least since 2014. Add to that, white suburban disgust with Trump and his goon-like behavior around both the pandemic and the protests.
It has become clear to white people that Trump would have zero issues with shooting them in the street, beating them, or pepper spraying them, or turning dogs on them.
And when most families are spending concentrated time at home together, their kids are asking them unanswerable questions.
The only answers are at the ballot box. Vote for change in the White House, the Senate, in your statehouse, your county seat, at city hall and on your school board.