The Daily Escape: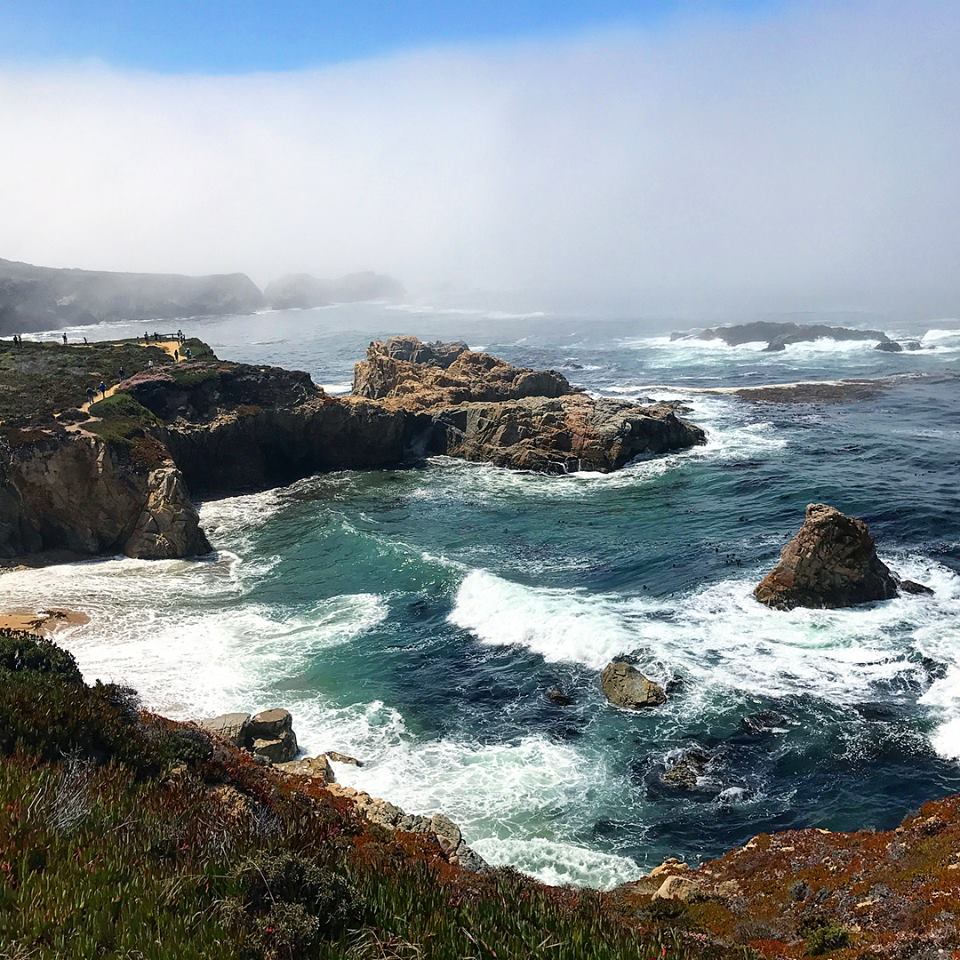 Near Rocky Creek Bridge, Big Sur CA – 2017 photo by Charlene Renslow
We didn't attempt to shoot down the Hwasong-12 North Korean (NK) missile on Tuesday. The official reason was that it was clear that the missile wouldn't hit American soil. Based on the US reasoning, there are at least two things to consider:
We have the capability to shoot down NK medium-range missiles, but do not want to give NK and China any free intelligence on our capabilities.
We do not have the capability to shoot down NK medium-range (or greater) missiles.
Now, Wrongo has some "expertise" in the missile defense biz. He managed a nuclear missile unit in Germany during the Vietnam era. One mission of the unit was anti-tactical ballistic missile defense. That meant we were supposed to shoot down enemy missiles.
So, when Wrongo hears the US's reasoning, it makes sense. Why give a potential enemy a free look at your weapons? Why take an aggressive action when we are not threatened? Both are reasonable positions. Shooting down an enemy missile aimed at US territory is logical, but shooting down a missile test aimed at the sea would be considered an act of war by NK. We could adopt a policy to intercept certain types of missiles or those on certain kinds of trajectory. But, we haven't made that policy choice at this point.
The second possibility is frightening. Since the 1950's, we have made a huge investment in anti-missile weapons. Today, we have 33 Aegis warships that are designed to hit a mid- or intermediate-range missile like the Hwasong-12. Sixteen of those warships are currently in the Pacific. But, right now we only have eight Japan-based Aegis ships, and two of the eight are out of commission due to the collisions of the Fitzgerald, and the John S. McCain.
But it gets worse. From the NYT: (brackets and emphasis by the Wrongologist)
The allies could do little more than track the [NK] missile Tuesday as it arched over Hokkaido and splashed into the northern Pacific. Analysts said Japan could have tried to shoot it down if its Aegis destroyers, which are armed with SM3 Block I interceptor missiles, happened to be in waters between North Korea and Japan. But because the SM3 is slower than the Hwasong-12, they would have had to make the attempt before the missile passed over the ships.
In order to hit the NK missiles, Aegis destroyers would have to be dangerously close to the NK coast to get a chance to strike an ICBM in the "boost" phase, before it gained altitude. If our ships were that close to NK, they would be vulnerable to North Korean submarines.
And the SM-3 anti-missile interceptors on the Aegis ships have a testing record that includes many failures. Between January 2002 and August 2017, the DOD attempted 37 intercepts of a mid-range missile and hit the target 29 times with an SM-3. On Wednesday, we conducted a successful intercept test using a newer generation SM-6 missile against a medium-range ballistic missile target:
The USS John Paul Jones detected and tracked a target missile launched from the Pacific Missile Range Facility on Kauai, Hawaii with its onboard AN/SPY-1 radar…
This is the second time an SM-6 missile has intercepted a medium-range ballistic missile target.
Our problem is that, while the Obama administration pushed for a ship-based defense against mid-range NK missiles aimed at Japan or Guam, we now know that we have a better chance of hitting missiles that can't fly so high. From Defense One:
The highest probability of success is to hit the enemy missile closer to the ground, during the so-called boost phase. That's what America's Missile Defense Agency (MDA) is aiming for in the future.
Decoding all this: If we attempt a shoot-down, and it fails, all of those Aegis ships are worthless, and Russia, China and NK will know it.
We also have the Terminal High Altitude Area Defense (THAAD) system deployed in South Korea. There have been 15 intercepts in 15 tests for the THAAD system, according to the MDA. Now, there is talk of deploying them in Japan. THAADs are currently also deployed in Guam and Hawaii.
Finally, there is the Ground Based Midcourse Defense System (GMD). GMD, like THAAD, is a hit-to-kill system. Unlike THAAD which intercepts missiles during their terminal phase, GMD is aimed at destroying them in midcourse. It is the only system the US has that could be capable of destroying an ICBM launched at the US by NK. There are 40 GMD interceptors deployed in Alaska at Fort Greely, and Vandenberg Air Force Base in California. The GMD has a troubled history, with many failed, or incomplete tests.
The military's next anti-missile solution won't even begin testing until 2023.
Until then, every time an NK missile heads toward Japan, Guam, or anywhere else, the president will have to decide whether attempting to shoot it down is worth the costs of probably missing it.
And without a missile defense, our next best alternative is massive nuclear retaliation on the NK homeland.
That's a ticket for the destruction of South Korea and Japan.
And a likely war with China.