The Daily Escape: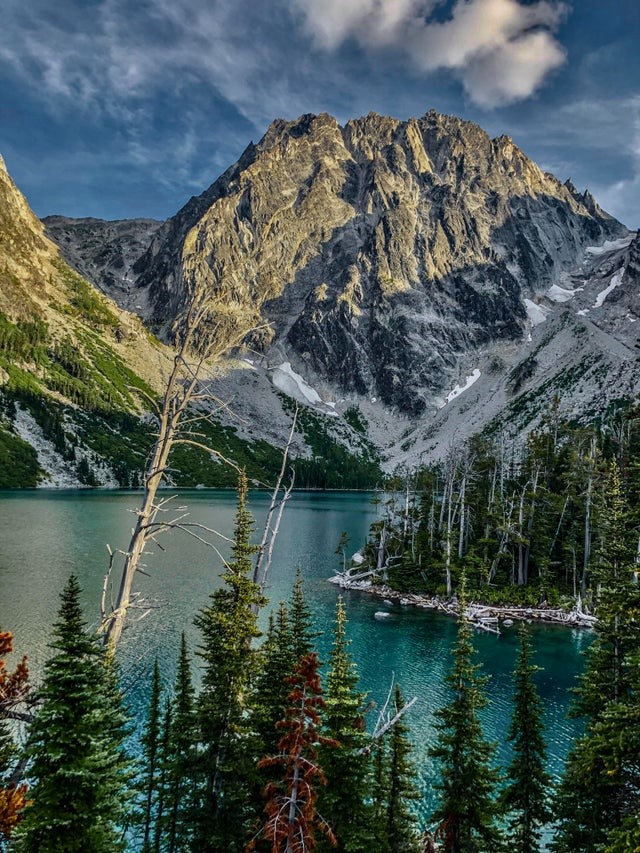 Lake Colchuck, Alpine Lakes Wilderness, near Leavenworth, WA – photo by atgcgtt
Until 1956, e pluribus Unum (out of many, one) was the country's unofficial national motto. It was officially replaced by "In God we trust" by Congress in 1956. And in America today, there are many, many pastors who are telling their members that for Coronavirus, trusting God is enough. There's no need for social distancing or flattening the curve. From Crooks and Liars: (Brackets by Wrongo)
"Apparently the Coronavirus was wiped off the face of the earth Sunday by televangelist Kenneth Copeland, [who]…around 12 eastern [said]…..In the name of Jesus… I execute judgment on you, COVID-19!..It! Is! Finished! It! Is! Over!"
But it isn't over, we still have plenty of coughs right along with our prayers.
Many Americans just don't like to be told what to do, even when it's readily apparent why they should do it. Most are beginning to accept the arguments about transmission rates and mortality rates being higher than with the flu.
They are accepting curve flattening. But it's doubtful they would have accepted it simply based on the words of scientists. Without the exercise of state and local power closing schools and stores, and banning social gatherings, along with their painful economic consequences they would be out and about like the kids in Florida during spring break.
Social media is filled with pandemic denialism and fantastic rumors about the true origin, or the severity of the virus. Most of us aren't public health experts, so going along with the program boils down to "the government seems to be taking it seriously, so maybe I should too."
And the government is finally taking it seriously, despite Trump's refusal to take the COVID-19 outbreak seriously during the entire first quarter of 2020. Now suddenly, he is, and much of the media are giving him credit for a change in tone, for looking presidential, and for finally acting seriously.
Praising Trump for changing his tone is like praising your puppy for shitting closer to the door.
Trump frittered away January, February and most of March as a coronavirus denialist. It is a hoax, he said. We only have 15 cases. It will just go away. It is like the ordinary flu. It shouldn't interfere with business, or with the stock market.
But it did interfere with our lives, and now it looks like an unstoppable force. Here's a chart from the Financial Times: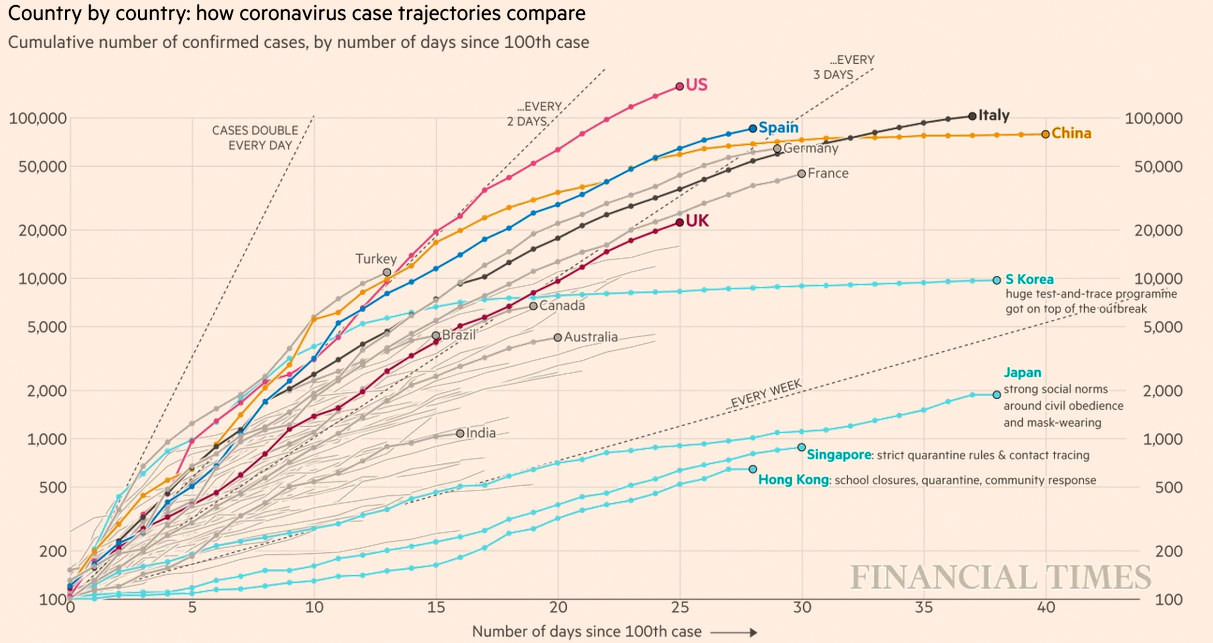 This graph tracks most countries by number of cases and the days since the country's 100th case. The steeper the curve, the faster the cases are growing, and the bigger the national problem. There are reference curves for cases doubling every day, every other day, every three days, an once a week.
The graph shows that America's on a track to face a massive public health problem, perhaps the worst among nations. One made worse by the wide mistrust of the state's authority by significant segments of America. Many politicians and citizens seemingly reject stay at home orders, or other measures to control the rapid spread of the virus.
Two stories of interest. First, a delicious irony is how dependent America is on foreign-born doctors and other health workers, given Trump's aversion to immigration. Juan Cole reports that nearly one third of American physicians are foreign-born. And about a quarter of nurse aides are first-generation immigrants. More from Cole:
"About 17% of US physicians are Asian-Americans. These are the same Asian-Americans against whom Trump fomented beatings and harassment by calling Covid-19 "Chinese." About 6% of our physicians are Hispanic. Fully one percent of them are Muslim, which is proportional to the Muslim-American population."
Second, returning to the "In God We Trust" motto, a makeshift tent hospital was built in Central Park in Manhattan. The group Samaritan's Purse is working with Mount Sinai Health System to open a 68-bed respiratory care unit. Sounds great, we need all the help we can get, right?
Wrong. Gothamist reports that Samaritan's Purse has asked all volunteers working at the field hospital to sign a pledge that includes one that defines marriage as "exclusively the union of one genetic male and one genetic female" and another that says "human life is sacred from conception to its natural end." So, don't work here if you are for same sex marriage, or abortion.
Maybe it helps to know the group is headed by Franklin Graham, the son of Billy Graham, and a guy with a history of incendiary comments. Samaritan's Purse is specifically seeking Christian medical staff for the tent hospital.
In the middle of this plague, the last thing anyone needs is a bunch of superstitious hatemongers judging those who either want to help, or who need help.
People should both cough and pray privately.