(This is the last post before the Thanksgiving holiday. Drive safely if you are taking to the roads. We will resume with the Monday Wake Up Call on 11/27.)
The Daily Escape: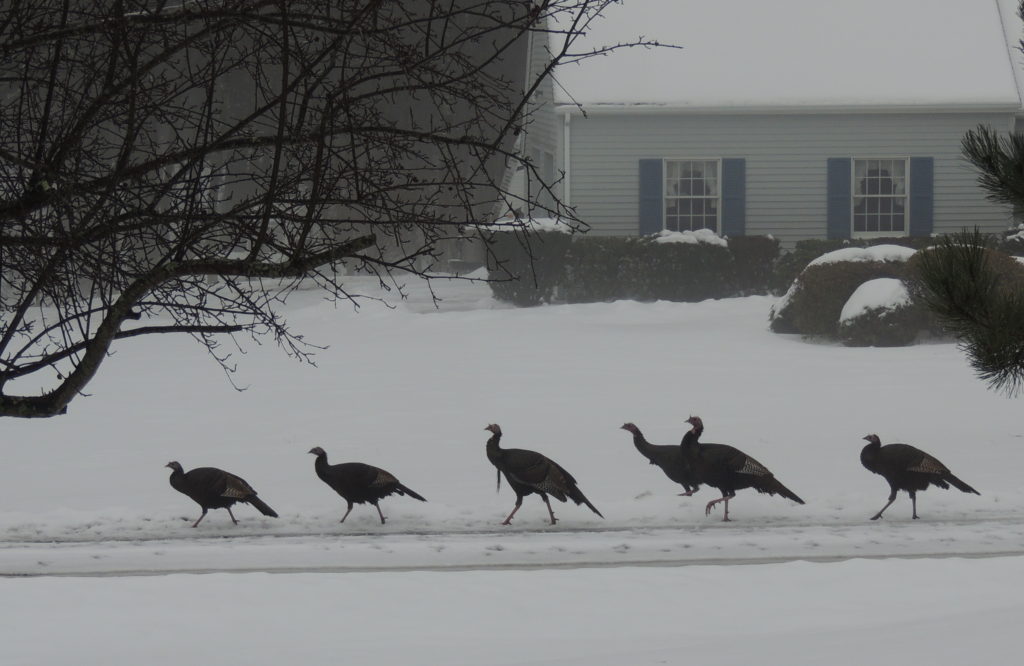 Turkey Parade, Litchfield County CT – 20014 photo by Wrongo
It is a tradition on Thanksgiving at the Mansion of Wrong to play "Alice's Restaurant" by Arlo Guthrie. Arlo was convicted of littering in November, 1965 in Stockbridge, MA. This year we are changing things up a bit, so Arlo isn't featured on the front page.
But, we are still having turkey, and gratitude is still the word for the day.
It turns out the more grateful people are, the healthier they are. NPR reported on a study by Paul Mills, a professor of public health at UC San Diego, that showed people who were more grateful had better cardiac health:
We found that more gratitude in these patients was associated with better mood, better sleep, less fatigue and lower levels of inflammatory biomarkers related to cardiac health…
More from Dr. Mills:
Taking the time to focus on what you are thankful for…[and] letting that sense of gratitude wash over you…helps us manage and cope.
Who knew? Being thankful can keep your heart healthy. That, and no seconds on stuffing and gravy.
This is our 1319th column since entering the blogging business in 2010. Wrongo wants to thank all who have stuck around since the beginning, all of you who read the work, and those who both comment, and/or criticize. We got started with the idea of highlighting what is wrong in our world, and suggesting that you take action to make the world more like you think it should be, rather than sitting and watching it continue on the current path.
So on this day of yuuge portions of turkey, gravy, pies, dressing, etc. Wrongo is very grateful to all of you!
Finally, Wrongo is posting two tunes for Thanksgiving. First, a re-post of one of the great non-Thanksgiving Day tunes of thanksgiving: "Be Thankful for What You've Got" by William DeVaughn. This one-hit wonder sold two million copies in 1974, reaching #1 on the US R&B charts and #4 on the Billboard chart. It reminds us of a time when there was more optimism in America:
Those who read the Wrongologist via email can view the video here.
Second, let's listen to the late Tom Petty and his band Mudcrutch. Petty started his career by forming Mudcrutch, but everyone knows his next group, The Heartbreakers, from which most of his hits were launched. Petty returned to Mudcrutch twice, the last time in 2016, when they released the album "Mudcrutch 2". Here is Mudcrutch with Petty singing "I Forgive it All". In a sense, that's a wonderful sentiment for the rock icon who left us this year:
Takeaway Lyric:
I ain't broke and I ain't hungry
But I'm close enough to care.
Those who read the Wrongologist via email can view the video here.
Since you are reading this, you woke up on this side of the dirt! Another reason to be grateful…