You've probably heard that at Trump's political rally in Florida, he lamented an attack that took place in Sweden on Friday Night. He told his supporters:
You look at what's happening…We've got to keep our country safe. You look at what's happening in Germany, you look at what's happening last night in Sweden. Sweden, who would believe this?
Nothing nefarious happened in Sweden on Friday, or Saturday for that matter, and Swedes were left baffled:
Swedes reacted with confusion, anger and ridicule on Sunday to a vague remark by President Trump that suggested that something terrible had occurred in their country.
Apparently the Donald has a fantasy life: He dreamed up some fake news on his own. Digby reports:
The truth is that Trump was watching Fox News on Friday night and Tucker Carlson had some wingnut documentary filmmaker on talking about his movie about refugees in Sweden committing crimes. Trump just…got the story wrong.
We used to say "truth is beauty and beauty is truth", but there is no beauty in Truth by Trump. Consider that the Wall Street Journal had a dust-up with its own reporters, and one lost his job when they said the paper was soft on Trump. And when reporting on this false story of Swedish tragedy, the WSJ did not link to the (also Murdoch controlled) Fox News which had the Tucker Carlson story, despite most other media reporting it. From Bob Lefsetz:
This is scary on two levels that the WSJ is self-editing, and Trump believes everything he sees and reads, when they tell you in second grade not to.
This wasn't the first time. Remember when he said he saw thousands of Muslims cheering the destruction of the World Trade Center on 9/11?
Trump is a typical old, Fox News-obsessed male wingnut. They get mixed up a lot. He combines the ignorance of Dubya with none of the self-control. The story served his narrative that we live in fear and that he is the only one who can save us. Will Wheaton said this: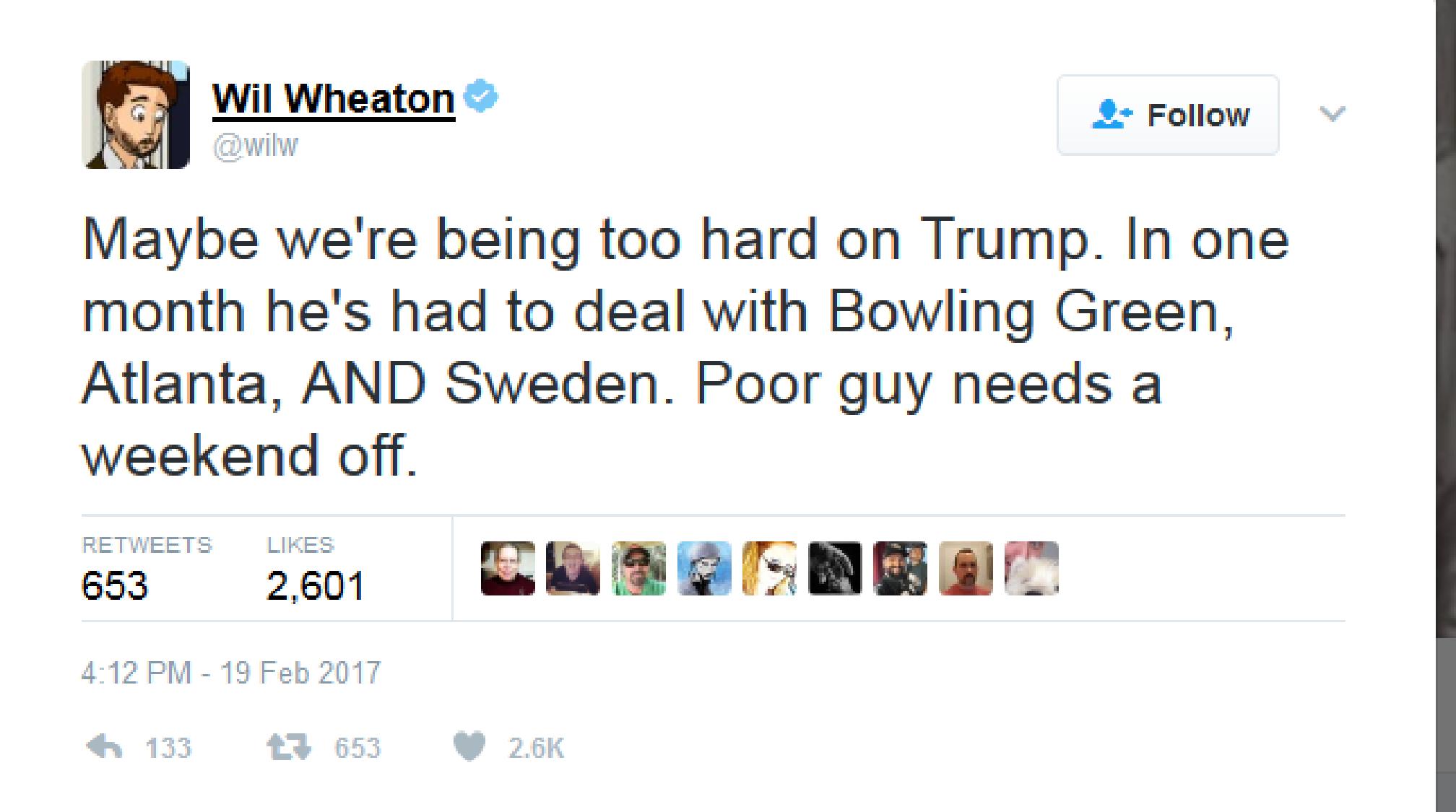 None of the three events happened, except in the mind of Donald Trump. Time for Republicans everywhere to Wake the F—k up! They need to stop excusing Trump's behavior. They need to join the media in calling out the president when he makes shit up. To help with this wake-up, here is Richard Thompson with "Good Things Happen to Bad People (But Only for a While). Try to hold on to that thought when you hear Trump spout another silly innuendo, or another lie, and Republicans say nothing.
Sample Lyrics:
Well I know you've got a secret or two
Your hair's in a brand new 'do'
And you're so happy
Good things happen to bad people
Good things happen to bad people
But only, but only, for a while
You cried the day I walked you down the aisle
And I know you've been bad
From the way you smile