The Daily Escape: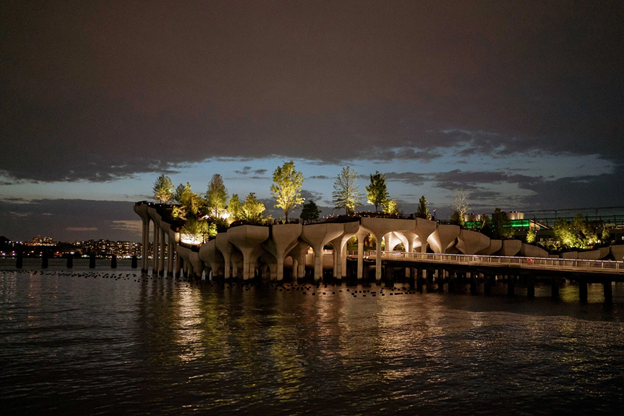 Little Island Park, NYC – May 2021 photo by Amr Alfiky/The New York Times. Little Island is a new park that opens this weekend. It was developed by Barry Diller and has gardens, an amphitheater and dramatic views. The architect is Thomas Heatherwick, who designed the Vessel at Hudson Yards. Hundreds of free and/or modestly priced concerts and children's programs are planned for this year.
(There will be no cartoons tomorrow as Wrongo and Ms. Right are spending time with family celebrating the 50th birthday of their youngest child.)
Despite all the pundits who predict that the Republicans may regain control of the House in the 2022 mid-terms, the charts below say that Trump isn't all that popular with Americans. They come from a new Yahoo News / YouGov Poll conducted between May 11th and 13th of 1,561 adults, with a 2.8-point margin of error: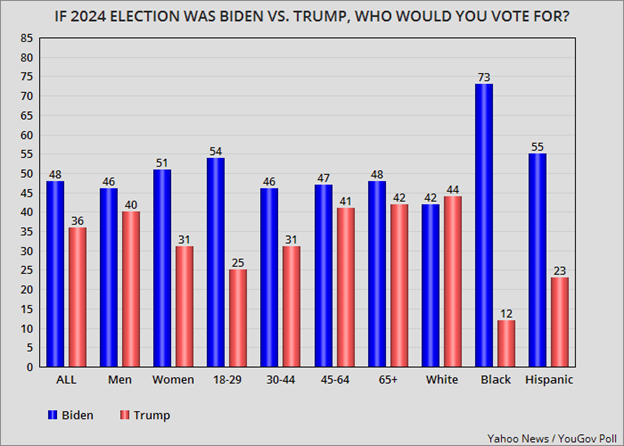 Graphical presentations by Ted McLaughlin
Overall, the poll says that Biden would beat Trump by 48% to 36%, a substantial weakening of Trump's popular vote support in the 2020 presidential election, where it was Biden, 51.3% to 46.9%.
OTOH, the news isn't totally terrific for Biden, who falls short of the 51% + who voted for him in 2020.
But Biden has a clear edge in that undecided category, while the poll also showed that 12% of Trump 2020 voters would either flip to Biden or, are now "not sure". That's twice as many as the 6% who would potentially flip from Biden to Trump. Among Republicans, 10% say they would vote for Biden in 2024.
In fact, on the question of whether Trump is helping or hurting the Republican Party the poll showed this: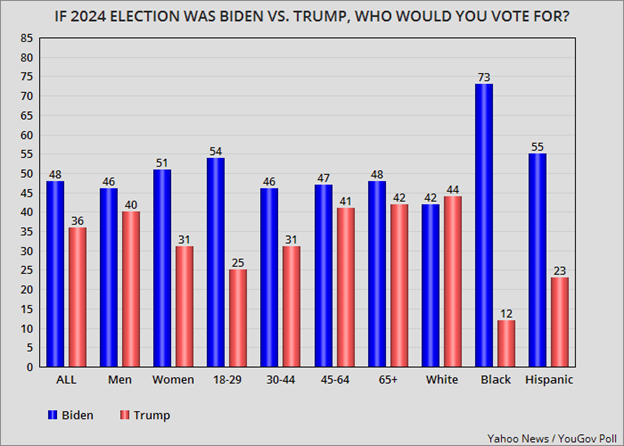 Among all Americans, 47% say Trump's hurting the Republican Party, while 32% say he's helping it. Among Republicans, 68% saying he is helping the Party. We know that Congressional Republicans are still tied to Trump, but they'll need more than their base voters to return to power. As these charts show, it isn't clear that will happen if all they do is continue to cling to Trump.
On to the weekend and our Saturday Soother. There's still some yard work to do on the fields of Wrong. Our new specimen birch tree ordered by mail has stopped looking like it's dormant and has finally leafed out. There's plenty of spring trimming to do of some flowers on what is going to be a warm weekend.
Before we put on the bug spray, let's take a few minutes and hydrate with Bourbon Barrel Aged Ethiopia Cold Brew from Glendale California's Regent Coffee. This ready-to-drink black coffee is sweetly tart with an invitingly rich finish, with suggestions of Bourbon barrel integrated with classic Ethiopia notes of dried stone fruit and sweet herbs (or so says the roaster).
Now grab a seat by a window and listen to trumpeter Alison Balsom perform the 3rd Movement of JN Hummel's Trumpet Concerto in E Major, live with the London Mozart Players, conducted by Howard Shelley: