The Daily Escape: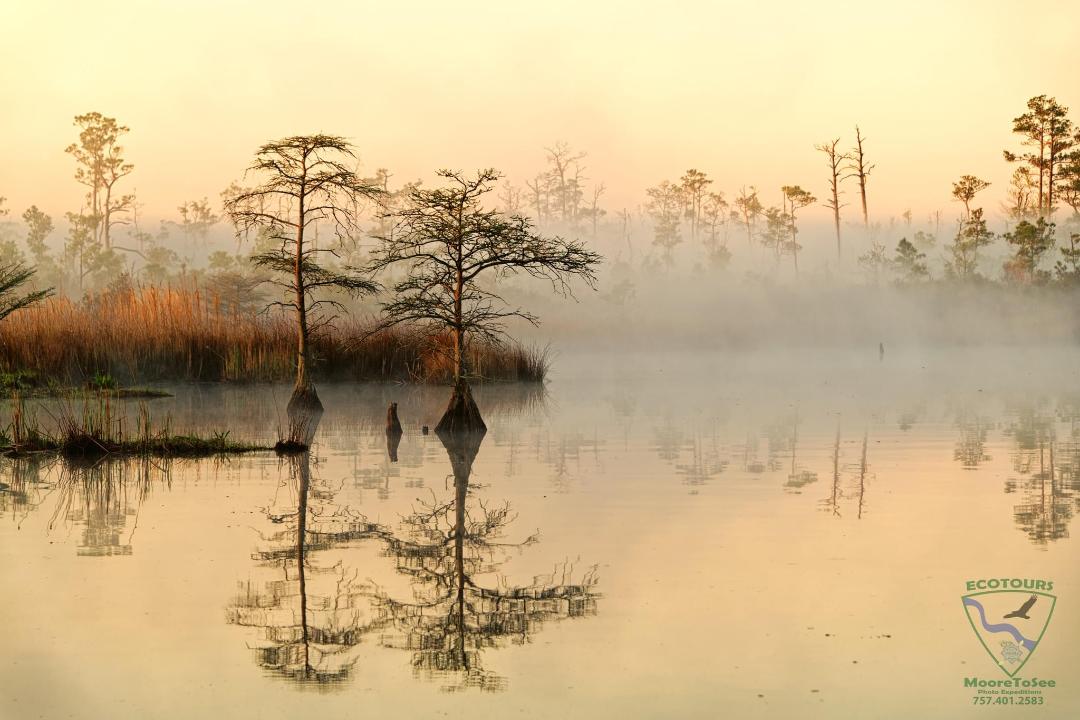 North Landing River, near Virginia Beach, VA – April 2022 photo by Erik Moore
Our media ecosystem is overwhelming us. Some of the information is accurate, some is bogus, and much is intentionally misleading. And that's a deliberate strategy. While it didn't originate with Steve Bannon, he perfected it with his thought that:
"…the Democrats don't matter….The real opposition is the media. And the way to deal with them is to flood the zone with shit."
This is why the ongoing cultural war works so well for Republicans. There's always some petty war going on between the Parties that's stoked by the media. And it's almost always about cultural issues since Republicans really don't have a policy platform, and don't want to go against large corporate America. When you go against corporations, you lose the money needed to get elected.
But we should see the big corporations as our common enemy. Time Magazine has an article about how overtime pay has disappeared:
"If it feels like you're working longer hours for less money than your parents or grandparents did, it's because you probably are. Adjusted for inflation, average hourly wages have actually fallen since the early 1970s, while average hours worked have steadily climbed. American workers are increasingly underpaid, overworked, and overwhelmed."
One reason is the loss of overtime pay:
"If you're under the age of 45, you may have no idea that overtime pay is even a thing. But…middle-class workers used to get a lot of it….That means that [for] every hour you work over 40 hours a week you work for free, contributing…a giant pool of free labor that modern employers have come to expect and exploit. Profits are up, real wages are down, and income inequality has soared to its highest level since the Gilded Age."
Overtime pay was one of the great New Deal reforms. It was a core provision of the Fair Labor Standards Act (FLSA). The FLSA set the minimum wage at one-half the median wage and the overtime threshold at three times the minimum—an amount equal to 1.5 times the median wage.
But both the minimum wage and the overtime rules began to change in 1975, and rising income inequality since 1975 is responsible for a $50 trillion upward redistribution of wealth and income from the bottom 90% households to those in the top 1%. Here's a chart showing the impact of losing overtime. Productivity goes up, but is completely decoupled from income:
Source: chartr
The Economic Policy Institute has a tool called "Company Wage Tracker" that allows you to select any big corporation and see what percentage of their employees make below a certain wage. For example, it shows that 51% of Walmart employees earn below $15/hr.
The NYT wrote about Mary Gundel, a manager at a Dollar General store in Tampa, FL who was fired for speaking out about the chain's policies regarding overtime and short-staffing:
"The store used to have about 198 hours a week to allocate to a staff of about seven people….But by the end of last month, she had only about 130 hours to allocate….With not as many hours to give to her staff, Ms. Gundel often had to operate the store on her own for long stretches, typically working six days and up to 60 hours a week with no overtime pay."
Ms. Gundel was working 60 hours a week and making $51,000 a year. That means she's making only a little more than the minimum wage. Dollar General is one of the most profitable retail chains in the country.
Prices are going up everywhere across America, and corporations are making proportionately more income. This is what the Democrats should be focusing on, standing up for workers, doing what is right as opposed to groping for answers to the Republican's culture war issues.
There's plenty that's wrong in America. But what's wrong doesn't see the light of day alongside all of the pissing contests about Critical Race Theory, or predator grooming or LGBTQ issues. These are ginned-up to make sure you won't pay attention to what's really going on.
Something seems to be brewing. We're seeing halting attempts at unionization at Starbucks and Amazon. Those employees want a better life; they want to have a seat at the table about the future of the company.
We need to remember that without the "essential workers" the country grinds to a halt. We need to support those who try to organize. We need to wrest some economic power away from politicians and big businesses. And finally, some faceless people who are sick of being wronged are trying to do just that.
Enough for another week. It's time to let go of the news. It's time for our Saturday Soother. On the Fields of Wrong we're preparing our vegetable garden, although it will be a few weeks before it's warm enough for the plants to survive. We had an overnight temperature of 32° earlier this week.
Now, grab a seat by a large window and listen to violin soloist Soojin Han play Chopin's "Nocturne No.20 in C# minor" in August 2019. She's playing on a 1666 Stradivarius:
It sounds beautiful.
Chopin composed the piece in 1830, but it was published in 1875, 26 years after his death. It was featured in the movie "The Pianist" in 2002.