Today we premiere a new feature, the "Daily Escape", a photo that hopefully will take you away from all that is wrong just now. Some photos will be by Wrongo, but most will be from professionals. They will not have any particular relevance to the topic of the day. They are here to help you pause for a moment, and go to a different place.
Today's Daily Escape: George Peabody Library, Johns Hopkins University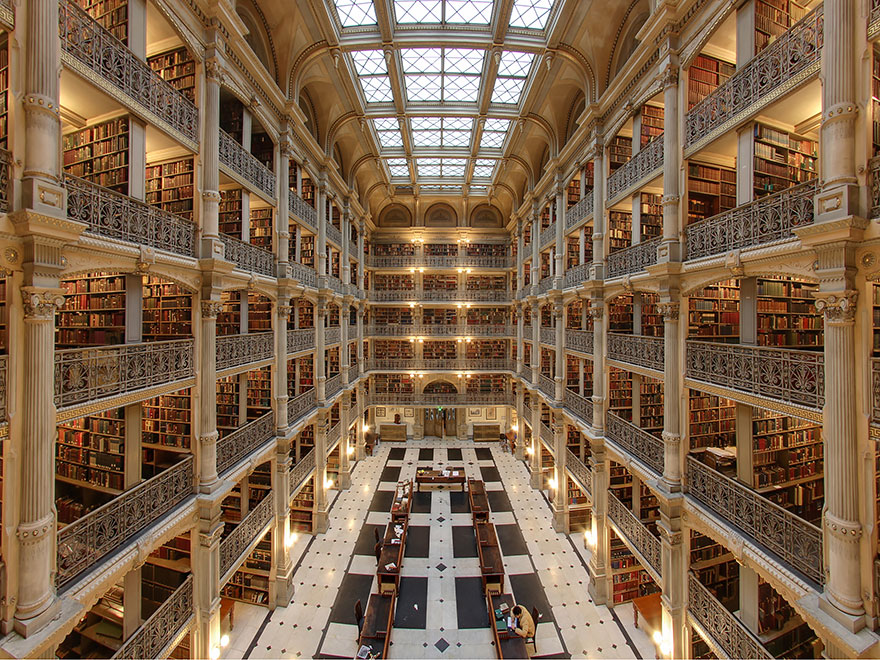 Now, on to what's wrong…
The principle that all Internet content should be treated equally as it flows to consumers is called "net neutrality". Net neutrality looks all but dead under Trump's new head of the FCC. From the NYT:
In his first days as President Trump's pick to lead the Federal Communications Commission, Ajit Pai has aggressively moved to roll back consumer protection regulations created during the Obama presidency.
Mr. Pai took a first swipe at net neutrality rules designed to ensure equal access to content on the internet. He stopped nine companies from providing discounted high-speed internet service to low-income individuals. He withdrew an effort to keep prison phone rates down, and he scrapped a proposal to open the cable box market to competition.
Before he became FCC Chair, Pai served as an FCC commissioner, one of the Republican minority under the Obama administration. In that role, he opposed reclassifying broadband providers as common carriers, which allows the agency to regulate them like utility companies, a necessary step if the FCC was to enforce net neutrality rules. That reclassification might be next to go.
Today consumers can pay Internet service providers for a higher-speed Internet connection, but regardless of the download speed they choose, under new Chair Pai's plan, they might get some content faster, depending on how much their content provider has paid the service provider.
Tim Wu at the New Yorker offered some insight: (emphasis by the Wrongologist)
With broadband, there is no such thing as accelerating some traffic without degrading other traffic. We take it for granted that bloggers, start-ups, or nonprofits on an open Internet reach their audiences roughly the same way as everyone else. Now they won't. They'll be behind in the queue, watching as companies that can pay tolls to the cable companies' speed ahead
The new rule gives broadband providers what they've wanted for about a decade: the right to speed up some traffic at the expense of others. The motivation is not complicated. The broadband carriers want to make more money for doing what they already do. Never mind that American carriers already charge some of the world's highest prices for a service that costs less than $5/month to provide.
In the large-scale server market, Internet traffic is nearly free. In that market, a terabyte of data costs about $1/month. That's 1000 gigabytes/month, if you are not familiar with usage of that size.  The home user pays 10x to as much as 1000x more than that per month; $100 for 100 gigabytes of traffic is not uncommon. A recent offer from AT&T for 45 M/bit internet is $30/month, which includes 1TB of data/mo. So 1000 gigabytes costs $30, or $1 per 33 gigabytes, but, if you exceed ATT's limit, the price goes up dramatically: You would have to pay $10 per each additional 50 GB.
No volume discount for you, but Netflix will get one.
Requiring access fees for faster service will be good for Netflix, since it won't have to worry as much about competitive traffic, particularly from small companies. The ultimate result will be to lock in the current set of incumbents who control the internet, ushering in the era of big, fat, (and possibly) inefficient monopolies.
Republicans and big corporations like to say that they are against regulation because the free market should rule. That economic efficiency brings lower prices.
It is always a lie.