The Daily Escape: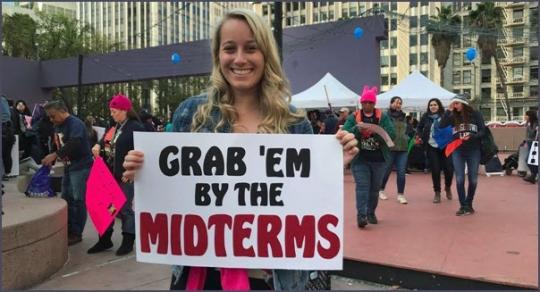 There are marches today. Get involved if you can.
The Dow looks like it might take a year to recover. But the weekend looks to be a rollicking good time, with marches by high schoolers and their adult supporters, Stormy Daniels on 60 Minutes, and the Sweet Sixteen college basketball tournament.
And don't forget John Bolton, also known as the "Mustache of War".
Bolton, as undersecretary of state for arms control and international security affairs from 2001 to 2005, was a prime mover behind the Bush II war on Iraq. As you can read here, Bolton rejected intelligence that conflicted with his desire that the US government use the phony claim that Iraq had WMD to justify the war. In fact, senior British officials accurately showed what was happening in their secret "Downing Street" memo to Tony Blair in July 2002 when they reported that:
The intelligence and facts are being fixed around the policy.
Throughout that fall, Bolton knew how the administration was misrepresenting the details of the 2002 National Intelligence Estimate (NIE) on Iraq's WMD to the public. The Senate Select Committee on Intelligence also documented these distortions in a series of bipartisan reports following the 2003 invasion. Lawfare gives a first-person analysis of Bolton:
First, he's a masterful bureaucratic tactician. Unlike his predecessors, Michael Flynn and H.R. McMaster, Bolton is a very experienced and adept creature of Washington institutions. Similar to former Vice President Dick Cheney, he knows the levers and knobs of the vast national security and foreign policy machinery: how they work, who works them, and how to exert control over them.
That's also mixed in with the fact that Trump likes to defer to people who can dominate a room, another formidable trait of Bolton's:
Third, he's thorough and methodical. Most senior policymakers simply cannot keep up with the details across so many issues….Expect the same diligent readiness from him on issues like Iran and North Korea, but with the added advantage that he'll face less pushback than he might otherwise because of the fact that so many senior diplomatic posts remain unfilled. His ability to be meticulous and bombastic will probably serve him very well in this White House.

The key takeaway is that Bolton brings to the president's national security agenda a competence that this White House has lacked. I generally agree with Benjamin Wittes that some of the president's worst instincts have often been tempered by sheer ineptitude. What makes Bolton dangerous is his capacity to implement those instincts effectively.
He has the ability to put loyalists in key positions while marginalizing those he distrusts. From Booman:
This is the most dangerous moment for humanity since the Cuban Missile Crisis. There's nothing Congress or the public can do directly to prevent Bolton from taking his post, but all means for resisting his influence must be employed.
Those who lived through the Cuban Missile Crisis know that we barely avoided going nuclear, in part because JFK stood up to General Curtis Lemay, and because tactical commanders on both sides failed to follow their respective militaries' rules of engagement.
Trump may not act like JFK if a similar issue comes up. He once asked three times (in a national security briefing) why we have nuclear weapons if we can't use them.
Maybe this isn't a good time to bring up that many Democrats and independents thought that Hillary Clinton was a greater threat to world peace than the Donald. Kinda makes a person long for some good old Obama-style gridlock.
Enough! We gotta just get away, relax and get soothed. Wrongo says this every week, but this weekend, he really, really means it. The daffodils are poking up through the snow, and it is time to brew up a hot vente cup of something caffeinated. This week, Wrongo recommends Hula Daddy Coffee's Kona Sweet blend ($94.50/lb.), with its silky mouthfeel, and very sweet taste which suggests subtle milk chocolate, according to the roaster. Don't worry, the stock market is so bad, you might as well blow what you have left on one cuppa joe.
Now, settle in and listen to a selection from George Winston's "Winter into Spring", recorded in 1982. This video adds terrific sights and sounds of spring in northern Idaho to Winston's soundtrack. Some might think it distorts Winston's art. You be the judge:
Those who read the Wrongologist in email can view the video here.