The Daily Escape: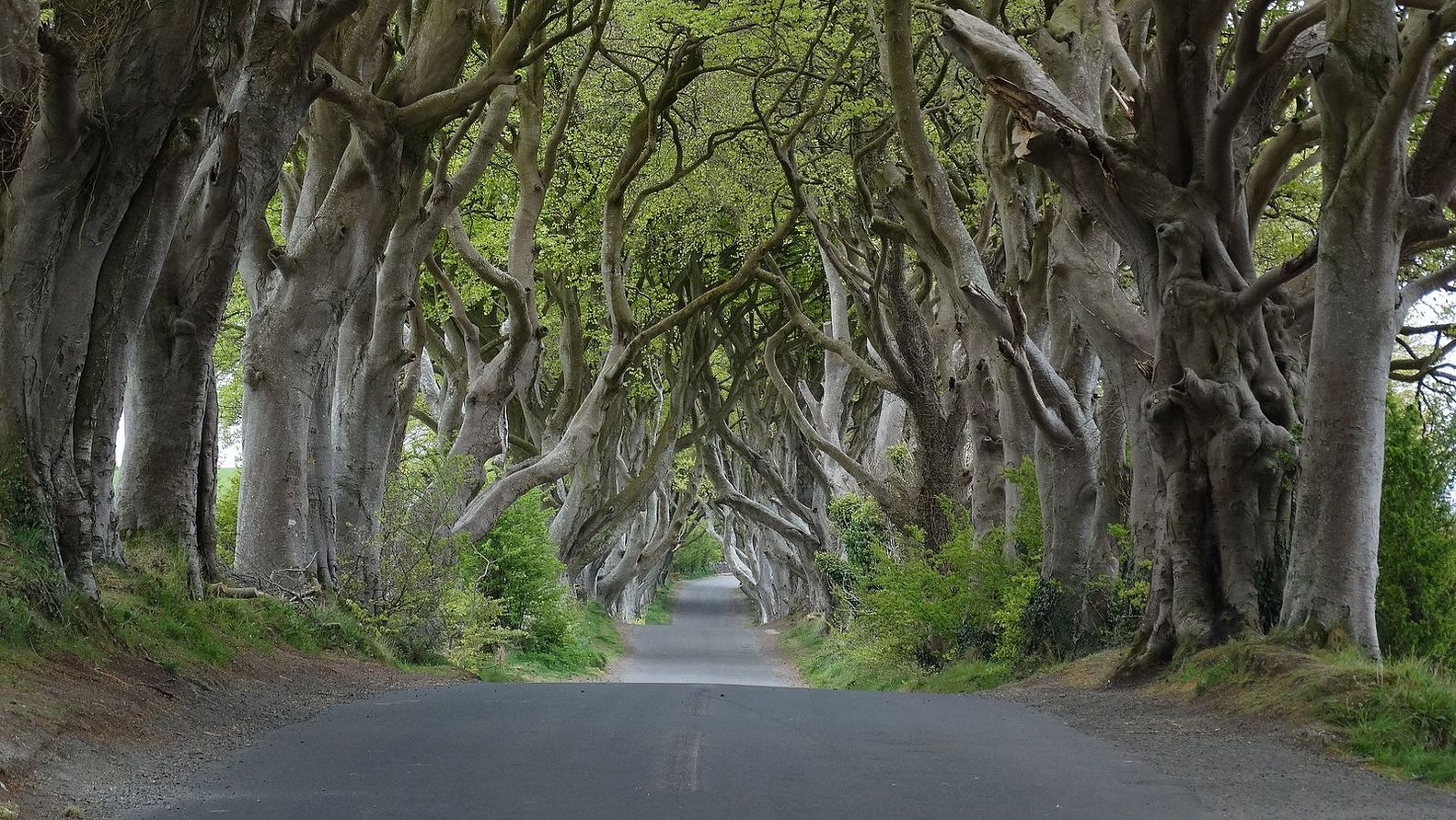 The Dark Hedges near Ballymoney, County Antrim, Northern Ireland. (Featured in the Game of Thrones as the King's Road) – photo by Colin Park
America is also walking down a dark path. We need to work on the integrity of our election process. From the WSJ:
To understand the scale of the hacking attempts against election systems in the 2016 presidential election, consider South Carolina. On Election Day alone, there were nearly 150,000 attempts to penetrate the state's voter-registration system, according to a postelection report by the South Carolina State Election Commission.
If hackers were that persistent against a state that President Donald Trump won with 54.9% of the vote, what did they try to do in the states that were in play? Quite a bit, it turns out. More from the WSJ: (emphasis by the Wrongologist)
In harder-fought Illinois, for instance, hackers were hitting the State Board of Elections "5 times per second, 24 hours per day" from late June until Aug. 12, 2016, when the attacks ceased for unknown reasons, according to an Aug. 26, 2016, report by the state's computer staff. Hackers ultimately accessed approximately 90,000 voter records, the State Board of Elections said.
The next day, Illinois temporarily took its voter-registration database and public-facing website offline. No records were altered, according to the state, and the issue was resolved before Election Day. The hackers haven't been identified.
Many hackers, including state-sponsored ones, use automated programs to target hundreds or even thousands of computers to check for vulnerabilities. All of this is done by bots. This happens to ALL websites, (including Wrongo's) not just to election systems. Confirming intrusions can be difficult, even if intrusion detection technology is deployed. But many municipalities and counties have not deployed it, since it can be very expensive.
Time Magazine reported that the number of actual successful intrusions in the 2016 election cycle, where hackers gained sufficient access to attempt to alter, delete or download any information, was "fewer than a dozen".
The tally of hacking (or attempted hacking) into state election databases was widespread in the 2016 election. Jeanette Manfra, acting deputy undersecretary for cyber-security and communications at the Department of Homeland Security, said at a Senate Intelligence Committee hearing last month:
There is evidence that 21 states were targeted by hackers
From the NYT:
By 2020, cyberattacks could try to alter or erase voter registration databases…or do something else to interfere with actual voting on Election Day…public confidence in the fairness of our electoral process could decrease further, even if the hacks are unsuccessful, as incendiary and unsupported claims about voter fraud, cheating and altered vote totals spread via social media.
America needs to start from the premise that one state's (any state's) insufficient protections against hacking in presidential elections affects us all. From mobile device management to company firewalls, companies like Fleetsmith can provide cybersecurity to numerous companies, protecting them from hackings and it's time for the US government to follow in their footsteps and do the same, otherwise, there may be detrimental impacts. Protecting government databases is critical and needs to be done yesterday. From Wrongo's experience as a former provider of outsourced services to both state and federal governments, it is clear that the IT staff at many government agencies lack the expertise or budgets to harden the electoral system against attacks.
We have been discussing the hacking of the voter databases, not vote results. These databases have little to do with the actual vote tallies in a given election. But if the US developed one giant database that recorded everyone's votes along with names, addresses, and SSNs, people's identities could be stolen.
Unfortunately, that's exactly what Trump's Presidential Advisory Commission on Election Integrity plans to build. Nearly all states have said that they will not comply with the commission's request for voter data. When the winners of one election cycle try to pick the rules, referees and judges for the next cycle, it's clearly a system at risk of shutting out true democratic input.
The story of possible Russian hacking in our 2016 election, and the possible Trump family involvement in the Russian efforts diverts our attention from the real story, which is that cyber security in the US is a gaping vulnerability.
It threatens our security, our economy and our democracy.
We need a musical break. Over the weekend, there was a two-day Rock concert at Dodger Stadium in Los Angeles called "Classic West". Many old groups performed over two days. Here, we focus on the Eagles, who played with the son of the late Eagle, Glenn Frey. His 23 year-old son Deacon Frey stood in for his legend of a father, in front of 50k fans, who accepted him as part of the family. It was a fitting tribute. The Eagles also added Vince Gill, who sang "Take It to the Limit", and "Lyin' Eyes". But here is Deacon Frey delivering an emotional moment on "Take It Easy":
https://www.youtube.com/watch?v=ZQCFwL3uoPE
Those who read the Wrongologist in email can view the video here.