The Daily Escape: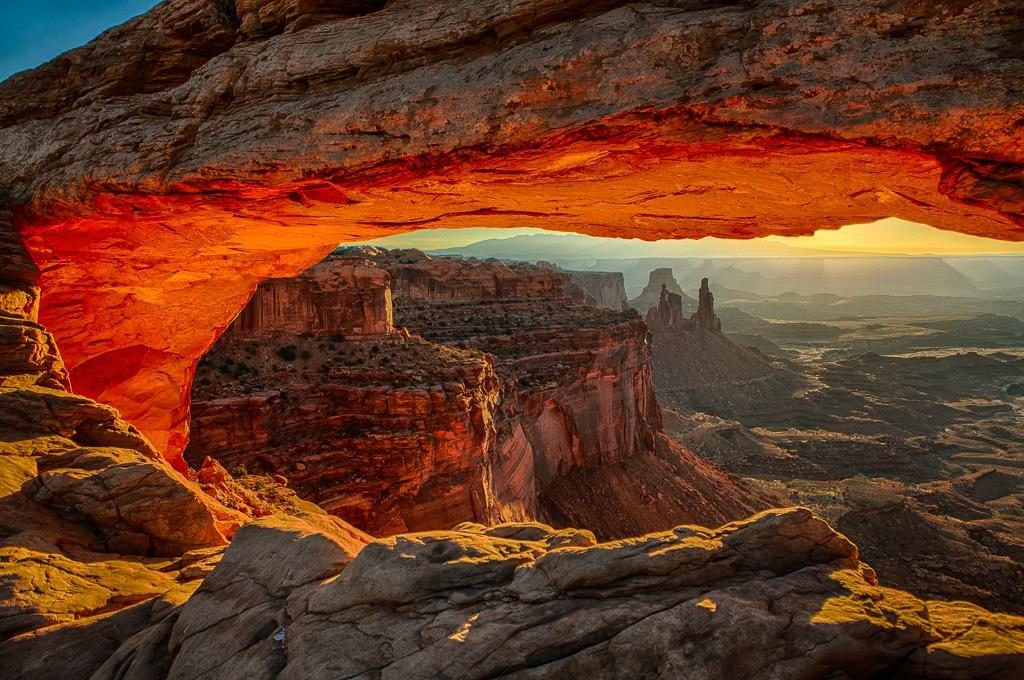 Sunrise at Mesa Arch, Canyonlands National Park, Utah
It's Saturday, and the dominant issue should be the Republicans' efforts to enact a tax cut, now that the House has passed its version of the legislation. The plan distills Republican economic philosophy perfectly: Take lots of money and give it to the people at the top, while pretending that doing so will help everyone else.
Speaker Paul Ryan said it's a middle-class tax cut:
This plan is for the middle-class families in this country who deserve a break. It is for the families who are out there living paycheck to paycheck, who just keep getting squeezed… The Tax Cut and Jobs Act will deliver real relief for people in the middle, people who are also striving to get there.
David Leonhardt offered this view:
Amazingly, the bill…would increase taxes, on net, for families that have at least one child and make less than $100,000. That conclusion comes from a rigorous independent analysis of the bill, released yesterday afternoon by the Tax Policy Center.
The elevator version of the Republican plan is to add $1.5 trillion to the deficit in order to give permanent tax cuts to corporations. Since that sounds terrible, the GOP proposes holding down the bill's total cost by raising taxes on middle-class and poor families. More from Leonhardt:
A big reason is that personal exemptions — the $4,000 in income, per person, that families can write off — would disappear. The bill would increase standard deductions that all taxpayers can take, but the increase isn't large enough for many families to make up for the disappearance of per-person exemptions…
OTOH, households making at least $5 million would receive an ANNUAL tax cut of almost $300,000 once the bill is fully phased in.
The cynicism is spectacular: Congressional leaders want to raise taxes on most of the middle and lower classes, while claiming that the bill does just the opposite. Senate Leader Mitch McConnell, said:
At the end of the day, nobody in the middle class is going to get a tax increase.
Worse, if the GOP tax bill becomes law, and we look a few moves ahead, we know that Republicans will once again pose as deficit hawks and look to gut Medicare and Medicaid.
On our backs. Happy Thanksgiving!
Our Republican friends plan to fund a permanent tax cut for their beloved constituents, American corporations. For decades Americans have been against increased taxes. We bought the idea that cutting taxes would give people an incentive to work harder and thus make the American economy flourish. The GOP tells us this as they try to roll back corporate taxes, as they plan to eliminate the estate tax, and as they continually work to prevent the government from taking action against offshore tax havens.
We endure potholes, we live in fear of collapsing highway bridges because our leaders want their special constituents to have more. Our kids sit in underfunded schools so that a handful of wealthy individuals can sit in gated communities or on their own private beaches.
Think of what we might do with the sums we will lose to this GOP "tax reform" over our lifetimes. Think about the crumbling infrastructure that could be fixed. Think of all the young people saddled with student-loan debt: We could make that unnecessary, rather than give more to corporations by denying students the deductibility of the interest on their loans. Think of the drug-addicted people all over America: With these tax cuts, we will never help them.
Until the words "discredited trickle down tax plan" come out of the mouth of every single Democratic politician, we won't have a great chance of killing the Republican's tax plan.
Enough! It's Saturday, and time to let the mind wander. So grab a Vente cup of Union's Hand-Roasted Coffee, Brewer's El Topacio Microlot, El Salvador (just £8 for 200g). Now sit near a big window and watch the last days of fall, while listening to Beethoven's "Violin Concerto in D major Op, 61" here performed in 1959 by violinist David Oistrakh with the French National Radio Orchestra, directed by Andre Cluytens.
Listen to the sound of a Stradivarius played by one of the giants on 20th Century violin: