The Daily Escape: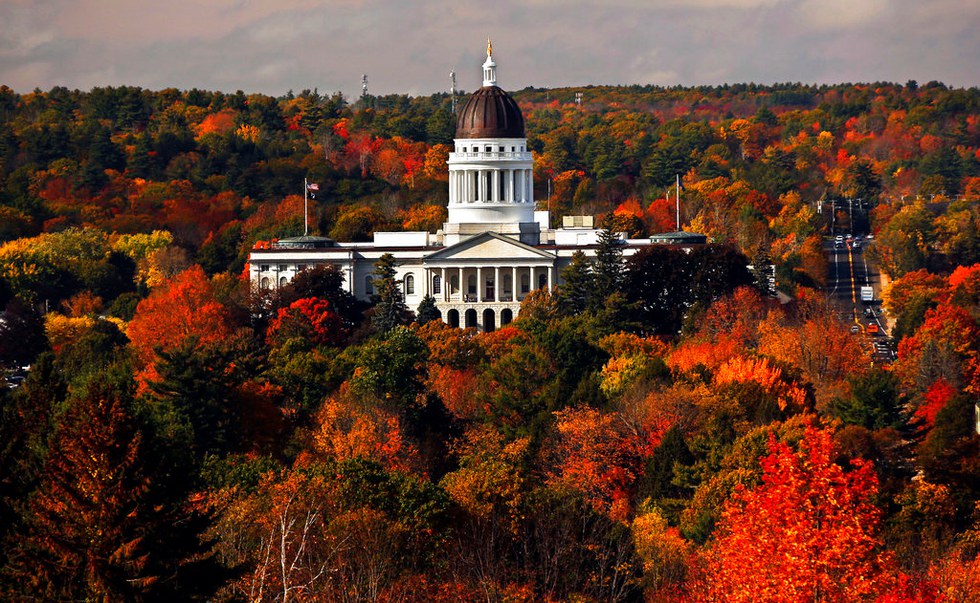 Fall at the Statehouse in Augusta, Maine – photo by Robert F. Bukaty
Welcome to what we may start to call Robert Mueller Monday. Ray Dalio, the founder of the Bridgewater Associates, the world's largest hedge fund has serious concerns about the uneven recovery of the US economy.
In a LinkedIn post, Dalio said that if politicians and business people look only at the economy's average statistics about how Americans are doing, they could easily make "dangerous miscalculations" because the averages mask deep differences in how people in various income segments are doing.
Dalio divides the economy into two sections: the top 40%, and the bottom 60%. He then shows how the economy for the bottom 60% of the population, (that's three in five Americans for you English majors), has been much less successful than for those in the top bracket.
For example, Dalio notes that since 1980, real incomes have been flat or down for the average household in the bottom 60%. Those in the top 40% now have 10 times as much wealth as households in the bottom 60%, up from six times as much in 1980.
Dalio says that only about one-third of people in the bottom 60% (20% overall) save any of their income. Only a similar number have any retirement savings. These three in five Americans are experiencing increasing rates of premature death. They spend about four times less on education than those in the top 40%. Those in the 60% without a college education have lower income levels, and higher divorce rates.
Dalio believes these problems will intensify in the next five to ten years. The inequality problem is caused by our politics and our fiscal policies, not by the Fed's monetary policies.
OTOH, Dalio's concerns aren't a surprise to anyone who follows the political economy. In fact, it isn't a surprise to anyone who has walked through any mid-sized American city, or driven through any small town in the heartland.
The problem is not low wage growth.
The problem is not long-term unemployment, as degrading and humiliating as that is.
The problem is that the US economy has been restructured over the past 30 years as an underemployment, low-wage economy in which most new jobs created are temporary jobs (whether you are a laborer, a technician, a service worker or a professional) with no job security, low wages and few benefits.
The real question is can we solve the problem? Many old lefties argue for a Universal Basic Income, (UBI), but Wrongo thinks that's, er, wrong. If the UBI were high enough to provide even a subsistence living for every American, it would be massively inflationary. And it would merely allow businesses to pay lower wages, which is why some wealthy business people, like Peter Thiel, support a UBI.
Wrongo thinks we should support guaranteed work, not guaranteed income. Most people need and want to work in order to keep their place in our society. Getting a check just isn't sufficient. If people matter at all, and if 95% of them lack the means to live without working, society must strive to employ all of those who have been deemed redundant by the private sector.
And there is plenty to do around America. Start with the 5,000+ bridges and dams that need replacing, or the 104 nuclear power plants that are falling apart.
We need real tax reform that can't be loopholed. Corporations must pay more, not less. Stop the move to give corporations incentives to repatriate offshore earnings by lowering their effective tax rates. That only compromises our future tax stream. Corporations have to pay more in taxes, and agree to increase the wages of average workers.
Economically, we are in a pretty scary place. People across party lines and socio-economic levels are frightened for their financial security. We need a jobs guarantee, not a UBI.
So, wake up America! Letting corporations and the rich dictate our investment in human capital or infrastructure has us on the road to eclipse as a country. To help you wake up, here is Todd Snider performing "Conservative Christian, Right Wing, Republican, Straight, White American Male", live at Farm Aid 2014 in Raleigh, North Carolina in September, 2014:
Why aren't the Dixie Chicks singing harmony on this?
Those who read the Wrongologist in email can view the video here.