Today's wake-up call is for the Republican Party.
Beginning with Barry Goldwater in 1964, the Republican Party began its deal with the Devil by starting their catering to those on the farthest Right edge of the political spectrum, inviting people who traffic in anger, hatred, religious zealotry, and fearmongering of those not like them, inside the GOP tent.
The election of Ronald Reagan helped bring these zealots some legitimacy, not because he was one of them, but because he had courted them in his first run for the White House.
We forget that in 1976, an evangelical Christian who taught Sunday school, and who endeavored to follow Christ in his daily life ran for President and won. But, despite Jimmy Carter's strong Christian beliefs, Evangelicals went heavily for Ronald Reagan in 1980. Because they admired his Christian faith? No, his faith seemed situational. But he projected what they perceived as strength and leadership.
Evangelicals ignored one of their own in favor of a secular Republican who talked tough and affected an air of someone who could talk tough when events called for toughness. Turns out that for Evangelicals, like many groups, are primarily concerned with political power; their need for a theologically-sound candidate takes a back seat whenever it has to.
That's the reality today, as it was back then. Trump is barely Christian, and Cruz is solidly Christian, but the politics of the Christian Right demands fealty to a political agenda that tolerates hatred, exclusion, and intolerance. Therefore, Trump and Cruz quality.
The contrast between the Democratic and Republican parties couldn't be more sharply defined.
Since the late 1800s, when businesses were undertaking tremendous consolidation, leading to the formation of trusts, Republicans supported business, despite the fact that business was beginning to prey on people and overshadow the government.
After the brief Republican Progressive period from 1890-1917, in which Republicans were the force behind "trust-busting", they have advanced an increasingly exclusionary and discriminatory agenda, denying a collective responsibility to care for our fellow human beings in favor of elevating corporate interests along with their view of individual liberties above all else. Government is an instrument designed to show strength, project American power, and enforce a neo-liberal, dog-eat-dog economic worldview, one that will take the social contract back to where it was in the early 1900's.
Democrats understood that government needs to be more than a police and fire department. One of the most important roles assumed by government was ensuring that we create a level playing field for all citizens, that corporations were not first among equals in America. They also believed that we must look after those who are down on their luck by providing a social safety net.
Government was not to be primarily an instrument for projecting power and protecting the influential, but rather one of ensuring the American social contract, while protecting our citizens from the abuses of big business.
After years of courting the Radical Right, thinking that they could be kept under control, Establishment Republicans now understand that, not only do they no longer have control, the inmates are now running the asylum – poorly. Faced with the reality that the bill for their deal with the Devil has come due, Republicans trotted out Mitt Romney to make the case against The Donald, who responded with crude personal insults and inappropriate sexual innuendo: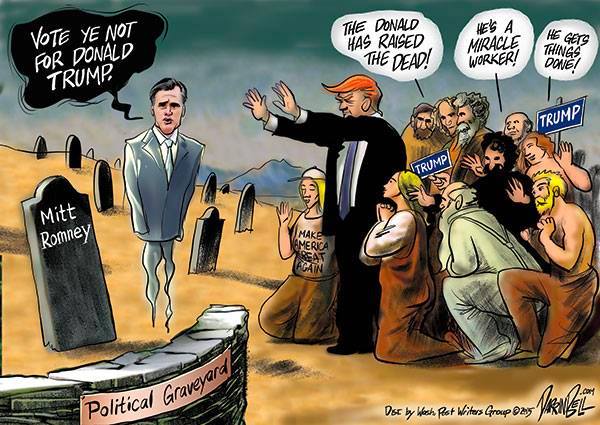 Congratulations, Republicans, you have only yourselves to blame. Now, you desperately need a Wrongo Wake up Call. To help you wake up, let's return to the "small hands" innuendo of the last GOP debate.
Here are the Talking Heads doing "Born Under Punches" live in Rome in 1980, from their great album, "Remain in Light". This 8-minute live version is worth your time, since it includes spectacular guest guitar work by Adrian Belew, who played with Frank Zappa and King Crimson.
Some think the guitar that Belew is playing was originally jimmy Hendrix's (the one he burned at the Monterey Pop festival). Frank Zappa repaired it, and loaned it to Adrian Belew, whose main influence was Hendrix.
The bassist in the white dress is Tina Weymouth who is (still) married to Chris Franz, the Talking Heads guitarist. Here are some sample lyrics:
Take a look at these hands
Take a look at these hands
The hand speaks, the hand of a government man
Well I'm a tumbler born under punches, I'm so thin
Hmmm. Is Trump a government man?
Those who view the Wrongologist in email can view the video here.



Category:
2016 Election
,
Anger in Politics
,
Corporate Welfare
,
Corporatism
,
Culture Wars
,
Dickitude
,
Divided Government
,
Domestic Policy
,
Economic Policy
,
Energy Policy
,
Environmental Issues
,
Financial Regulation
,
ForeignPolicy
,
Globalism
,
Health Policy
,
Immigration Policy
,
Inequality
,
Monday Wake Up Call
,
Neo-Facism
,
Playlist
,
Political Gridlock
,
Politics
,
Politics of Fear
,
Tax Policy
,
Trust of Government