The Daily Escape: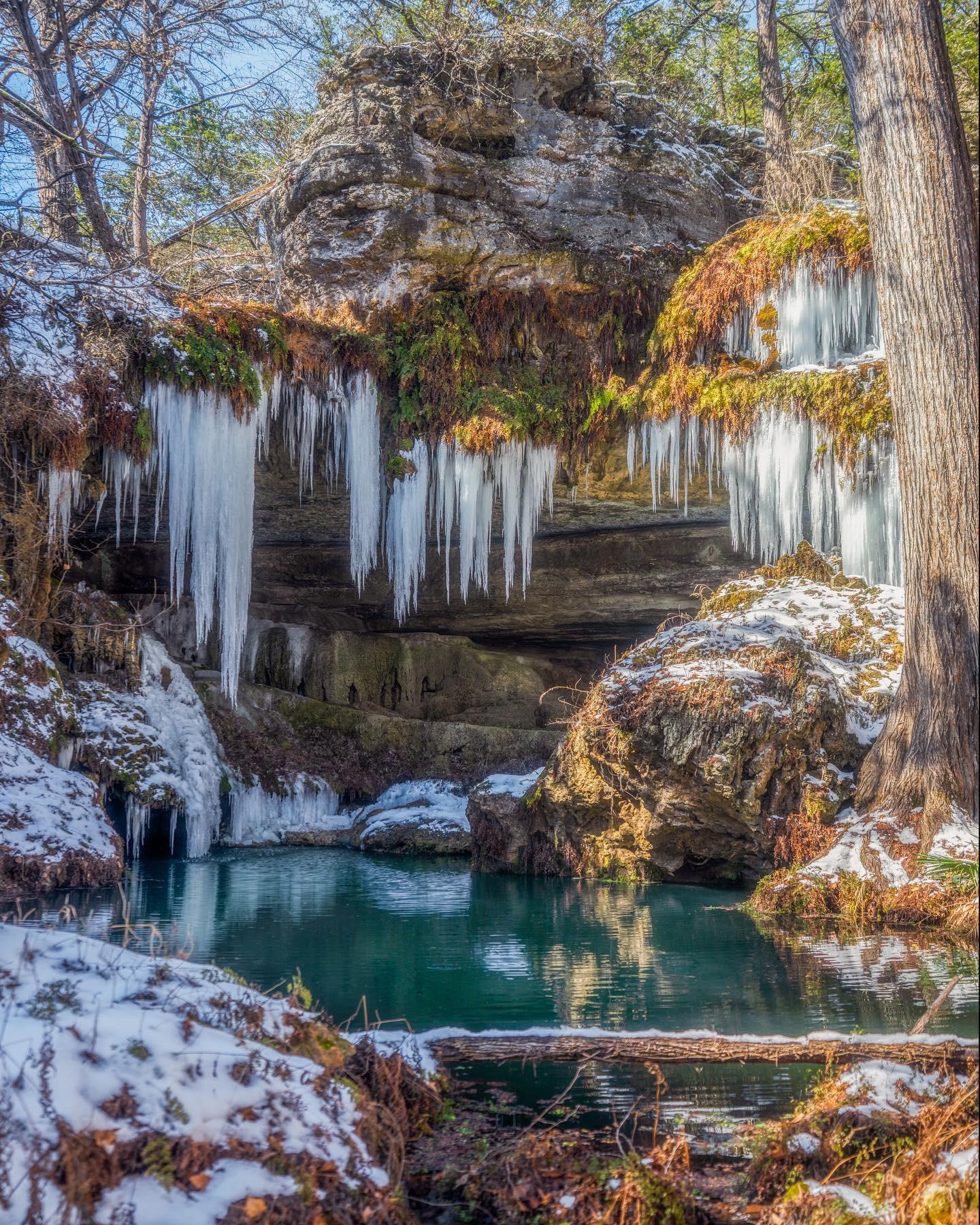 Frozen waterfall, Westcave Preserve, near Austin TX – taken last week during the Texas cold snap. Photo by BusyRunninErins
Neera Tanden's nomination to serve as Biden's director of the Office of Management and Budget (OMB), appears to be on life support. There is growing concern that she may not be confirmed by the Senate.
It seems that Senators object to her history of mean tweets, many of which have been directed at a few Senators whose support she needs. So far, Joe Manchin (D-WVA), Susan Collins (R-ME), and Mitt Romney(R-UT) have announced their opposition to Tanden.
Without Manchin, Tanden will need to not only hold onto all other Democrats, but also pick off one of the two Republicans who haven't announced how they'll vote: Lisa Murkowski or Shelley Moore Capito.
According to Politico, Tanden has tweeted over 88,000 times in the decade since she joined Twitter. That's about 30,000 more than Trump has tweeted over a slightly longer time span. Over the years she has gotten into Twitter fights with many on the political scene. She's been very anti-Republican. But the question is whether her tweets should be a barrier to public service.
Much, but not all the opposition to Tanden's nomination is coming from Republicans. it's certainly hypocritical of any Republican Senator who stood by Trump despite his daily Twitter outrages, to raise these objections to Tanden – the double standard is obvious.
Sens. Susan Collins and Mitt Romney announced Monday they would oppose Tanden. Said Collins:
"Her past actions have demonstrated exactly the kind of animosity that President Biden has pledged to transcend…"
It's notable that Tanden in the past called Collins "the worst".
Still, Democrats control the Senate, and there's no reason why Manchin, for instance, needs to stand up for his Republican colleagues' honor by rejecting a Democratic cabinet nominee. But he did:
"I believe her overtly partisan statements will have a toxic and detrimental impact on the important working relationship between members of Congress and the next director of the Office of Management and Budget…."
This is despite Manchin's previously voting for polarizing Trump nominees. He voted to confirm Richard Grenell to the post of US ambassador to Germany, despite his toxic partisan tweets. Manchin also voted to confirm Jeff Sessions as AG, when Sessions' racist past was well-known. He voted to confirm Bill Barr as AG and Brett Kavanaugh to the Supreme Court.
As Wrongo wrote yesterday, Congressional Democrats under-performed in the 2020 elections. Now, in a 50-50 Senate, Manchin is a pivotal vote and has real power. He's in a position along with other moderate Democrats Kyrsten Sinema (AZ) and Jon Tester (MT) to set the terms of the Democratic Party's agenda.
At 73, many think that Manchin won't run again in 2024. Since he's in control of West Virginia's Democratic political establishment, he doesn't need to bend to pressure from inside or outside West Virginia. So, why won't he get on board with Biden?
While Democrats can get angry at Republicans, they seem to keep a supply of outrage on hand for their fellow Democrats. They have low expectations for Republicans, but they demand better of Democrats. But after four years of Trump, the double standard over Tanden's nomination to lead President Joe Biden's OMB is beyond ridiculous for Manchin, and even more so for Republicans.
The Right-wing won't let go of Manchin easily, because they think he's a rollable Senator.
He's facing heat from Americans for Prosperity, a Koch-backed group. They're launching a six-figure mail, radio and digital ad campaign to have him oppose President Joe Biden's $1.9 trillion coronavirus relief package.
Republicans have returned to their old argument from the 2020 election, that Biden is a "radical."
They say Biden's foreign policy is "radical." That his immigration policy is "radical." That Biden's climate change policy is "radical."
They say that Biden's nominees are "radical." His Covid relief bill is a "payback to the radical left." That Biden is the "most radical left wing president in history."
But most Americans don't see Biden that way.
They may not particularly like him or his policies, but the "radical" tag just hasn't stuck. It didn't work during the campaign; it hasn't worked during his first month in office. Biden just doesn't give off a radical vibe.
There may be things to criticize Biden for, but yelling "radical" at every turn isn't going to work.
And Manchin ought to listen up: Biden should get the cabinet nominees that he wants, even if some of them tweet mean things at Republicans.