The Daily Escape: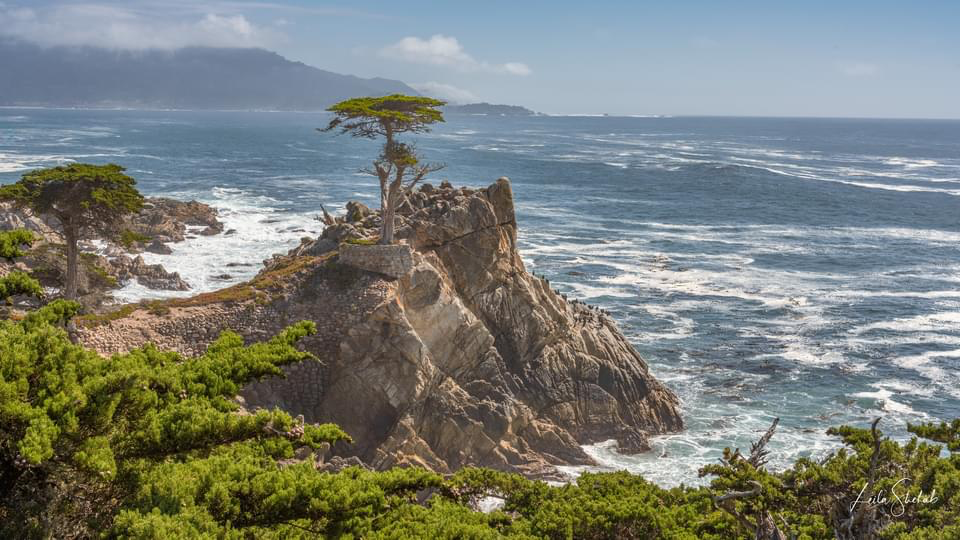 Lone Cypress, 17 Mile Drive, Monterey, CA – September 2023 photo by Leila Shehab Photography
"Until we know we are wrong, being wrong feels exactly like being right." — David McRaney 
Wrongo's Wake Up Call came on Saturday evening when Kevin McCarthy asked House Democrats to bail him out again:
"Congress passed a bill today to fund the federal agencies at FY2023 levels until Nov. 17. The legislation reauthorizes the FAA and the national flood insurance program through the end of this year. There's $16 billion for disaster relief accounts, too."
From Politico:
"McCarthy's move marked an abrupt shift after spending most of the year trying to placate all corners of his party — including a dozen-plus hardliners who have made it next to impossible for him to maneuver anything onto the floor. After the vote, McCarthy all but taunted his critics to come after his gavel if they wanted to."
Wrongo said here that:
"You're unlikely to win if you decide to place a bet on McCarthy getting a dose of moral courage and standing up to his Party."
Well, Wrongo was um, wrong. The 45-day bridge funding passed with more Democratic than GOP votes. That's a repeat of the debt vote last spring that also angered McCarthy's opponents.
More from the Punchbowl:
"Depending on where you sit, McCarthy is either the "adult in the room,"…or he's a treasonous turncoat who continues to abandon his party in the pursuit of easy political victories, as his hardline GOP conservatives claim."
House Republicans will now spend the next 45 days trying to pass FY2024 appropriations bills that have zero chance of becoming law. The best McCarthy can hope for is that the Senate will attempt to negotiate with the House.
On Sunday, Roll Call reported that Rep. Matt Gaetz, (R-LaLa land) said that he intends to push a motion to oust McCarthy from the Speakership:
"I do intend to file a motion to vacate against Speaker McCarthy this week. I think we need to rip off the Band-Aid. I think we need to move on with new leadership that can be trustworthy….By week's end he will either not be speaker or he will be Speaker serving at the pleasure of House Democrats."
A simple majority of the House is all that's required to vacate the Speakership. Being the House Speaker with a GOP majority makes you a punching bag. While the members of the Freedom Caucus may love the spotlight, none of them are stupid enough to want to assume the role of getting beaten around the ears every day. It's much easier to sit back and bitch and moan than actually, you know, do the F'ing work you were elected to do. And McCarthy is the perfect tool: Weak, but too vain to step aside.
Pass the popcorn. We'll soon see whether Gaetz or McCarthy have a majority behind them. An opposing view: People keep saying that: "Kevin doesn't have the juice to do that, if he does, they'll knife him". But then he doesn't get knifed. If we keep saying "he's too weak to do X" and then he does X, doesn't that suggest something? Like maybe McCarthy's better at his job than we thought?
In some ways, it's become misleading to talk about the "Republican Party".  The Republican Party is no longer the Party of Eisenhower, and it's not the Party of Reagan. Over the past 30 years, they've become a cult of grifters. Think about it: Alito on the Supreme Court predates Trump by over 10 years, Thomas by 25 years. The GOP Grifter Cult includes many political operatives who've had critical mass in our politics for a very long time.
The Grifter Cult was aching for a leader that would turn the volume on bigotry and coarseness up to 11. Trump easily passed the audition, although he brought zero in new policies, and he hasn't broadened the Party. His major contribution has been the complete normalizing of coarse Republican messaging.
The GOP Grifter Cult was disappointed with McCain and later, with Romney, because both felt the need to show some minimal respect to others at a time when the base had already moved on to birtherism, misogyny, and pseudo-religiosity. Now, they're rapidly moving to full anti-democratic authoritarianism.
Time to wake up America! The GOP Grifters must be neutralized. The surest way to do that is to vote them out of office. To help you wake up on this Monday, watch and listen to Larkin Poe and The Sheepdogs cover Fleetwood Mac's 1977 hit "The Chain" from their landmark album "Rumors", in this September 2023 video:
We've gotta break the chain.