The Daily Escape: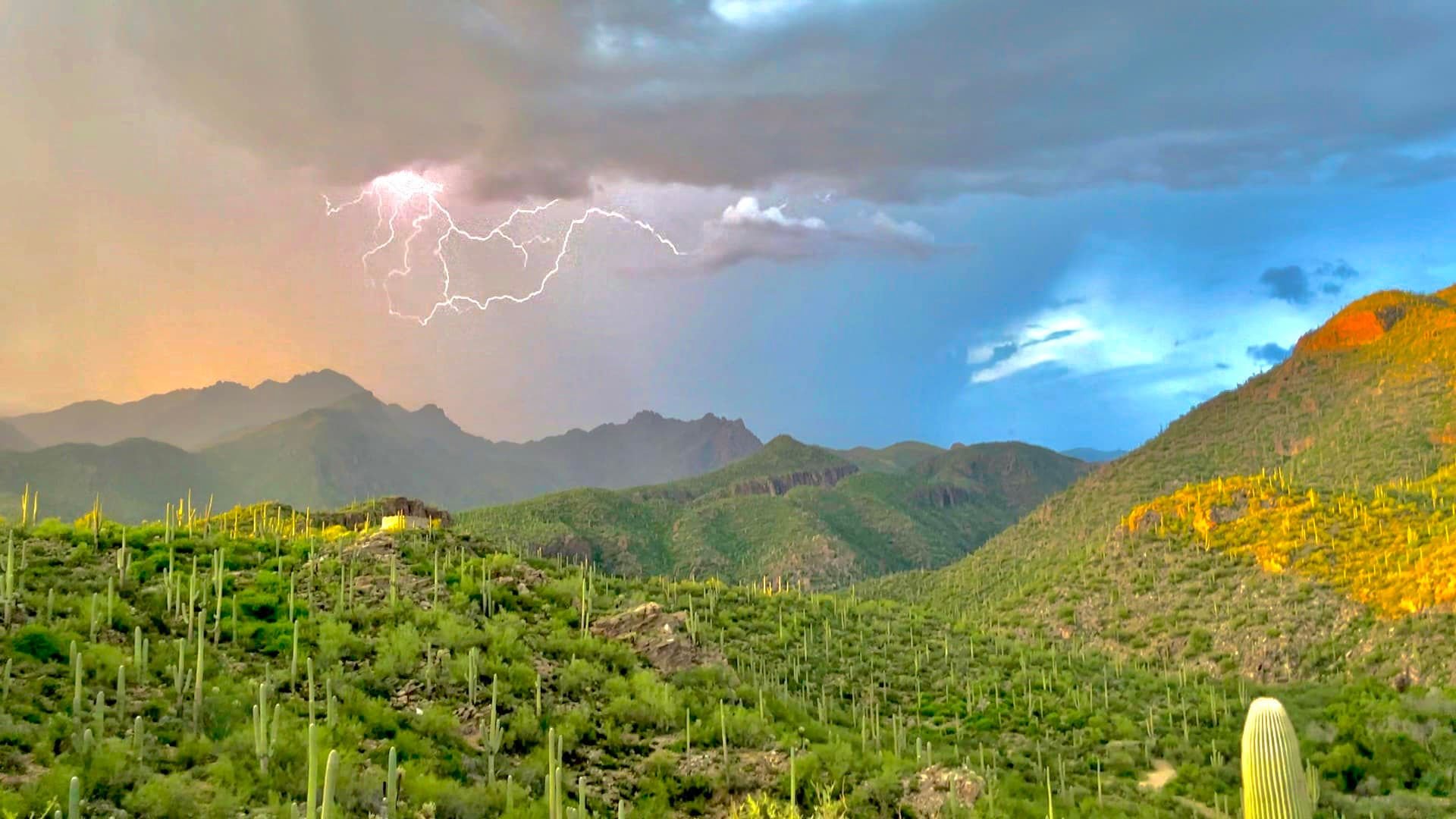 Monsoon season, Sonoran Desert, Tucson, AZ –  August 2022 photo by Rene Martinez
The November mid-term election is 12 weeks away. Some Republicans who do not accept our country's democratic tenets are focusing on getting elected in the battleground states in an effort to energize a future coup. From the WaPo:
"…in the six critical battlegrounds that ultimately decided the 2020 presidential contest, where Trump most fiercely contested the results…..Arizona, Georgia, Michigan, Nevada, Pennsylvania and Wisconsin, at least 54 winners out of 87 contests — more than 62% of nominees — have embraced the former president's false claims."
As an aside, reporters must stop using the term "election deniers". It doesn't convey what these Republicans believe. They know Trump lost, but they tried to steal the 2020 election anyway.
And they're promising to steal the next one. These people call the government their "enemy". Now, they're calling for violence against the FBI. They say our elections can't possibly be fair, yet they're doing all they can to make them less fair.
There are many tools in the GOP tool kit to help a state create election-related chaos. They could decertify voting machines or block the electronic counting of ballots. They could empower their legislatures to determine how many of a presidential candidate's votes are actually counted.
The GOP says that our local electoral processes and voting machines are highly suspect. In 2020 we saw Republican efforts to find voter fraud in several states, all of which failed. Still, in 2022, the GOP persists in saying there are voting machines that flipped votes in 2020 from Trump to Biden.
The gold standard for voting in America is hand-marked paper ballots. They leave a paper trail that is hard to challenge. Today states (including Connecticut where Wrongo votes) use digital scanners to read those hand-marked ballots. The machine tabulators can be checked before voting for accuracy and ballots can be re-scanned in random precincts afterwards to verify totals, along with hand counts.
Verified Voting a non-partisan firm that promotes the responsible use of technology in elections, rates the integrity of voting machines at the county level throughout the US. They have an interactive US map that allows anyone to check the quality of the voting machines in their county. Here's a screenshot image of that interactive map: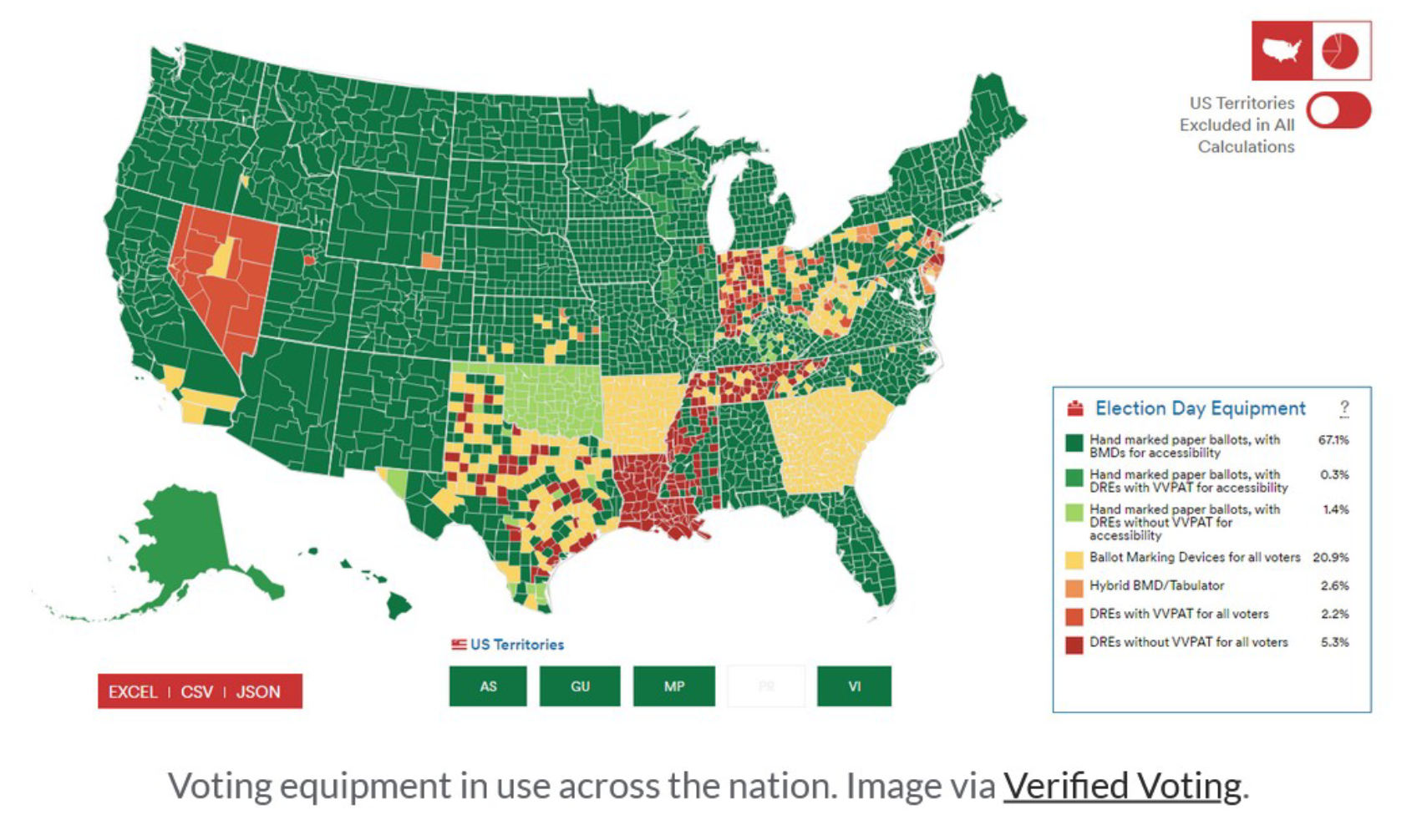 You should go to the interactive map for greater detail. The green portion of the map represents the 69.2% of US registered voters that use highly reliable hand-marked paper ballots. The yellow portion of the map represents the 23.4% of our registered voters that use mostly reliable Ballot Marking Devices (BMD), with marked pre-printed ballots; some print summaries of voter selections, often with those selections encoded in barcodes or QR codes. Together, these account for 92.6% of America's registered voters.
The red portion of the map represents the 7.4% of American voters who use a less-reliable direct recording electronic (DRE) voting system. DREs allow voters to record their selections directly into computer memory.
Despite what Republicans think, most of America can vote with total confidence that their voting machines are accurate, and that their votes will be counted accurately. So relax Republicans, election fraud just isn't very possible in the US.
But there are plenty of other shenanigans that can be pulled at the local and state level. And that's a concern given what the GOP is focusing on for the November mid-terms. They could take away voting rights by canceling voter registrations. They can close polling places or gerrymander more districts. The WaPo has a chart showing how close the GOP is to controlling the voting process in the six battleground states: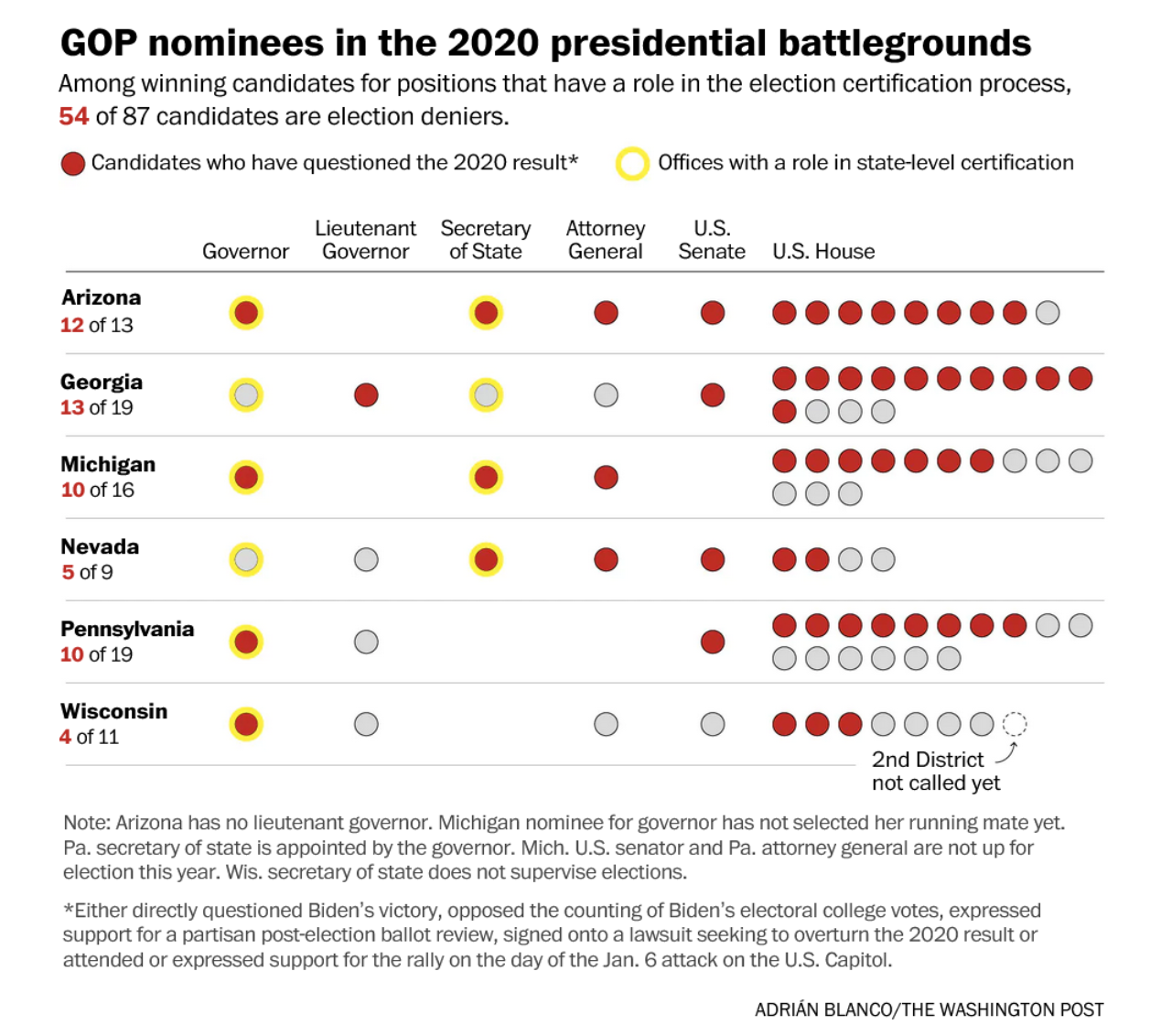 By weakening trust in our election system, Republicans are paving the way for America to become a one-party state led by an authoritarian strongman. They intend to take away the single and best power the people have, our vote. These Republicans aren't election deniers, they're anti-democracy. If they are elected, they will end democracy as we know it.
Time to wake up America! We can't leave the vote-counting to people who won't count all of our votes! America has a long tradition of subverting the voting process and denying millions of people the right to vote, and these Republicans want to take us right back to those days in our past. To stop that, they must be beaten in November's mid-terms.
To help you wake up, watch, and listen to "Queen Bee" played by Taj Mahal and friends in this Playing For Change video, that features Ben Harper, Rosanne Cash, and many others from around the world.
The tune is from Taj Mahal's 1997 album, "Señor Blues", which won a Grammy. It's an album that Wrongo highly recommends: