The quote above is from "City on Fire" (Knopf, 2015) a novel by Garth Risk Hallberg that describes NYC in the 1970s when it was both dangerous and in decay. And it aptly describes the current phase of American politics. What we are seeing with Trump, and to a lesser extent with Sanders, is that angry white working class people have decided to overturn our election process.
Maybe not in 2016, but certainly by 2020.
It shouldn't be difficult to understand, since wages for working class white males peaked in 1968, 48 years ago. For their entire working lives, conditions for working class males have been getting worse. Here is a chart from the WSJ: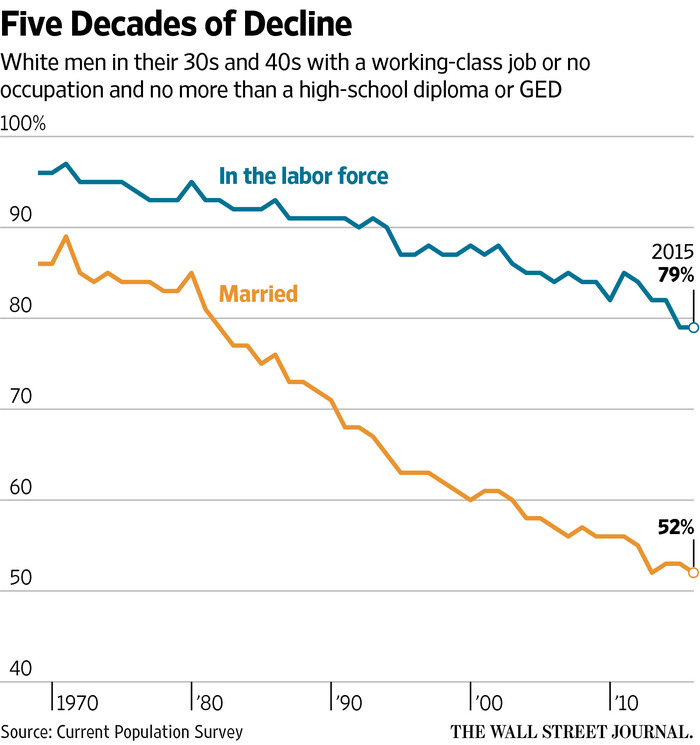 For white working-class men in their 30s and 40s, in what should be the prime decades for working and raising a family, participation in the labor force dropped from 96% in 1968 to 79% in 2015. Over that same period, the portion of these men who were married dropped from 86% to 52%. (The numbers for nonwhite working-class males show declines as well, though not as steep, and not as continuous.)
More from the WSJ:
In today's average white working-class neighborhood, about one out of five men in the prime of life isn't even looking for work; they are living off girlfriends, siblings or parents, on disability, or else subsisting on off-the-books or criminal income. Almost half aren't married, with all the collateral social problems that go with large numbers of unattached males.
In these communities, about half the children are born to unmarried women, with all the problems that go with growing up without fathers. Drugs also have become a major problem outside of urban areas, in small towns and in the suburbs.
During the same half-century, American corporations exported millions of manufacturing jobs, which were among the best-paying working-class jobs. They were (and are today) predominantly men's jobs.
The share of the total income of the bottom 80% of US households vs the top 20% of households also peaked in 1968: 57.4% vs 42.6%. As of 2014, the share of total household income of the top 20% has increased from 42.6% to 51.2%, while that of the bottom 80% has declined to 48.8%.
So in 1968, the combined share of the bottom 80% of household income was 14.8% greater than that of the top 20%. In 2014, it was only 2.4% less. That is a 17.2% negative swing. So, the quality of life for the average white male peaked in 1968.
And it's not just men. Poor women are angry too. One thing everyone in the lower rungs of the ladder (the bottom 50% of the household income scale) have in common is that most of them now realize they are getting screwed. The numbers of white working-class voters will dip to just 30% of all voters by 2020. This is a dramatic decline from 1988, when white working-class voters were 54% of all voters.
Trump supporters want to use political power to restore their economic position. As any aware citizen knows, you never get power exactly the way you want it. Therefore, Trump's supporters think they need to overturn our established politics to make change, and that can only happen if they follow an authoritarian like The Donald. A good current example of this is the Congress's Freedom Caucus, who with just 40 members, have thrown out a Speaker of the House, and plan to drive the federal legislative process.
Contrast this with the American Civil Rights movement, which was ideologically diverse, incompletely successful, but mainstreamed in our politics. It negotiated a better life for African-Americans. But today's white underclass are through playing the long game. They do not plan to struggle for as long as the black underclass did, and they are believe that working within the system is futile.
Remember, most of them are armed. Our concern meter should be dialed up to 11.
America is starting to look like a pre-revolutionary society. Life today shouldn't be "black ties matter." Unregulated capitalism makes for a mean culture, and today, it is dominating us.
So, the oven is preheating. There is still time to avoid cooking our goose, but we have had a president who called himself a "uniter, not a divider" and failed. We then had a president who promised to be post-partisan, but deepened our political divisions.
And there is no political leader on the horizon who possesses the skills and message to unite us.



Category:
2016 Election
,
Anger in Politics
,
Congress
,
Culture Wars
,
Demographics
,
Divided Government
,
Domestic Policy
,
Education in America
,
Immigration
,
Inequality
,
Men's Issues
,
Political Gridlock
,
Politics
,
Politics of Fear