The Daily Escape: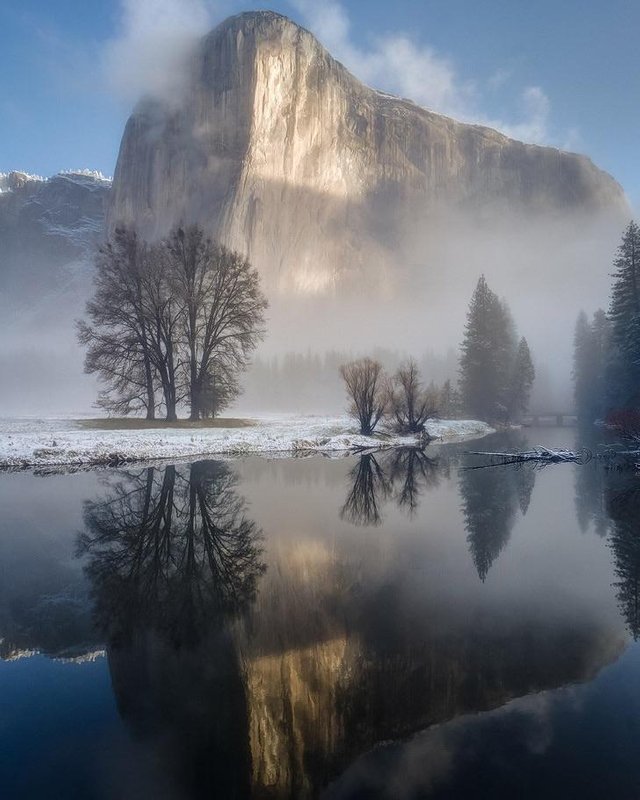 El Capitan in winter, Yosemite NP, CA – photo by Jonkooo
From Tom Sullivan:
Those of us of a certain age, but not quite old enough, were too young to attend the 1963 March on Washington. The march and Rev. Martin Luther King's "I Have A Dream" speech influenced our era, our views, and changed the country. There are times one wishes, if only I could have been there for that moment in history. Then again, such thinking fixes the civil rights movement in time. The truth is, that struggle never ended.
Wrongo was in Washington in 1963. Dr. King is one of his heroes. And, as Tom Sullivan says, the struggle has never ended. Wrongo spent the 1960s and 1970s convinced that America would turn a corner, see the wrong in slavery, and know that racism was holding us back.
He thought that we would achieve a point of equilibrium where Americans of all stripes would accept each other as part of a larger tribe, one that shared common beliefs about democracy and equality for all.
Wrongo was wrong. We're not there. We've made some progress, but then we fell back on old beliefs.
Today we are 51 years removed from Dr. King's assassination, and while America is better and fairer than it was then, we will enter the 2020's needing to do much to improve society.
This brings me to MLK's last book, "Where Do We Go from Here: Chaos or Community?" published the year before he died. In it, King lays out a vision for America's future, including the need for both better jobs and housing, higher pay and quality education. King called for an end to global suffering, saying that for the first time, humankind had the resources and technology to eradicate poverty.
He wrote about how Civil Rights reforms had fallen short, but he couldn't have envisioned what the Supreme Court did in gutting the Voting Rights Act of 1965 with its 2013 decision in Shelby County vs. Holder.
So here we are in 2019 with white kids mocking Native Americans at the Lincoln Memorial, chanting "Build that wall, build that wall." This happened days after Trump made light of the 1890 massacre at Wounded Knee to mock Sen. Elizabeth Warren.
And for context, we live in a time when chanting the president's name has become a tool of racial intimidation.
Here we are: Income inequality is the highest it's been since the 1940s.Our federal government is shut down because we can't agree about the threat posed by illegal immigrants asking for asylum at the US southern border. And racism is marching back into the light from under rocks all across the country.
Time to wake up America! Racism is the wound that won't heal. We have much to do, and the work won't be easy.
To help you wake up here is a 2019 song by The Killers, "Land of the Free". It is broadly about America and the intolerance holding us back. Listen to it, and reflect on what it makes you feel. Depending on what about it makes you angry, it is a reflection of who you are. The video is very powerful. Please take the time to watch it.
Think about what's at the heart of this song. People who want the same things we do:
Those who read the Wrongologist in email can view the video here.
Finally, a quote from James Baldwin's The Fire Next Time:
"White men have had to believe for many years, and for innumerable reasons, that black men are inferior to white men. Many of them, indeed, know better, but, as you will discover, people find it very difficult to act on what they know."