The Daily Escape: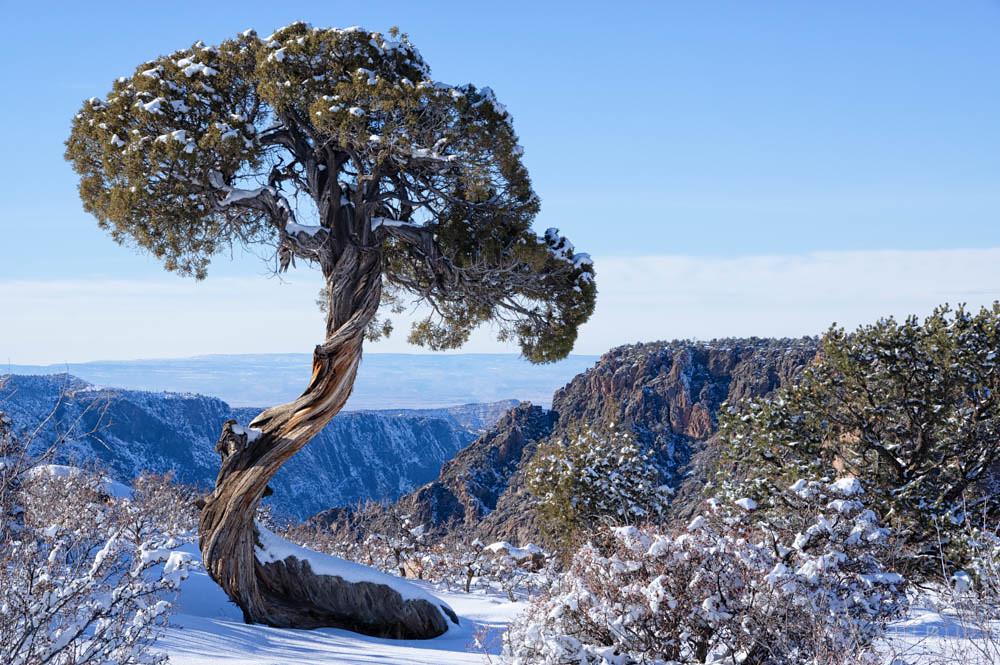 Lone Juniper, Black Canyon, Gunnison NP, CO – 2020 photo by Mattbnet
Isn't it time that corporations paid decent wages?
After the Labor Department released its April jobs report, the US Chamber of Commerce blamed last month's weak employment growth on the $300 weekly supplemental jobless benefit. They then urged lawmakers to eliminate the enhanced unemployment payments that were extended through early September by Biden's American Rescue Plan.
This, from the dudes who willingly spend $300 on a lunch.
According to the US Chamber's analysis, the extra $300 unemployment insurance (UI) benefit results in roughly one in four recipients taking home more pay than they earned working. But, if one in four recipients are making more not working than they did working, that's not an indictment of $300 a week in UI benefits. It's an indictment of corporations who pay less-than-living wages.
We could blame Asia for this, or we can blame our managerial and ownership class who engineered the outsourcing deals that made it possible. They built factories in Asia as an economic-production-economic-aggression platform to disintermediate American workers by sending higher wage jobs to lower wage locations in the Far East. And in many cases, the same companies who closed the American plants owned the Asian factories.
It's sickening to hear these big business types complain that raising wages will destroy the economy! That's the same argument which was used in the South against ending slavery (it would hurt the economy).
The US Chamber isn't alone. South Carolina is cutting off extended unemployment benefits starting on June 30. From the SC governor:
"South Carolina's businesses have borne the brunt of the financial impact of the COVID-19 pandemic. Those businesses that have survived — both large and small, and including those in the hospitality, tourism, manufacturing, and healthcare sectors — now face an unprecedented labor shortage,"
South Carolina's unemployment rate was 12.8% in April of last year. But this March, it was down to 5.1%, significantly below the 6.1% national rate. Still, these Governors (Montana has done this too) are simply acting as shills on behalf of corporations to force workers back into low wage jobs.
Many studies have shown that the employees of big box stores like Walmart and Target cannot meet their basic economic needs on the money they make at their minimum wage job. Many turn to community social services just to feed their families.
It's not China (or other Asian countries) that are to blame. We demand ever-lower prices, so something had to give. That something was middle-class American jobs. The American public was never part of the discussion about the pros and cons of offshoring manufacturing to lower wage countries, or how that would both lower costs for goods, but also destroy American jobs.
A lot of the people who now shop at Walmart and Target lost their jobs to Mexico, China, or Bangladesh. At which point, they needed some form of welfare, and/or another part time job at Walmart-type wages. And now that they're on Walmart wages, Walmart prices are all they can afford.
Time to wake up America! We should be asking how can it be that food banks are overwhelmed while the Dow Jones Industrial Average hits an all-time high? Simply, the stock market isn't the whole economy. The stock market is about corporate profits, while food banks are about minimum wage jobs and unemployment.
We should be asking: Why do these corporations (the small as well as the large) persist with business models that don't allow them to pay living wages?
We could also ask whether more red states will try to "solve" the employment problem by hurting the unemployed rather than treating the root cause: paying living wages.
To help you wake up, listen to Rag'n'Bone Man and P!nk on Rag'n'Bone Man's new release, "Anywhere Away from Here". We often feature music to have fun with, or to dance to. And then there are tunes like this, music for the heart and soul: