The Daily Escape: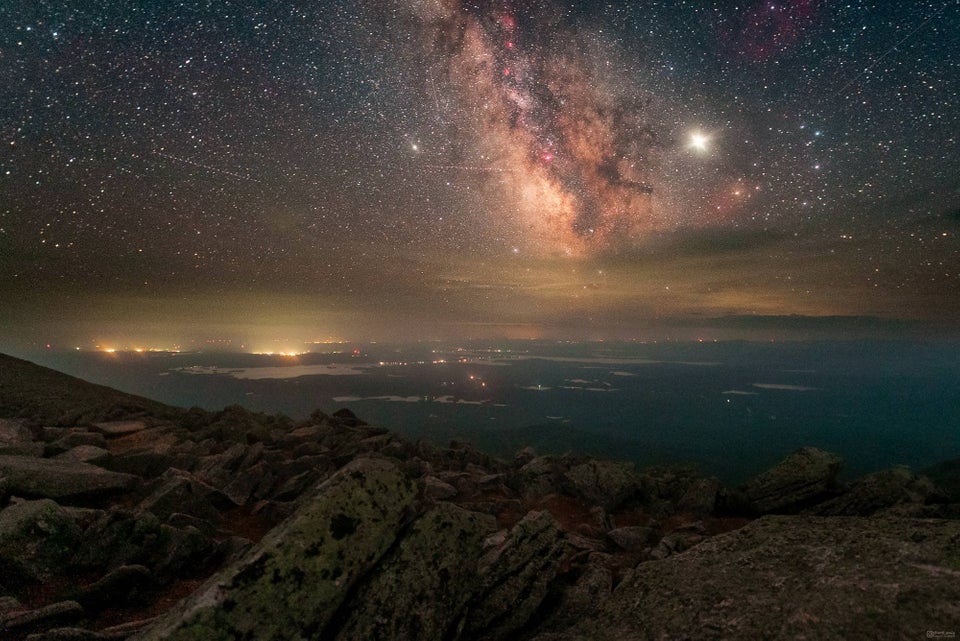 Milky Way from the summit of Mt. Katahdin, ME – 2019 photo by aryeh95
Wrongo wants to provide some background to how Hong Kong (HK) went from being a UK colony to being a part of China. If you watch the news, you know that Hong Long's anti-extradition protests are now in their third month. They are ostensibly directed at the HK administration, but they're also aimed at the Chinese government in Beijing.
And the conflict appears to be escalating.
The Hong Kong — Mainland conflict partly reflects a huge gap in national identity. Frank Chung in a piece in Ejinsight, says it can be explained in part by how the nationality of most people in Hong Kong was changed in 1997 from British to Chinese: (emphasis by Wrongo)
"From China's standpoint, Hong Kong had always been Chinese soil. Through 150 years of British rule, its people remained Chinese, regardless of British law. This fitted nicely with Britain's policy, which was to see to it that the millions of Chinese "British citizens" in Hong Kong could not move to the United Kingdom. Nationality and immigration laws were changed.

Britain created a new category of citizens, called British Dependent Territory Citizens, in the 1980s. This transformed United Kingdom citizens into Hong Kong citizens. When Hong Kong was no longer a British dependent territory, yet another new category was created, British National (Overseas). The holder has no right to live in Britain and the citizenship cannot be passed on to the next generation.

China, too, changed its nationality law to deal with Hong Kong. The Standing Committee of its National People's Congress in 1996 – the year before the handover – issued "Explanations" of how China's Nationality Law would be applied in Hong Kong. That is to say, the law would mean different things in different parts of the country, a highly unusual legal situation.

The "Explanations" introduce a concept missing in the nationality law itself, that of "Chinese descent." Thus, any Hong Kong resident of Chinese descent who was born in Hong Kong or China is a Chinese national, regardless of whether he possesses Canadian, Australian, British or other nationality. That means people who were foreign nationals were transformed into Chinese nationals in 1997."
This was how China and the UK cooperated to facilitate the transfer of Hong Kong to China in 1997. Both wanted the people as well as the territory to be transferred wholesale. The millions of people in Hong Kong were considered nothing but chattel in the transfer.
And so it goes today.
China has all the leverage in the current test of wills. Their concern is not to let the HK demonstrations "infect" any cities on the mainland. And with the growth of the Chinese economy, HK's leverage is steadily decreasing, as other Chinese cities surpass it economically, and trade directly with the rest of the world, a function that HK used to perform.
Two ways of looking at the current situation: One, HK's not as important, and there's little it can do to deflect Beijing's control. Two, if Beijing doesn't crack down, it will be seen as a weakness, rather than the wisdom of a mature nation.
Either way, the big advantage of authoritarian regimes is that they have fewer constraints. China historically has walked a line between centralized authority and provincial power. Centralized power will always win.
On to the weekend, it's time for our Saturday Soother! With all the mass shootings news, and Trump trying to keep in the forefront of the same news cycle, our heads are spinning. We need to kick back and forget everything but how to kill crabgrass, and an AR-15 won't help with that.
Start by brewing up a mug of Kenya Handege coffee ($19/12 oz.) from Austin TX-based Greater Goods Roasters. They say it is very sweet, tart, and rich. Now settle back near a large window and listen to Mary Gauthier perform her 2005 composition "Mercy Now" at the 2010 Americana Music Festival in Nashville, TN:
Given what El Paso and Dayton are going through, Gauthier's poignant and direct message should resonate with all of us. Wrongo knows that you rarely click through and listen to the music, but today, it is really worth your while to listen.
Those who read the Wrongologist in email can view the video here.