The Daily Escape: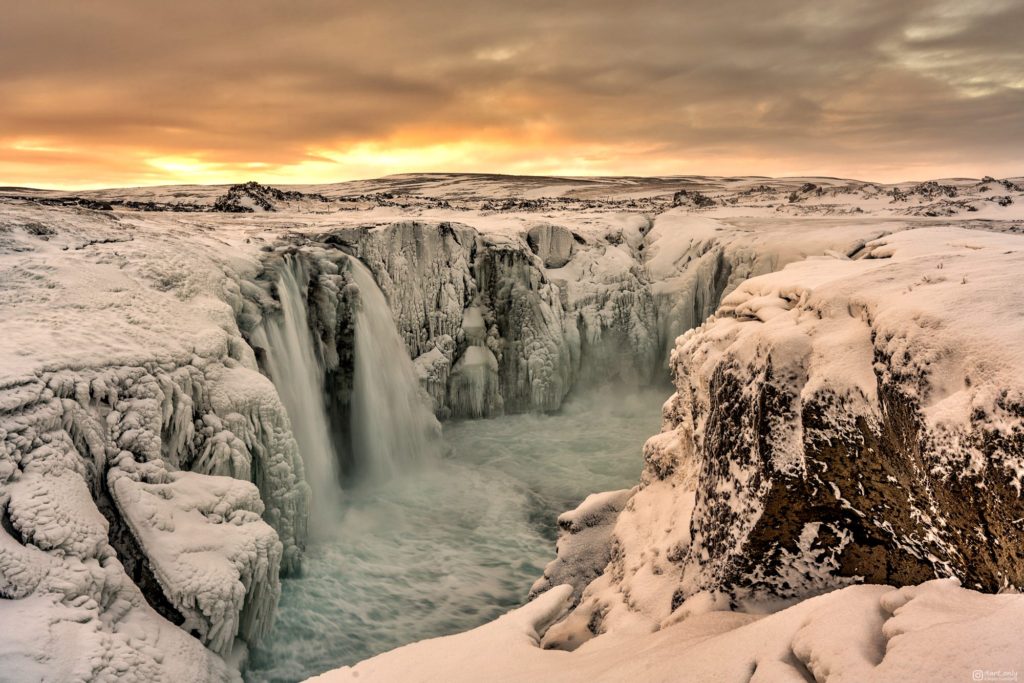 Hrafnabjargafoss waterfall, Iceland – 2018 photo by aryeh95
The problem with a made-by-hand blog like The Wrongologist is that we are always 24 hours behind the current news cycle. This is written in the late Tuesday afternoon prior to Trump's 9 pm EST State of the Union (SOTU) pitch to America. Raul Ilargi has as good a forecast as any:
Donald Trump will be gloating from ear to ear, but he'll be subdued – by his standards. Expect perhaps $1 or even $1.5 trillion in infrastructure spending to be announced, plus an immigration plan that gives Democrats much of what they want in exchange for some of the things Trump wants, as well as more on trade surpluses and deficits. The Democrats will attempt to turn it into a circus of sorts by bringing guests, and they will fail.
Indeed, a circus. One Republican Congresscritter, AZ's Paul Gosar, just asked the US Capitol Police and the Department of Justice to "consider arresting any illegal aliens in attendance", knowing that some Democrats have invited Dreamers to watch whatever Trump says about immigration.
Perhaps Trump will stick to reading the teleprompter, and the pundits will fall over themselves to say "how presidential!"
Overhanging the SOTU is the tangled web of the Russian investigation. This week, the resignation of the FBI's Deputy Director Andrew McCabe and Congressman Devin Nunes' (R-CA) memo are top of mind. Nunes is the Chair of the House Intelligence Committee. He appears to have taken actual information about the FBI investigation of the Trump campaign and has written a memo claiming that the investigation was based on bad information. He goes on to intimate that if they're investigating Trump, that proves they are biased against him.
Specifically, we have learned that Nunes claims that approving a FISA warrant against former Trump adviser Carter Page is ipso facto, an abuse of power, and proves that Deputy Attorney General Rod Rosenstein, another Republican, is biased, and out to get Trump.
Long-time readers know that Wrongo is agnostic on whether the Russians' interference in the 2016 election had any impact. And he doubts that collusion by the Trumps or his campaign is provable.
Saying Trump's guilty until proven innocent is easy and convenient for Democrats, but only Mueller can make a case, and he hasn't said anything yet.
The NYT reports that the Nunes memo singles out Deputy AG Rosenstein for approving the continuation of surveillance of Carter Page, whom law enforcement and intelligence officials suspect may have been acting as an agent of the Russian government. The NYT notes:
The reference to Mr. Rosenstein's actions in the memo…indicates that Republicans may be moving to seize on his role as they seek to undermine the [Russia] inquiry.
Why? Because only Rosenstein can fire Mueller. Release of the Nunes memo may well be designed to give Trump the high-altitude air support he needs to order Attorney General Jeff Session to fire Rosenstein.
The firing of Rosenstein is their strategy to get Mueller. Trump seems to believe he can't fire Mueller outright, so they are going about it in an indirect way. They want to replace his boss with someone who can rein in the investigation and hopefully, keep the White House apprised of all developments so they can get ahead and stay ahead of the investigation.
They might get away with it. The question will be if the people they replace them with are honest citizens.
We are staring down the barrel of a Constitutional crisis similar to when Nixon got Robert Bork to fire Archibald Cox. He then appointed Leon Jaworski, a very conservative Texas prosecutor, who by all accounts went into it thinking the president was being railroaded.
That didn't work out as Nixon planned.
Enjoy the SOTU.
Then get some popcorn and see if the purges start at the Department of Justice. If the purges begin, drop the popcorn, and pick up your pitchforks and torches.