The Daily Escape: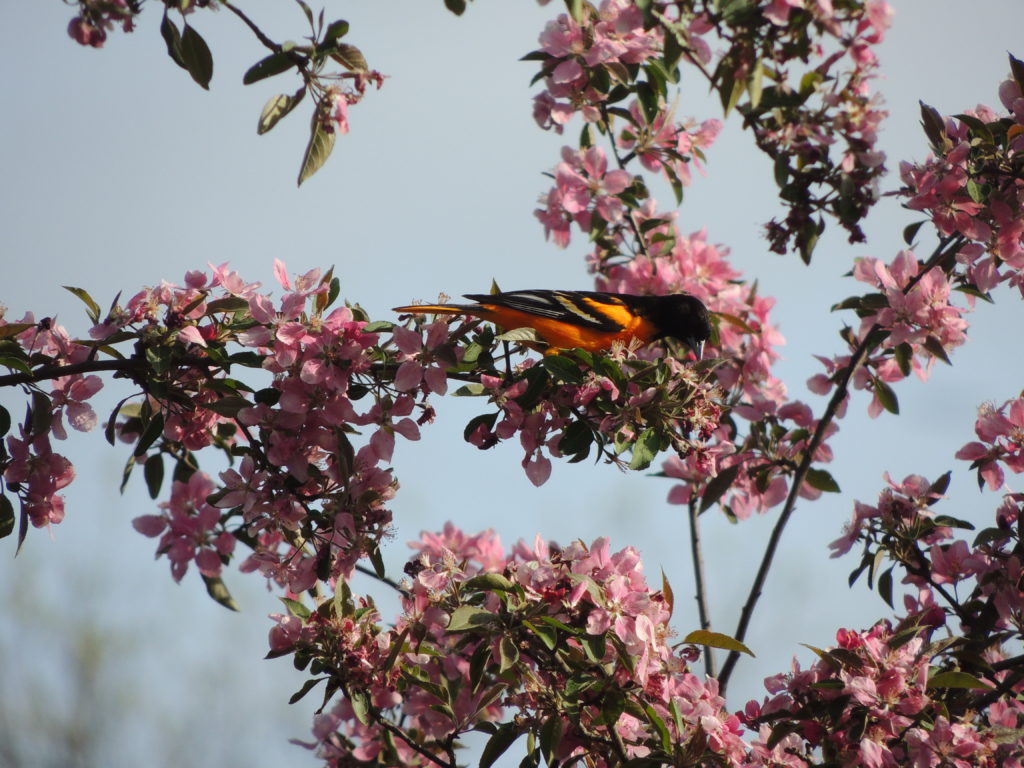 Baltimore Oriole in crab apple tree – 2014 photo by Wrongo
Happy (or unhappy) tax day!
Yesterday, we talked about two red state revolutions led by teachers who are demanding better pay and funding to address educational needs. We also talked about the shameful reactions of the governors of Kentucky and Oklahoma to the demonstrators.
But the governors are not the only local officials with tin ears. Valerie Vande Panne, writes in AlterNet:
In Oklahoma, the Oklahoma Education Association (OEA) is the primary teacher's membership organization. It recently announced that the strike is over. But, Oklahoma teachers continue to strike, and are seeking a new union that would actually represent their interests. Meanwhile, legislators are seeking ways to punish the striking teachers, and have accused them of bussing in protesters, and local police call the teachers "terrorists."
2018 is a gubernatorial election in Oklahoma, in addition to seats in the House and Senate. There are rumblings in the state to replace every single elected official this year.
Wrongo is indebted to Ms. Vande Panne's article for the facts about Oklahoma below.
Despite the common view that Oklahoma is Republican red, most voters in Oklahoma are registered Democrats or are unaffiliated. Bernie Sanders won the 2016 presidential primary. Bernie got more votes in the 2016 primary than Trump. A third of Oklahomans are African Americans, Native Americans, Latinos, or are of mixed race.
And the demographics are changing rapidly: In Guymon, a small town in the Oklahoma panhandle, just north of the Texas border and hours from the nearest shopping mall, 37 languages are spoken in the public school system of 3,000 students.
Everyone knows that Oklahoma should be a wealthy state: Oil, gas, and coal are kings of the economy, but decades of sweetheart deals have left the state paying those industries more than those industries pay the state.
There seems to be a lot of red state unrest right now.
Are people finally getting fed up? Is the right wing's mantra of too much government and not enough freedom starting to lose its grip? Has social media ended that mass media's control of the narrative so much that opinion can easily be mobilized?
The strikes in West Virginia and Oklahoma are "wildcat" strikes. The rank and file basically decided to advocate for their own interests, and when "leadership" in WV (and apparently in OK) made an agreement with the legislature that was less than what the strikers had demanded, the rank and file defied its own union "leaders".
These states have right-to-work laws, and few protections for labor, but when the teachers act together, they have political power. Without strong unions, labor has nothing to lose, if they mobilize enough of their rank and file. The union leadership has for years cozied up to local politicians, and now seems to have lost control over their own rank and file.
These reliably "red" states have a very different political history than we might expect. During the late 19th and early 20th centuries, Oklahoma, Kansas and much of the Confederate South were hotbeds of populist uprisings, from the Farmers' Alliance and the Peoples' Party. These parties even elected Members of Congress, and Senators. The Peoples' Party merged into the Democratic Party in 1896.
This sets the stage for the 2018 elections. Those who want change on the local or national level shouldn't run simply as anti-Trump. They need to address local issues that are resonating, like teacher pay and school funding. At the root of these issues is the continued cutting of taxes for corporations and the wealthy. Without revenues, schools cannot be improved, and teachers' pay will stagnate.
Fight for equal pay for the same jobs, work to eliminate the barriers to voting, and end gerrymandering.
Run on these issues. See what happens.