If confirmed, Amy Coney Barrett's first major case on the Supreme Court could be Trump's plan to remove undocumented immigrants from the Census count. This will cost states like California, Illinois and New York multiple Congressional seats, and billions in federal funding:
"The Supreme Court announced Friday that it will review President Trump's attempt to exclude undocumented immigrants when calculating how congressional seats are apportioned among the states."
A three-judge panel in New York said that Trump's July 21 memorandum on the matter was "an unlawful exercise of the authority granted to" him by Congress. It blocked the Commerce Department and the Census Bureau from including internally generated information about the number of undocumented immigrants in their reports to the president after this year's census is completed.
The census does not ask a citizenship question, so how the Census Bureau would come up with the immigration status of people counted is as a practical matter, suspect.
The Supremes put the case on a fast-track, saying that they will hold a hearing Nov. 30. By then, it will likely again be a nine-member court, assuming Judge Amy Coney Barrett is confirmed. It's unclear how the case will divide the court. But the Census is yet another issue that has been transformed from a largely bureaucratic exercise into a partisan battle.
The decision to hear the case follows the Supreme Court's earlier decision that the Trump administration could stop the Census count of Americans immediately, instead of on October 31.
This newest controversy involves the Constitutional mandate that apportionment of seats in the House of Representatives be based on the "whole number of persons in each State." That has been interpreted to mean every resident, regardless of immigration status. But this summer, Trump issued a memorandum that said: "It is the policy of the United States to exclude from the apportionment base aliens who are not in a lawful immigration status."
Trump directed Commerce Secretary Wilbur Ross to provide him with two sets of numbers, one that includes unauthorized immigrants and one that does not, "to the maximum extent feasible and consistent with the discretion delegated to the executive branch."
Thus, the need for a decision about the Constitutionality of counting every person. We'll see what happens. On to cartoons:
Coney Barrett says she's a neutral arbiter of the law. Tell that to the Elephant: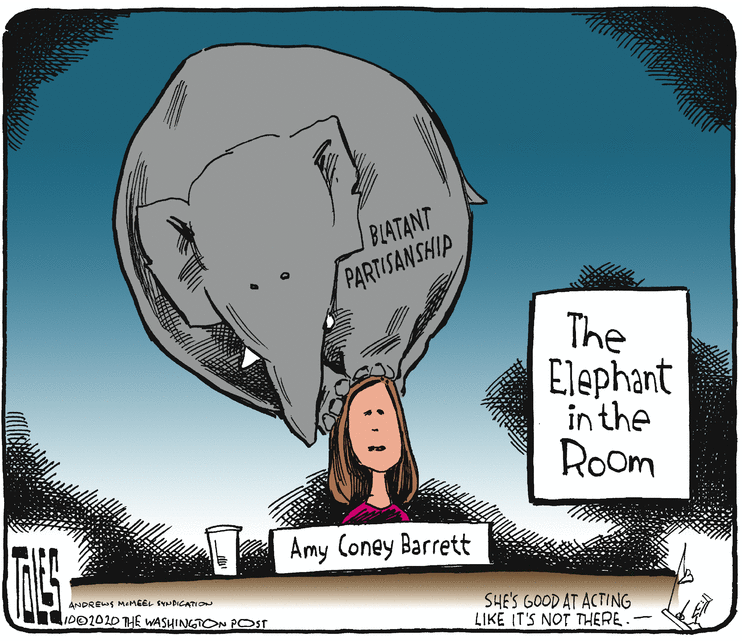 Amy Coney Barrett keeps her opinions close to the robe: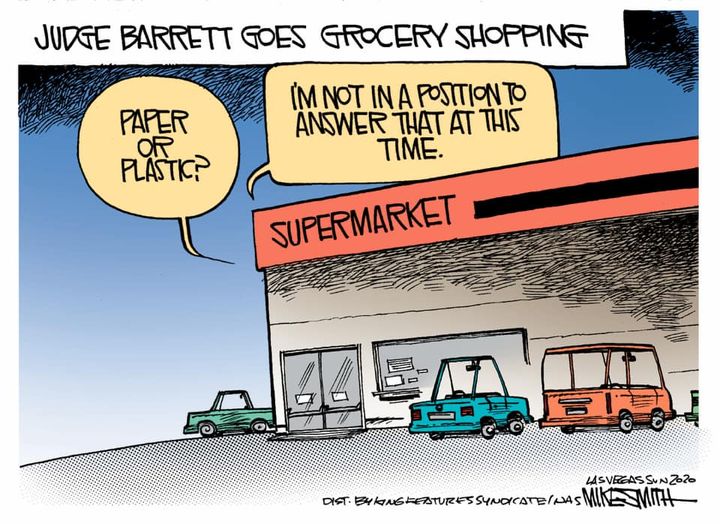 It's a felony to intimidate voters or obstruct voting. Coney Barrett says she can't say if that's illegal. The Constitution states that Congress shall determine the date of the election. Coney Barrett says she can't say whether or not a president could unilaterally postpone an election.
A competent judge should have acknowledged explicit text in federal statutes and the Constitution itself, while reserving the right to apply it to a specific set of facts that might be presented to her.
Our Election Day fear: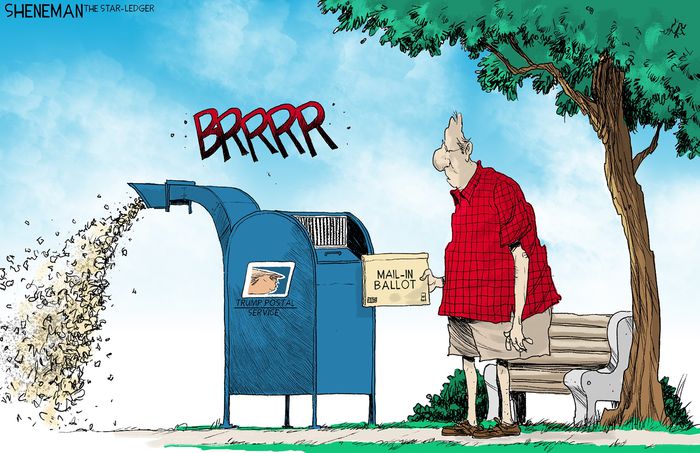 Voting no longer takes just a few minutes: