According to The Guardian, the European Union ministers forced through a plan to relocate Middle Eastern asylum-seekers throughout the EU. The plan would distribute 120,000 souls across all EU countries.
The headline yesterday was that Romania, Hungary, Slovakia and the Czech Republic voted against the proposal, but could be forced to take immigrants anyway. These Eastern European governments have been among the most vocal opponents of plans to relocate refugees across the EU. But, according to The Economist, this position ignores economic logic:
A survey by Manpower Group, a consultancy, found that two out of five firms in Poland struggle to fill vacancies. In Hungary, almost half could not get the staff they need. In the Czech Republic and Slovakia fewer employers report difficulties (18% and 28%) but the share has been climbing steadily over the past few years.
Here is their chart showing the difficulty in filling jobs in the EU: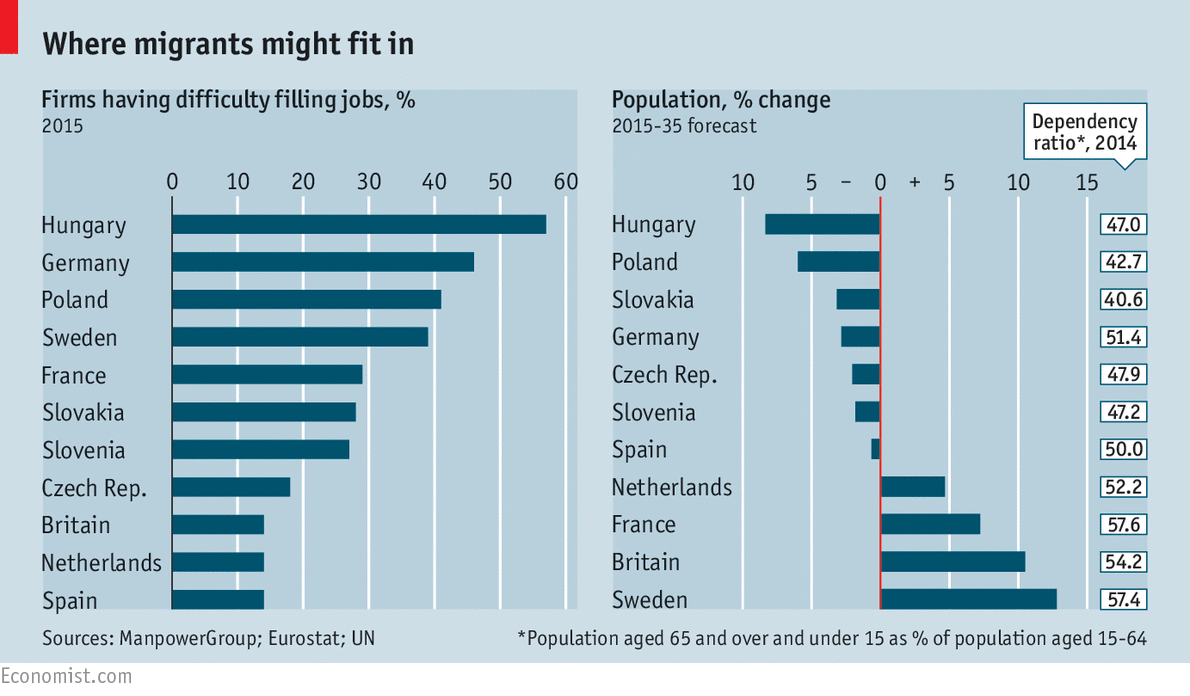 The argument in the countries that need to fill jobs but do not want migrants is that they can fill skill gaps by drawing in labor from neighboring countries with more similar cultures. This may fill some positions, but wages are much lower in the countries needing labor. The Economist reports that wages in Germany are 150% higher than in Hungary. And Germany's social safety net is superior.
These statistics point to serious problems in the EU's local economies. But the real issue isn't under population in the EU. We have been told for years that the unemployment rate among young Europeans is very high. Trading Economics reports that the overall jobless rate in the Eurozone fell to 10.9% in July, from 11.1% in the previous three months. That means 17.4 million EU citizens are unemployed. But, youth unemployment averages 21.9%. Here are some depressing Youth Unemployment statistics from summer, 2015: (Source: Statista.com)
Greece:     53.7%
Spain:       49.2%
Italy:          44.2%
France:     23.6%
Germany:   7.1%
So, even if people in certain EU countries understand that there might be an economic upside to allowing immigrants into their country, their opening position is: "why aren't we hiring our own kids?"
Then there is the anti-immigrant issue that transcends economic concerns, the ethnic makeup of one's own country, and what migrants may do to impact these old European cultures. No argument about the economic merits of increased immigration will likely sway voters if they believe their way of life will be compromised. The fear of a "mob at the gates" drives anti-immigrant feeling throughout the world.
So, who says Europe needs all of this migrant labor? Much like in the US, it is the corporations who say they can't fill jobs with the requisite talent. What they really mean is, talent at a price.
Why can't German firms import Italian or Spanish kids to do the work?
This sounds remarkably similar to tech firms in the US saying that they cannot find STEM workers, and so ask the government to add more H-1B visas so that migrants from India can fill jobs in Silicon Valley.
The global picture is clear: Many jobs now done by humans are being taken over by machines. Computers will ease our transition to declining populations. Even many low-skilled jobs in manufacturing and agriculture can be handled by robots, requiring a large jump in the skills humans need to learn in order to get the fewer, better paying jobs that remain.
A partial solution may be to import some migrants to fill a few low skilled jobs, but adoption of new technologies rather than population growth, is a better way to go about raising the living standards in Europe.
And we must shut off global population growth sometime soon. The Wrongologist has reported before on "The Coming Jobs War" by Jim Clifton, in which Clifton says that globally, some 3 billion people are looking for work right now, and nearly all of them are willing to work for less than the average American or European.
Every society will be more secure economically if they can promote a high resource-to-population ratio. Those countries who can become close to self-sufficient in food, water, energy, and renewable resources will be the only ones with middle-class living conditions.
Middle Eastern migrants understand this. Some may be fleeing for their lives, but the vast majority are simply economic migrants. The EU is being led by the nose to focus on asylum-seekers, when even they are economic migrants.
Although the poorer parts of the world experience very high population growth, and the developed world does not, it is a safe guess that not a single country today has a population that is low enough to guarantee success in the future world economic order.
Think about what Agent Smith said in The Matrix:
Every mammal on this planet instinctively develops a natural equilibrium with the surrounding environment but you humans do not. You move to an area and you multiply and multiply until every natural resource is consumed and the only way you can survive is to spread to another area. There is another organism on this planet that follows the same pattern. Do you know what it is? A virus. Human beings are a disease, a cancer of this planet. You're a plague and we are the cure.