The Daily Escape: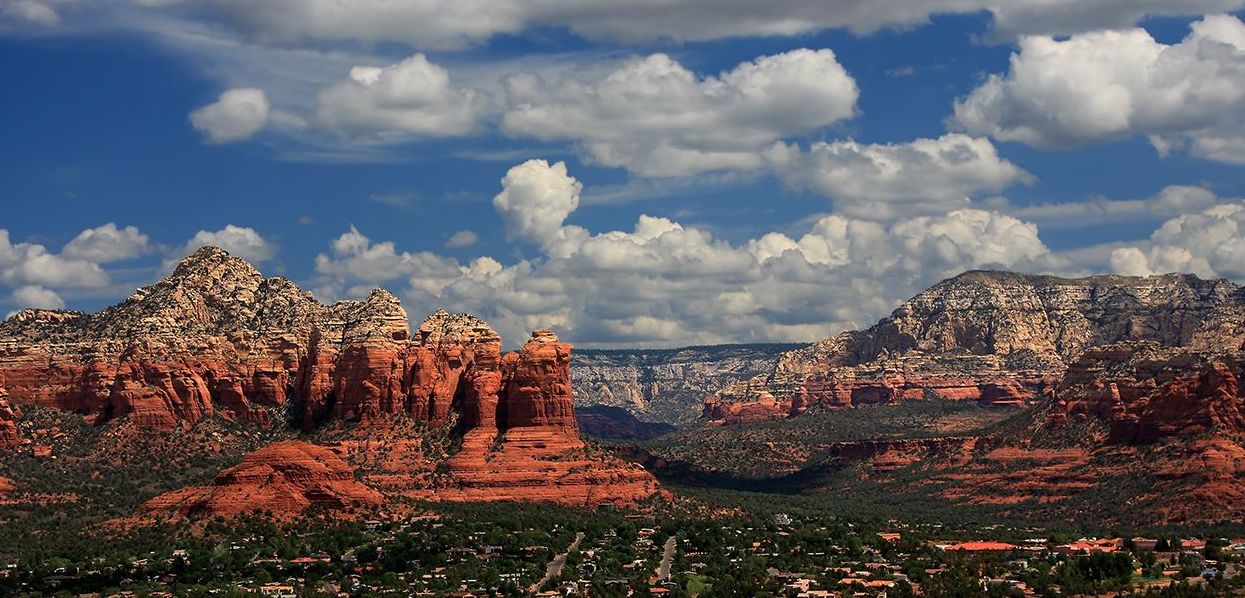 Sedona AZ, view from Airport Mesa. Sedona is one of the most beautiful places in America – via Silver Spur Tours
Sen. John McCain died in Sedona, AZ on Saturday. He is remembered as a prisoner of war who suffered greatly, and then went on to a long career as a politician. Most media and politicians are paying tribute to him as a hero and a "giant of the Senate".
Wrongo is of two minds about McCain: First, he lived a full life, he served his country for decades. As a prisoner of war, he suffered as no human being should ever have to suffer. In the end, we need to see that he was flawed, and made some terrible decisions that hurt the country he loved.
Yet, he deserves our sympathy for his losing fight with brain cancer. His family deserves our sympathy in their time of loss and grief.
Wrongo doesn't want to kick his corpse, but here are a few things to reflect upon in his political life. From The Guardian:
Wednesday marks the 10th anniversary of McCain unveiling Sarah Palin, a say-anything, gun-toting political neophyte, as his running mate in the 2008….It was an act of political desperation that left Washington aghast. It delivered a short-term boost in the polls. But it also opened the Pandora's Box of populism.
The Guardian quotes David Brooks about the Palin nomination:
I don't think he could have known it at the time, but he took a disease that was running through the Republican Party – anti-intellectualism, disrespect for facts – and he put it right at the center of the party…
The Guardian reminds us that, a month later, in September 2008, McCain held a four-point lead over Barack Obama, and had a pretty good shot at winning the White House, which slipped from his grasp.
Today, McCain is respected more by Democrats than by Republicans. A Fox News poll shows that McCain has a 60% favorable (29% unfavorable) rating among Dems, and a 41% favorable (48% unfavorable) rating among Republicans.
This is largely due to one moment from the campaign, now seen everywhere, where McCain is seen admonishing a supporter who refers to Obama as an "Arab". McCain shakes his head, takes the microphone and says: (brackets by Wrongo)
No ma'am. He's a decent family man, [a] citizen that I just happen to have disagreements with on fundamental issues and that's what this campaign is all about.
The crowd applauded. Yet, later at the same rally, a supporter says he is "scared" by the prospect of an Obama presidency. Again, McCain replies with integrity:
He is a decent person and a person that you do not have to be scared as president of the United States.
But, on this occasion, the crowd boos and jeers in what we now hear at any Trump event.
And on election night, while conceding to Obama, McCain said that he had called Obama to offer congratulations, the crowd booed, and McCain begs: "Please."
Moments later, when he referred to Obama leading the country for the next four years, there were more boos and another entreaty of "Please, please". More from The Guardian: (emphasis by Wrongo)
From the vantage point of 2018, it looks and sounds like a member of the old guard fighting to hold back the populist tide – a tide that would eventually overwhelm both his party and nation.
That tide was amplified by the selection of Palin as nominee for vice-president. Although viewed from Trumplandia, her gaffes now seem quaint.
Subsequently, we saw the Republican's anti-Obama obstructionism, the rise of the Tea Party to political power, and the emergence of a growing and toxic mix of cultural and economic resentment. What seemed to be angry but marginal voices at those McCain campaign events, now occupy center stage in the Republican Party. The Guardian concludes with:
And yet, future historians seeking to understand the man and his time will surely revisit that when McCain forced a smile and introduced 'the next vice-president of the United States, Governor Sarah Palin of the great state of Alaska'.

They will consider what it foretold, and ponder why a man of decency and honor opened the door to demagoguery in America.
McCain didn't "open the door to demagoguery", but he held it open for Republicans at a critical point in our politics.
For all his lapses of judgement, Wrongo will miss McCain's occasional appeals to American values, American principles, and duty to the public good. McCain could, and did, speak to this better vision, even if he didn't always vote for it.
Let's remember him as a veteran, and as a senator who saw his party fall into the abyss, knowing that, given his position in the Party, he was more than a little bit responsible.
So Wake up America! There's no need to make saints of sinners. McCain wasn't a saint.