The Daily Escape: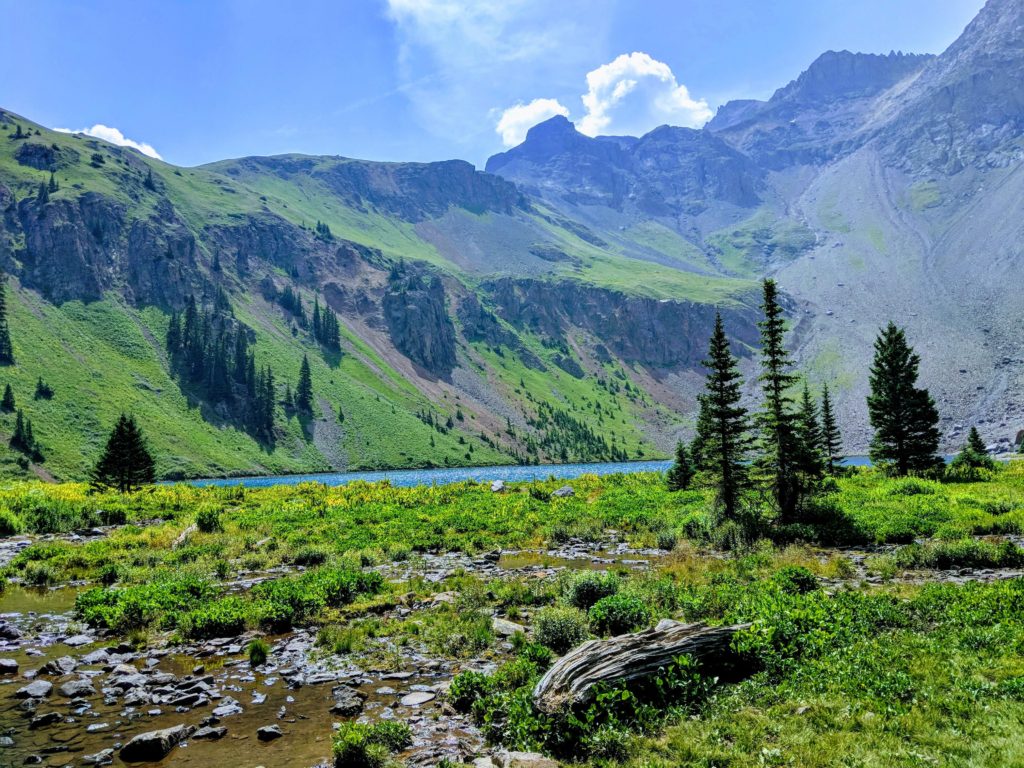 Blue Lakes Trailhead, near Telluride, CO – August 2018 photo by Will Colebank. See 360° view here.
Remember last Monday? Since then, we've had a week of body blows to both the national psyche, and the economy. Thank God that the market was closed last week. Oh, wait a minute…it was open.
Please, Trumpheads: Try not to kill us while attempting to govern! The administration is literally making a pandemic worse by once again not thinking through their policies. From the WaPo:
"Airports around the country were thrown into chaos Saturday night as workers scrambled to roll out the Trump administration's hastily arranged health screenings for travelers returning from Europe.

Scores of anxious passengers…encountered jam-packed terminals, long lines and hours of delays as they waited to be questioned by health authorities at some of the busiest travel hubs in the US."
Q: How do you spread a virus faster?
A. Pack a bunch of people into an airport virus screening line for six or seven hours.
This dog's breakfast was caused by the administration's "enhanced entry screenings", one of Trump's travel restrictions aimed at slowing the spread of the coronavirus within the US. Passengers on flights from more than two dozen countries in Europe were routed through 13 US airports, where workers checked their medical histories, and examined them for symptoms.
What could go wrong?
Is it a surprise that there was no advance staff coordination to assure that people could get through a crowd of suspected Coronavirus carriers reasonably quickly? It's similar to Trump's 2017 chaotic implementation of the Muslim travel ban that triggered confusion and protests when travelers were detained, or sent back with almost no warning from US airports.
In some airports, the immigration line for US citizens was longer than the one for non-citizens. How can intelligent people not think any of this through? It's clear from the long lines that there was zero planning for this policy's implementation.
Trump has failed AGAIN.
It's likely this clusterfuck will speed disease transmission rather than not having a travel ban at all. This is another example of "we've gotta do something", and they settle on an action that exacerbates the problem!
Second, what kind of crazy, messed-up world do we live in where the most reliable information about the coronavirus comes from anyone but the government? Where Rep. Devin Nunes (R-CA) tells everybody to go out to a restaurant, when the NIH's Dr. Anthony Fauci is saying just the opposite?
Or, take Republican candidate for the Nevada Clark County School District Board of Trustees, Katie Williams. Williams is a former Ms. Nevada who was recently stripped of her title for posting political content supporting Trump on social media. She also ventured into pandemic denial when she tweeted this reply to Alexandria Ocasio-Cortez: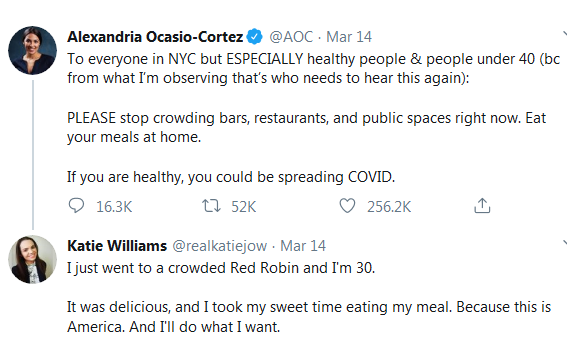 "This is America, and I'll do what I want" = "I'm too selfish to do anything that doesn't benefit me." Paul Campos puts his finger on the problem of 21st Century peak Republican asshole:
"The COVID-19 crisis is a classic collective action problem. Stopping it from overwhelming the nation's health care system so that it causes hundreds of thousands or even millions of preventable deaths requires people to act as if society actually exists, and to recognize that the fact that they themselves may face a relatively low mortality risk is irrelevant to the much higher risk faced by the tens of millions of their fellow Americans."
Expecting Americans in general, and Republicans in particular, to voluntarily engage in the kind of behavior that's important for the greater good is not only unrealistic, it's foolhardy.
Back to Williams: Can you imagine Nevada parents wanting one of the most selfish people in America on their kids' school board?
Time to wake up America! As John Pavlovitz says:
The bill for MAGA has come due, Trump supporters.

It's time to pay up.

The deferred invoice for you selling your souls is here….

This President didn't create this virus,
but he ignored it,
denied it,
minimized it,
joked about it,
weaponized it,
politicized it,
exacerbated it.
To help you wake up, listen to King Crimson's "Epitaph", from their 2018 live album, "Radical Action". The vocalist is Jakko Jakszyk:
Sample Lyric:
Confusion will be my epitaph
As I crawl a cracked and broken path
If we make it, we can all sit back and laugh
But I fear, tomorrow, I'll be crying
Yes, I fear, tomorrow, I'll be crying
Yes, I fear, tomorrow, I'll be crying
Those who read the Wrongologist in email can view the video here.