The Daily Escape: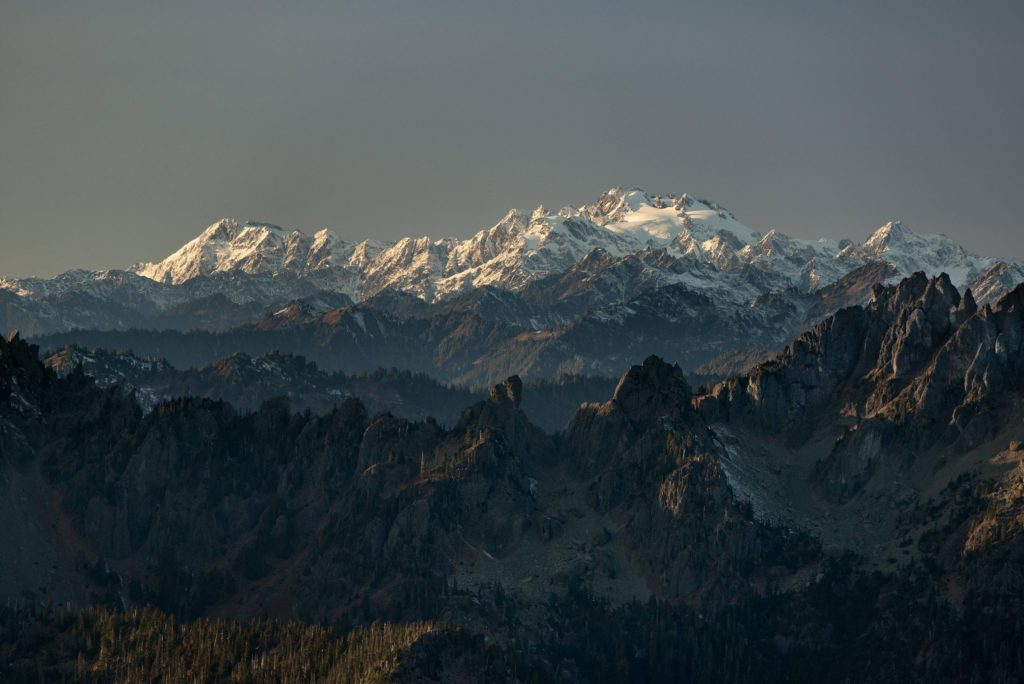 The Olympic Range from Mt. Elinor trail – 2019 photo by malevolint
A new poll by the Military Times (MT) shows that half of active-duty service members are unhappy with Trump as their Commander-in-Chief. This represented a  decline in his approval rating since he was elected in 2016.
The top line numbers show Trump is viewed very favorably or favorably by 41.6% of those surveyed, while 49.9% view him very unfavorably or unfavorably. 8.5% were neutral on the question. By comparison, when the MT surveyed the troops after Trump won in November 2016, 46% of troops surveyed had a positive view of Trump, while only 37% had a negative opinion.
The poll surveyed 1,630 active-duty MT subscribers between October 23 and December 2, 2019, in partnership with the Institute for Veterans and Military Families (IVMF) at Syracuse University. The numbers have a margin of error of ± 2%. The survey audience was 92% male and 8% female. Respondents identified themselves as 75% white, 14% Hispanic, 13% African American, 5% Asian and 5% other ethnicities. Here is a chart of the top line changes over time: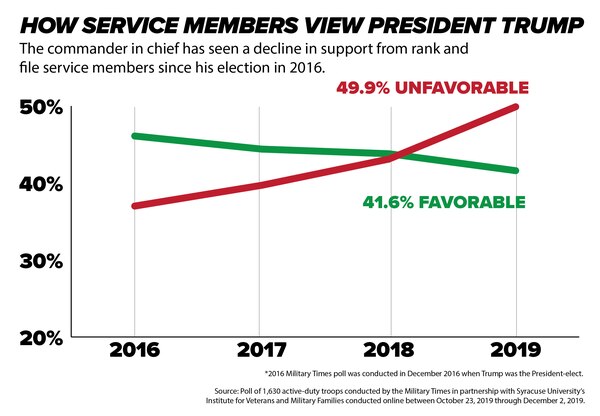 Trump's overall favorability is similar to what he receives in the civilian population.
Some of the big drivers of the increase in his unfavorability have to do with military decisions. While troops supported Trump's steps to disengage in Afghanistan (59% approve of negotiating with the Taliban), 58% disapproved of his decision to withdraw US forces from northern Syria. When asked about using military funds to build the southern border wall, 59% disapproved of his decision. More than half rated current US relations with "traditional allies" like NATO as poor.
Some other findings:
Military men are more supportive of Trump than military women: 43% of men rate him favorably, while among women service members, 53% expressed a "very unfavorable" rating, and 56% responded negatively.
By race, there were key differences: 46% of whites had a favorable view, versus 45% unfavorable. Among non-white service members, about 66% held a negative view of Trump.
33% of respondents identified as conservative, outnumbering liberals (25%).
There was a shift toward more service members identifying as political independents. They now are 45% of respondents, up by 3% since 2018.
There was a 3% increase in the number of Democrats, and a 7% decrease in the number who considered themselves Republicans, or Libertarians.
Regarding impeachment, 47% backed impeachment, while 46% were opposed, roughly the same as the rest of the American public.
More than 75% said they think the military community has become more politically polarized, with about 40% now saying they have seen significantly more division in the ranks.
While historically male, white and Republican, the military is changing rapidly. The swing in the numbers of self-declared Democrats and Republicans is important. Many are confused about the military's role, and America's global mission.
Mark Bowden has a current article in The Atlantic about the negative view of Trump held by recently retired generals. Here is the key takeaway:
"In 20 years of writing about the military, I have never heard officers in high positions express such alarm about a president."
Bowden is a highly respected military historian who wrote Black Hawk Down, and Huế 1968. He quotes a general saying that Trump: (brackets by Wrongo)
"…doesn't understand the warrior ethos…it's sort of a sacred covenant not just among members of the military profession, but between the profession and the society in whose name we fight and serve…. Trump [just] doesn't understand."
There is an opening for Democrats here. Plenty of issues are up for grabs, like the fact that the military spouse unemployment rate floats around 20%, or that homeless veterans are overrepresented at 11% of all homeless adults, and commit suicide at 1.5 times the rate of their non-veteran adult counterparts.
There are serious problems with lead in both military housing paint, and in their drinking water. Reuters did a special report on this last year.
Democrats have pushed policies for limits on payday lenders, while Trump and the Republicans support them.
Military sexual assault, energized by Sen. Gillibrand (D-NY), still has yet to pass. Gillibrand's law would require that all sexual assault cases are placed in the hands of experienced military prosecutors, outside the chain of command.
So far, Democrats haven't offered a clear alternative that our military can endorse. Dems need to speak in a voice that conceptualizes the military not just as a special interest looking for a pay raise, but as a unique community that defends us against all enemies, foreign and domestic.
Can the Democrats running for president embrace the military?