The Daily Escape: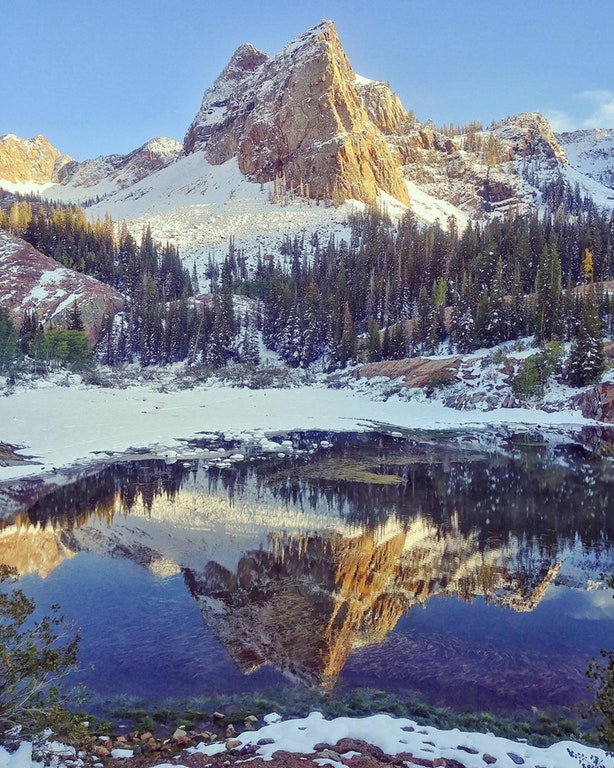 Lake Blanche, UT – 2017 photo by exomniac
We watched the State of the Union (SOTU) speech at the Mansion of Wrong. Outside, it was 15° and very windy. That also appeared to be the climate in the House chamber during Trump's speech, which Wrongo saw as largely a basket of glittering generalities; rhetoric without action; lies instead of facts; and marching band patriotism. Chants of "USA, USA" in the House chamber should be beneath our politicians, but sadly, some want us to appear to be a banana republic to the rest of the world.
Americans don't ask their politicians for much, and apparently, willingly accept even less than that without a whimper.
Wrongo wants to focus on the Democratic response to the Trump speech. Roll Call says that there were at least five responses, of which two were "official", in that they were authorized by the Democratic Party. Rep. Joseph P. Kennedy III (D-MA), grandson of Bobby Kennedy, delivered the English-language Democratic response. Virginia Guzman, the newly elected, and first Latina to be elected to the Virginia House of Delegates, gave an official Spanish-language response.
Democratic Rep. Maxine Waters of California offered an unofficial response to the presidential speech, as did former Rep. Donna Edwards of Maryland.
But the most notable response came from a sitting senator who isn't a Democrat, Sen. Bernie Sanders (I-VT). He rebutted Trump's remarks, and in some ways, rebuked Trump and his administration. This is the second year in a row that Sanders has delivered his own speech after the State of the Union. Bernie's speech was shown on social media, and not on any mainstream TV outlet. You can read the text of his speech here.
Post-SOTU, the Dems are about to get worked over, largely because of their support of the Dreamers. If Chuck Schumer has his way, Democrats are about to charge up DACA hill once again. The outcome is likely to be the same. Wrongo thinks the Dreamers' cause is just, but it isn't a good idea to try to ransom them from Trump and the GOP as part of the immigration deal Trump has placed on the table.
Trump wants to alter our immigration system in a very unfair way in exchange for Dreamer amnesty. The question for Democrats is: Should they make the trade? Do they really think that the GOP will start deporting Dreamers in March? Do they think the videos of Dreamers in custody and on their way to homelands they never knew will help Republicans politically?
Take the Dreamers off the table. Proceed with other pressing issues, like funding the government.
And when the DACA protections lapse, there will be a price that Dreamers will have to pay, right along with both Democrats and Republicans, neither of whom would make a deal to extend DACA.
And when Trump wants an infrastructure deal, then Dems should bring up the Dreamers. Change the strategy. Let the "public-private" partnerships he touts for infrastructure be the way he gets his wall, and how Dreamers get amnesty.
It's important that Dems are right on both the politics and on the merits. Compromise must come on big issues like immigration and infrastructure, and Dems shouldn't take the first deals offered on either issue.
But to win in 2018 and beyond requires Democrats to offer a strong and compelling platform of their own, one based upon principles. Like health care being a right of citizenship. Like investing in education and infrastructure instead of spending on wars and weapons. Young Kennedy got close to identifying a compelling platform, but he isn't the messenger for 2018.
There are many people in America who are hurting. Many are under-employed, and not getting the support they need. Simply pointing the finger at Trump is not going to inspire many to go to the polls. Democrats tried this in 2016, and it didn't work.
People need a positive vision for the USA, and their place in it.
On Tuesday night, Trump would only speak of his plans in very general terms, because he doesn't have the support in both Houses of Congress to get the job done. While MAGA is a successful campaign slogan, it isn't a plan for a future that includes all Americans.
Democrats can be a part of the solution, if they find a way to prevent the GOP from taking and holding liberal issues hostage.