The Daily Escape: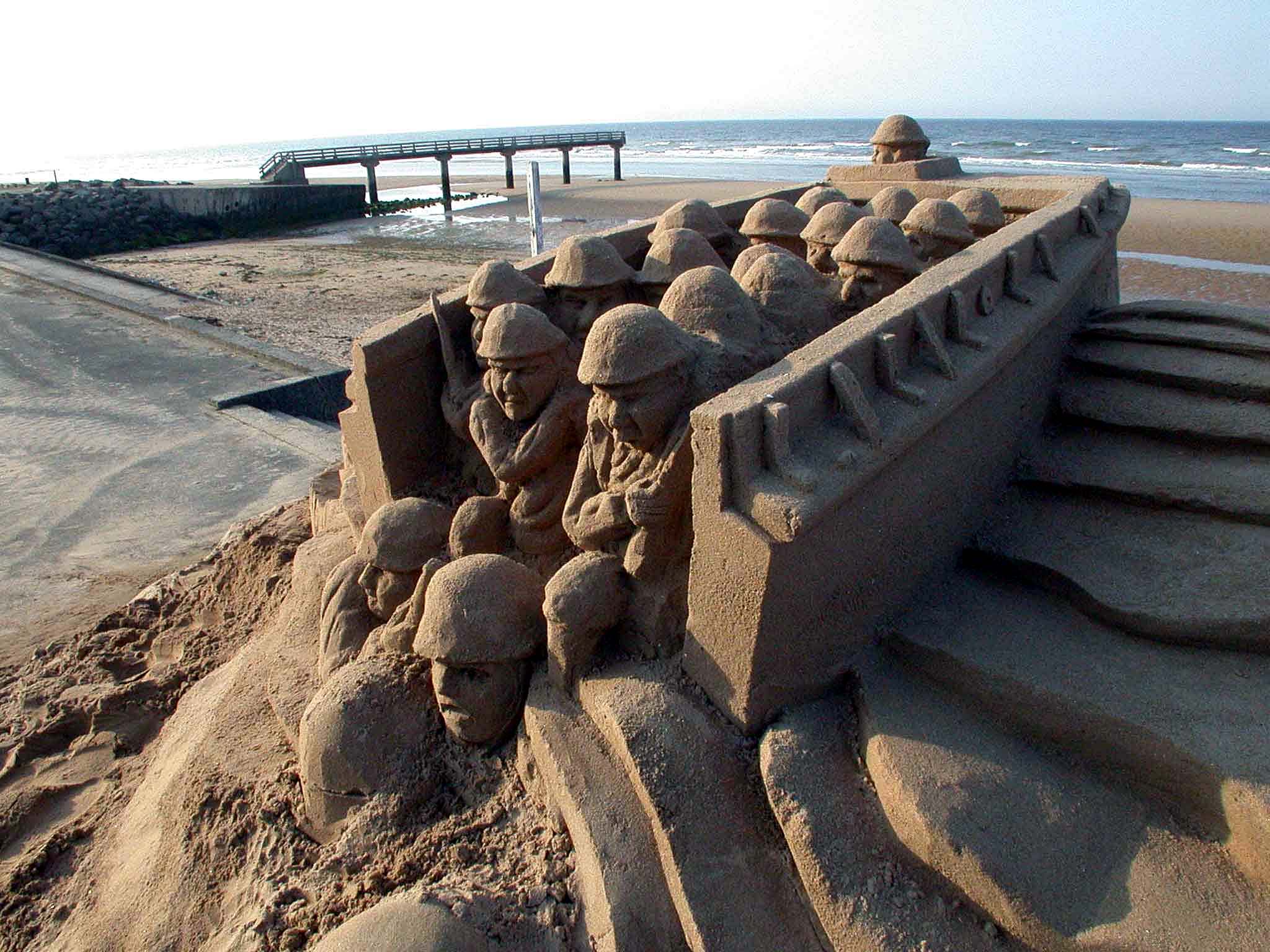 "Sands of Remembrance" sand sculpture, Normandy, FR – done for D-Day, 2004
Wrongo still thinks of Veterans Day as Armistice Day, probably because he's old enough to remember when we celebrated it as the ending of WWI. Now, Veterans Day pays tribute to all American veterans—living or dead—but especially gives thanks to living veterans. President Eisenhower officially changed the name of the holiday from Armistice Day to Veterans Day in 1954.
Let's focus today on the closing hours of WWI, and then add a few thoughts about Vietnam.
First, WWI: In the eleven hours of that final November day, the different countries of the Allies were still launching attacks even though they knew that the cease-fire was set for 11 am. In fact, the French commander, Marshall Foch, refused to agree to a cease-fire. The American generals also wanted to make a point with the Germans, and that day, about 3,000 Americans were killed and wounded.
There was a Congressional Hearing after the War about the 3,000 Americans casualties, but they never published the results, because it would have made the American Generals look bad.
In the many centuries of European history up to 1945, an army crossed the Rhine on average once every 30 years. War was historically what the major nations of Europe did. In the 73 years since WWII, they've decided not to do that to each other, an astonishing and humbling fact.
On Saturday and Sunday, we saw the strong expressions of unity between France's Macron and Germany's Merkel, along with Merkel appearing on Sunday morning in London. These were mere symbols for peace, but it mattered very much for the world to see them, even if they are immaterial to the current US president: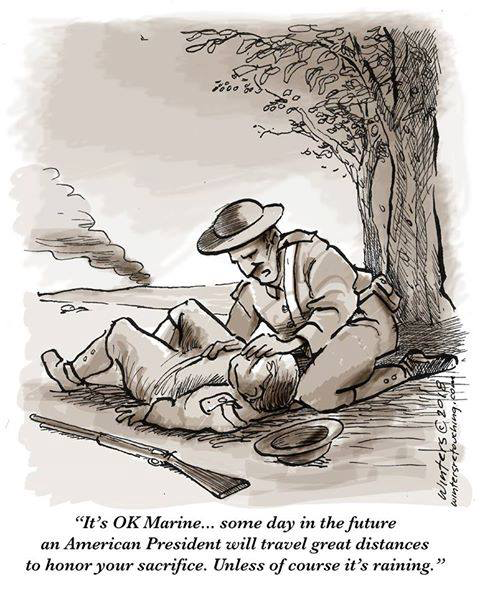 On Vietnam: Few know that there are eight American women listed on the Wall. Each are nurses, who dedicated themselves to taking care of our wounded and dying. They were part of the more than 265,000 American women who served during the Vietnam era. Approximately 11,000 served in Southeast Asia. Close to 99% were nurses.
A small number of women served in civilian capacities, such as with the American Red Cross and the USO. More than 50 civilian American women died in Vietnam.  Others worked as physicians, air traffic controllers, intelligence officers, clerks and in other capacities.
It wasn't until November, 1993 that the patriotic service of all women was honored in the nation's capital at the dedication of the Vietnam Women's Memorial.
Every holiday offers the opportunity to remind ourselves of who we want to be as a nation. The day after every holiday gives the opportunity to start down the path of doing something about that.
We ask our men and women in uniform to fight for us. The right or wrong of the conflicts – the responsibility for them – lies on us, the citizens at home who elect our leaders, not on those who carry out our orders. On this day we celebrate their service, without which the Republic would not have survived.
Since every "Support the Troops!" celebration inevitably becomes a "Support the War!" celebration, it's curious how a celebration about the end of a war has gotten so twisted in America. There is no better way to support our active and veteran service members than to make sure we never commit to war, unless absolutely necessary.
So wake up America! Here's what we have to do, starting today:
Stop under-funding care for veterans. Every month, we hear about active duty military and veterans suffering poor medical care, or having to wait years for the care they need. The military can always find funding for big-ticket weapons, but not for our veterans.
Here in America, we will say anything to support our troops, but we won't fully fund the Veterans' Administration. We won't provide truly first-class aftercare to the wounded and maimed. And we won't ensure that widowed spouses and children are cared for adequately.
Stop Congress from giving Presidents a blank check to conduct military operations that are not purely defensive in nature. Rewrite the AUMF. Put Congress back into its long-abandoned Constitutional role of approving wars that are recommended by the president.
With a Democratic majority in the House, these two things are possible.
Since its Monday, tell your Congresscritter to get busy on them right away.