Let's start the first Monday of the New Year with this photo of a hermaphrodite Northern Cardinal: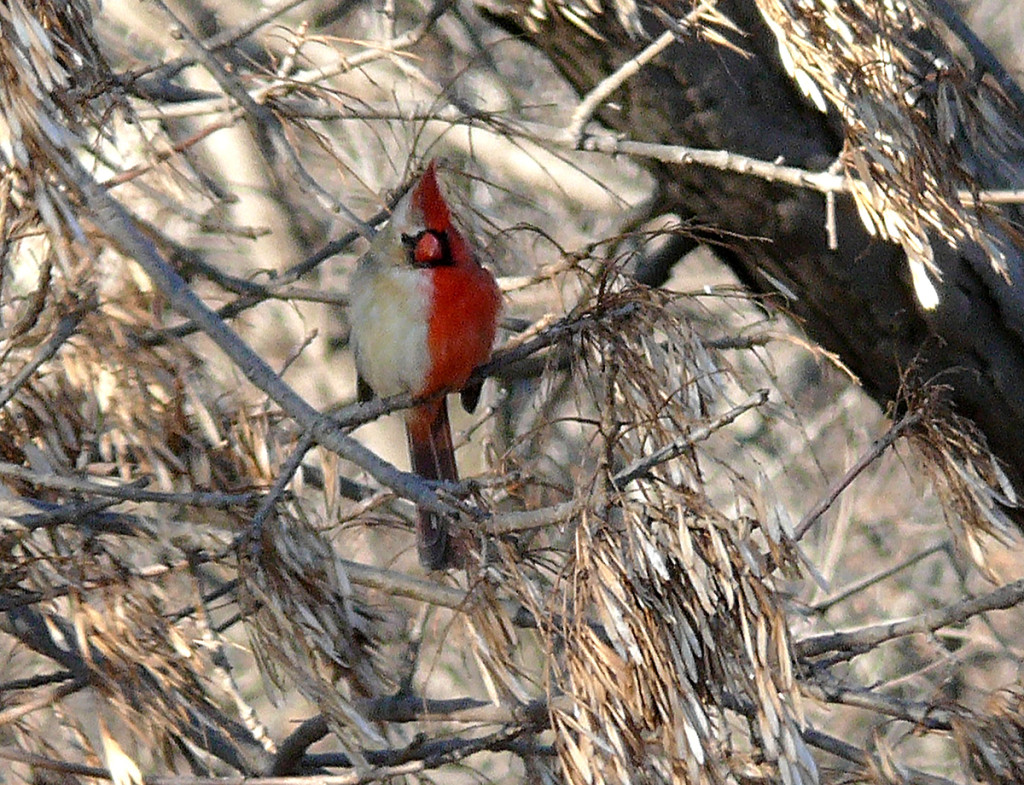 The half-red, half-white plumage of this northern cardinal is caused by its sex chromosomes not segregating properly after fertilization, so the bird is half-male, half-female. You can read more in New Scientist magazine here.
Last night, Wrongo watched Martin Scorsese's film, The Last Waltz, which documents the last concert by the roots-rock group, The Band. Late in the movie, Robbie Robertson recounts jamming with the great harmonica player, Sonny Boy Williamson in the early 1960s, and making (never-realized) plans to work together. Obviously, Robertson, Helm, et al. went on to be the band that backed Bob Dylan in the 1970s.
Here is your Monday musical wake-up: Sonny Boy Williamson playing and singing "99", in which he can't come up with that last dollar to make the $100 his girlfriend wants:
Here are links that you may have missed:
Drone etiquette is one of several issues covered in the WSJ's "21 Tech Do's and Don'ts for 2015." Really, drone etiquette is gonna be a thing in 2015?
Dynamic scoring is not about succeeding in the bar scene, it's a new Republican way of using the Congressional Budget Office to make tax cuts look good. The Wrongologist wrote about this in December.
Georgia police chief shoots wife (twice) while "moving" his Glock pistol in their bed. Yea, well, more for the "good guy with a gun" file. BTW, Glocks don't accidentally fire, they have a unique safety mechanism, so you have to pull the trigger to fire it.
California colleges see surge in efforts to unionize adjunct faculty. At nearly a dozen private colleges in California, adjunct professors are holding first-time contract negotiations, or are campaigning to win the right to do so.
Almost one-fifth of the nation's enclosed malls have vacancy rates considered troubling by real estate experts (10% or greater). Over 3% of malls are considered to be dying, with 40% vacancies or higher. That is up from less than 1% in 2006. Another impact of income inequality: High-end malls are thriving, while malls with anchor stores like Sears, Kmart and J. C. Penney falter.
Don't try this at home: In 2015, the European Union is increasing taxes on purchases of digital content like e-books and smartphone applications. The taxes are part of a continuing push to tax the region's digital economy more heavily. It will raise over $1 billion.
The latest ISIS offensive in Iraq's Anbar Province may have reversed weeks of progress by Iraq's government forces. And it only took a few hours. No airstrikes were launched by US coalition forces in time to support the ground troops.
"From 07:00 until 11:00, we lost territory that had taken us two weeks to gain. In a few hours, it was gone," said a senior officer from the Iraqi Army's 7th Division.