Let's talk taxes. Specifically, let's focus on a Republican governor, Jindal of Louisiana. Louisiana faced a massive shortfall ($1.6 billion) due to the fact they are governed by Bobby Jindal and a bunch of Republicans who can't admit that they are raising taxes because otherwise, Grover Norquist will get angry at them. From the NYT:
With less than two hours left in the 2015 session, Louisiana legislators agreed Thursday on a solution to the worst budget shortfall in decades, approving a funding arrangement that drew bipartisan criticism
The legislators had looked at raising taxes, but Jindal said that he would veto anything that violated his pledge to Norquist. The big losers if no deal was reached would have been public education and health care.
So, the governor consulted with Americans for Tax Reform, the Washington anti-tax advocacy group led by Norquist, and came up with a complicated plan that was an accounting fiction, in order to solve the budget crisis.
• The plan obligated $350 million of the revenue raised during the session to higher education, thus preventing cuts
• That was augmented by an "assessment" of $1,600 per student on the state's public college students
• Nobody would actually pay the assessment because students would also be granted a tax credit against that assessment
• The student's tax credit, in turn, would be transferred to the state Board of Regents, the body that runs higher education
The board would then use the credit to draw money from the Department of Revenue. It's confusing, and not just to the accounting-challenged. But, under the plan, no one's tax burden went up or down, which allowed the Louisiana Legislature to raise the cigarette tax by 50 cents a pack, increase costs for businesses by reducing a variety of tax credits and raise fees on car buyers and other Louisianians.
Lawmakers have called the provision everything from "money laundering" to "stupid," and that was just the Republicans. Robert Travis Scott, president of the nonpartisan Public Affairs Research Council of Louisiana said:
There is no way you can explain that it's an offset…This is a vehicle that allows Governor Jindal to raise taxes, period.
The fact that Norquist helped Republicans in Louisiana figure out a way around HIS OWN PLEDGE tells you that this "no new taxes" nonsense has become simply theater. Now Jindal can run for president with Norquist's blessing. Isn't that nice?
On to cartoons. The big news of the week included the Trade Fast Track fail, sending more troops to Iraq, and a new Jurassic Park movie.
Fast Track is side tracked: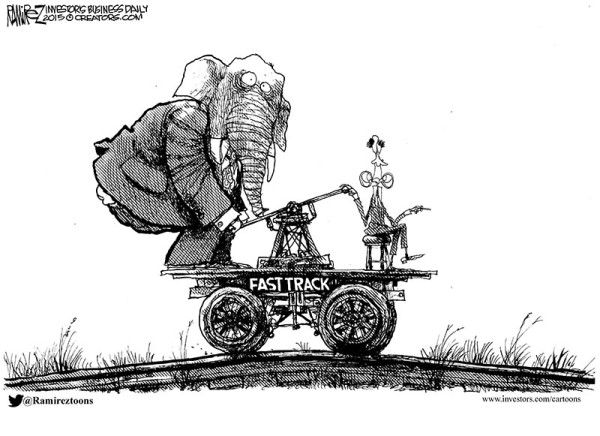 The same old Iraq strategy reappeared: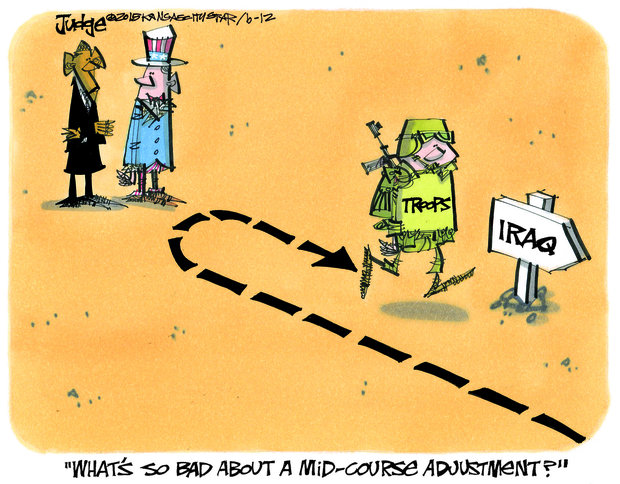 With predictable results:
New Jurassic movie brought out new GOP creatures: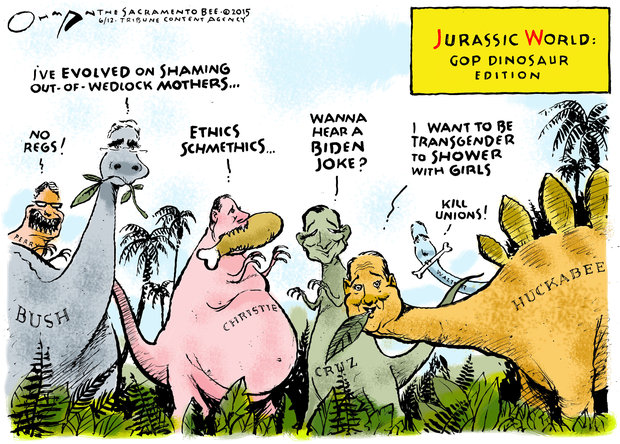 Like Jurassic movies, STEM in Congress creates BIG problems: