Gallup and Healthways 2015 Q2 survey shows that the uninsured rate among US adults aged 18 and older was 11.4% in the second quarter of 2015, down from 11.9% in the first quarter. The uninsured rate has dropped nearly six percentage points since the fourth quarter of 2013, just before the requirement for Americans to carry health insurance took effect. The latest quarterly uninsured rate is the lowest Gallup and Healthways have recorded since daily tracking of this metric began in 2008. The recent Supreme Court ruling in King v. Burwell affirmed the legality of subsidies provided to those obtaining insurance through the Affordable Care Act via a federal or state exchange. Here are Gallup's findings: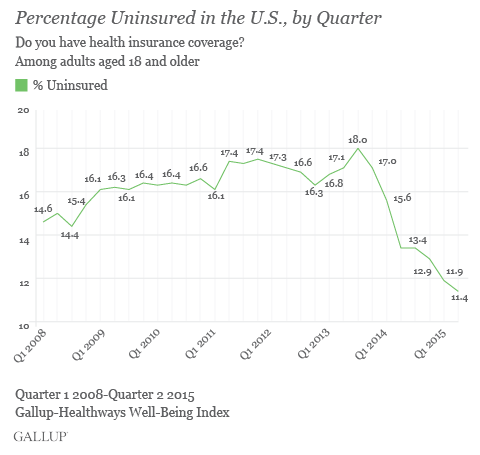 So, a byzantine insurance scheme originally designed by the Heritage Foundation as a way to keep the insurance cartel from suffering too much, now looks like a success, if reducing the numbers of the uninsured was the goal. But, once it went into effect, it became collectivism to Republicans, with the label "Obamacare" as if it had sprung fully formed from the mind of a Kenyan Socialist.
Here is a second data point, the use of subsidies by ACA insured by state: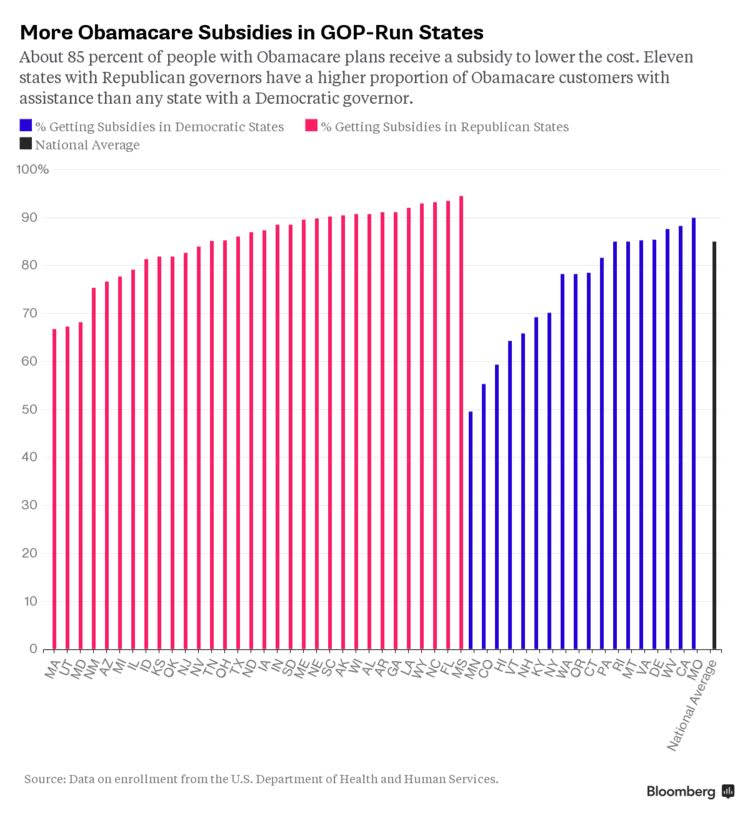 Why Bloomberg thinks Massachusetts is a red state is unexplainable, despite the fact that it has a Republican governor. But, it does serve to lower the red state average a bit. Poor states use more subsidies. Not exactly a surprise:
• These are the states where workers regularly vote against unions, even when it means job losses as in the case of Volkswagen in Tennessee.
• Where else but in a red state could the US manager of the new Mercedes plant be arrested at a traffic stop as a potential illegal immigrant?
• Where else would they fly a rebel flag 150 years after surrender? Many of these same states also get large federal agricultural subsidies, but that is acceptable, because the subsidies mainly go to wealthy individuals and corporations.
But, almost half of Americans still oppose Obamacare. Failure was inevitable, success inconceivable, and therefore failure must have happened.
Now there is an agreement in principle to the Greek debt crisis after all. Here, as explained in terms of Grease the musical, is your cliff notes version of the situation. You will not be disappointed if you watch:
For those who read the Wrongologist in email, you can view the video here.