The Hill reports that on Monday, almost every freshman member of the US Congress jetted off on an all-expense paid trip to Israel for a week of briefings and lobbying. This year, the trip is intended to ensure they vote against the Iran nuclear deal.
The junket is an annual affair organized by AIPAC, the American Israeli Public Affairs Committee, and just 3 freshman are not going. 67 of the total of 70 are expected to go this year, flying business class and staying at five star hotels. AIPAC's stated goal is that 80% of any Congress has been on one of its trips to Israel at least once. Among the world's democracies, it is an unparalleled example of one country's attempted influence on the political system of another.
The trip is paid for by The American Israel Education Foundation (AIEF), the educational wing of AIPAC. According to the National Journal, over the past 14 years, the foundation has spent more than $9.4 million on Congressional travel. There are two separate trips organized along party lines, one for Democrats, and another for Republicans. The Democrats' trip begins on August 3, and will be led by House Minority Leader Steny Hoyer (D-Maryland). The Republican trip begins on August 8, and will be led by House Majority Leader Kevin McCarthy (R-California).
Wouldn't it be nice if Congress had as much interest in the concerns of America as they apparently have for the concerns of Netanyahu? The bribe visit comes during the 60-day period in which Congress is reviewing the deal to curb Iran's nuclear program. President Obama has threatened a veto if the GOP-led Congress votes to reject the agreement. That would place the onus on lawmakers to muster enough votes to override the president, and the trip gives Israeli Prime Minister Netanyahu, a fierce critic of the Iran deal, another chance to make his case directly to lawmakers.
This despite polls showing that 84% of US Jews favor Iran nuclear deal. The trip draws new attention to the fact that just about the ONLY opposition to this deal (discounting oil sheikhdoms) comes from the Republicans and Bibi. It will make it even more obvious that those Congress people who oppose the agreement do so not out of loyalty to their own country, but to Israel. But, a look at 2014 pro-Israel donations to Congress critters shows that Republicans have no monopoly on Israeli money. The data below are from OpenSecrets.org: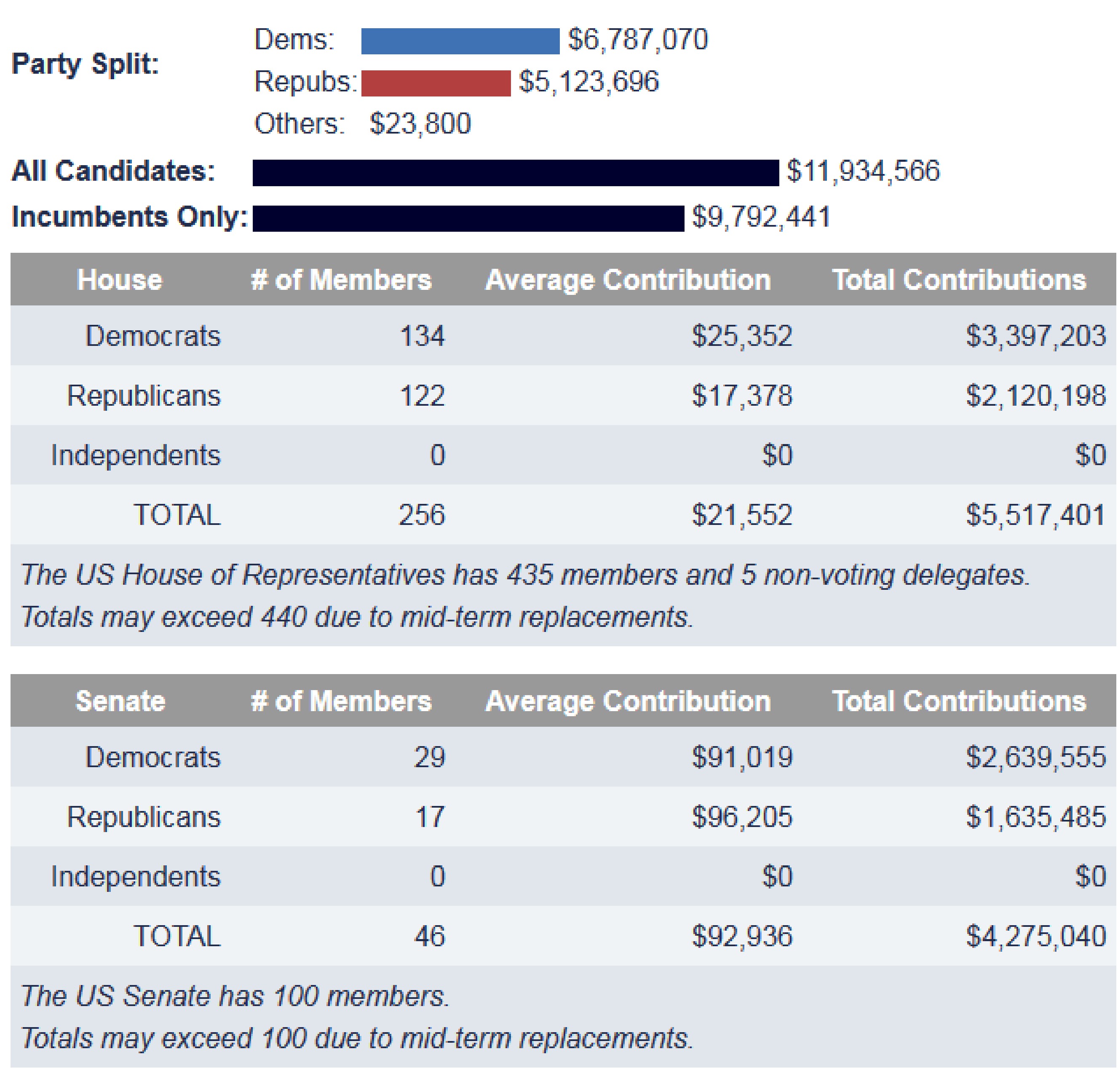 This is just what they gave in 2014. When will we demand that our Congress act to benefit Americans before seeking to benefit another country?
Think of the hypocrisy. We send $3.1 billion each year to Israel. Since 1948, we have sent $121 billion in total to them, all paid by taxpayers, most in the form of military assistance. And some of that money comes back in the form of donations to our Congress.
Israel is not our 51st state, yet we've sent them our dough rather than using it to repair our roads or to build new bridges at home. We've allowed them to meddle in our internal politics, we've invited them to disrupt our presidential elections.
Now, we will release Jonathan Pollard on parole after 30 years in prison. Pollard is a spy who stole US defense secrets and gave them to Israel. Pollard will be greeted as a hero in Israel, should he get to leave the US as a condition of his parole. Pollard's release is dubious because he provided Israel with information during the Cold War that allegedly was then traded to the Soviet Union (reportedly in exchange for allowing Jews to emigrate). Think about it: Our #1 ally sent our secrets to the Soviets?
How long before Americans see the Israeli effort to buy Congress for what it is?