There was a curious story in the NYT on Saturday. They quote former Israeli defense minister, Ehud Barak in a new biography revealing that Israel came close to striking Iran's military facilities in 2010, 2011 and 2012. The biographers spoke on Israeli television, saying that despite Barak's and Prime Minister Netanyahu's desire to do so, the Israeli military refused.
Recorded interview excerpts between Barak and the biographers were aired by Israel's Channel 2, which stressed that Mr. Barak had sought to prevent them from being broadcast, but that they had been approved by Israel's military censor. Mr. Barak later confirmed that the recordings were authentic, but said he had provided the information on background to Ilan Kfir and Danny Dor, whose book, "Barak: The Wars of My Life," came out this week in Hebrew.
The interviews confirmed a longstanding view that Israel's security chiefs held back the political leadership, particularly in 2010. In 2012, the timing did not work out because of a joint US-Israel military exercise and visit by Leon Panetta, US defense secretary. Barak said he recalled "demanding" to postpone the joint military exercise. The NYT quotes Barak:
You ask, you demand that America respect your sovereignty to make a decision that you want to do that, even if America is opposed to that and it is against its interests…
The news is that the civilian leadership really wanted to start a war with Iran but first, the military leaders demurred, and then so did the Obama Administration. This confirms that the past 7 years have not been all Israeli bluster intended to play bad cop to our good cop. The bad news is that the administration has known for years that Netanyahu and his administration are off their collective rockers, yet Congress continues to send Israel weapons and billions of dollars every year.
The sad part is that there isn't anything really new here. It has been well documented previously. Juan Cole reported in 2011 that: (brackets by the Wrongologist)
Netanyahu appears to have forced out Meir Dagan, the head of the Israeli spying agency Mossad… Dagan went on to accuse Netanyahu and his Defense Minister, Ehud Barak, of grossly exaggerating the threat from Iran, calling a [potential] strike on that country "stupid idea that offers no advantage."
In 2012, apparently Obama stood firm in opposition to an Iran strike, since Israel didn't have the capability to really damage Iran's nuclear facilities and needed support from USAF in the form of B-52s and bunker buster bombs. Mr. Obama later compensated Israel for standing down by providing them with the bunker busters.
Here's a thought worth polishing and spreading: That the unspoken concern of the US and the world is not so much that a nuclear armed Iran might someday attack Israel and further destabilize the ME, but that a nuclear armed Israel is now ready, able, and rehearsing their plans to attack Iran. Imagine for a moment the hysteria in Congress if the headline of this story was reversed: "Khomeini was on the verge of attacking Israel 3 times".
It's time to cut Israel loose, to eliminate the undue influence this nation has on American foreign policy.
So, wake up Congress Critters, modeling Netanyahu's foreign policy behaviors will lead America to failure. To help with the wake-up, here is a photo that shows those in Congress just another example of life in the food chain: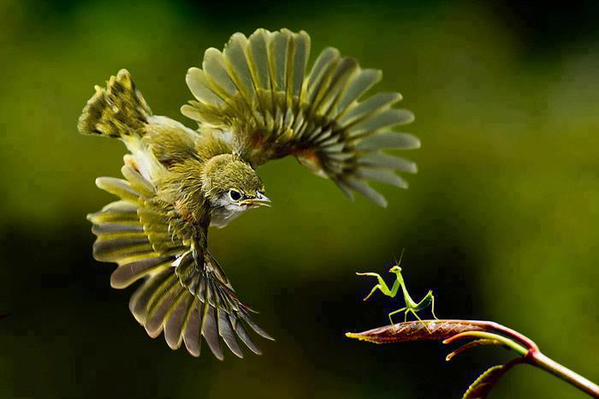 (H/T Naked Capitalism)
Your Monday Hot Links:
This is how Bernie Sanders could win. OK it's a long shot, but FiveThirtyEight says that if Hillary implodes, Sanders vs. Biden could be highly competitive. Clinton won't drop out before the primaries and a Biden run could split the establishment vote, giving Sanders an opening.
Billionaires keep flocking to architect Robert A.M. Stern's newest limestone creation at 220 Central Park South. Next is billionaire hedge funder Ken Griffin, who we mentioned yesterday. Griffin's new pad could cost him anywhere between $30 million and $160 million, which is really just chump change for the hedge funder who reportedly nets $2.2 million a day, and that's after taxes!
In a related story in the Onion, a study finds it is easier than ever for American dollars to join the 1%.
First wolf pack found in California in nearly a century. On Aug. 9, the cameras photographed two separate black-furred wolves, believed to be adults. Five black wolf pups were photographed in the same spot. It was clearly a pack.
Doctors may have found a way to override the body's evolutionary habit of storing fat with a discovery of a master switch for the body's metabolism. Researchers from the Massachusetts Institute of Technology and Harvard Medical School discovered a new genetic pathway that controls human metabolism by prompting fat cells to store or burn away fat.
Grading Carly Fiorina's tenure at HP. By a Silicon Valley journalist.