Hope that your Xmas was all that you wanted it to be. Here at the house of Wrong, there were good presents, good fun and good food. Scotch at the fire pit, and awesome desserts.
Fear abounds in the Homeland: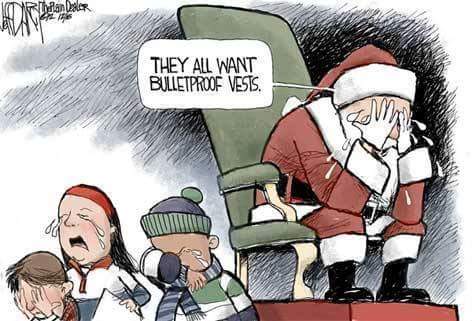 News you can't use:
A list of people who filed to enter the 2016 Presidential race: As of Sunday, 1,446 people have filed with the Federal Election Commission (FEC) to run for president next year. Among them are: Emperor Frederick Lindsey Lohan Goku (Independence Party), Elsa Is Bae (Unaffiliated), and Rarest Pepe (supported by the Committee to Make Pepe the Rarest). If you are over the age of 36, you can run, even if your name is Anus the Goat (D).
Last year, 848 million people boarded airplanes within the US. Here are 14 behind-the-scenes secrets of TSA agents.
Kentucky Fried Chicken is a Christmas tradition in Japan. Christmas wasn't celebrated in Japan until recently. There was no food associated with Christmas in Japan. According to KFC, fried chicken became a traditional Xmas food in the 1970s, when the chain's Aoyama store (in Tokyo) observed that in a land bereft of the customary turkey for a celebratory dinner, fried chicken was the next best thing.
DC's hottest gift this year is weed. This Christmas is the first since DC's marijuana legalization, called Initiative 71 went into effect. This means DC residents can legally give skunky-smelling Christmas presents to each other. Ya can't sell weed in DC, but if you're giving it away, that's not a problem. Spark 'em up!
The list of the top 30 most-played Christmas songs of all time, as compiled by ASCAP shows that nearly two-thirds of these songs were written in the 40s and 50s, when baby boomers were small children. No holiday songs from later than the 2000s crack the top 30. The closest is Mariah Carey's 1994 hit "All I Want for Christmas is You". Kill all the Boomers.
You may like this faux interview with the Donald, in which he says that Santa is stupid:
Those who read the Wrongologist in email can view the video here.