"The price good men pay for indifference to public affairs is to be ruled by evil men" – Plato
Following on yesterday's thoughts about how our presidential candidates are busy soiling their underpants over the possible threat of "Radical Islamic Terrorism" (say it Obama! What are you afraid of??), we heard Trump call for banning Muslims from visiting the US. Cruz and Rubio are merely for registering all of them.
This is a good time to take a look at the rates of homicide in America and our perception of the rates of homicide. Here is a chart from Gallup that shows the actual rate has fallen steadily and dramatically since 1992. The graph demonstrates that starting in 2001, we saw an increase in the number of Americans who thought violent crime was rising (the dark green line), even though the actual violent crime rate (the light green line) continued to fall, and remains roughly 75 points lower than it had been at its early 1990s peak. It's clear that the perception of that crime rate tracked closely with the actual rate until 2001, when they began to diverge: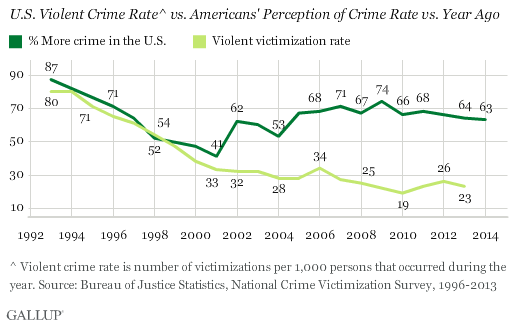 In addition, Pew asked Americans in 2013 if the number of gun crimes had: gone down, gone up, or stayed the same over the past 20 years. Bear in mind that the gun murder rate is half what it was, and the rate of non-fatal gun crimes is about a quarter of what it was 20 years ago, but only 12% said gun crimes were down, 26% said they were the same, and 56% said they've gone up.
This, despite the fact that the homicide rate/100,000 people in this country is lower than it's been in 50 years, falling from 6.6 in 1981 to 3.6 in 2010. That's not all. Ian Reifowitz at the Daily Kos offers more data:
• Violence in schools has dropped dramatically in the past two decades
• The overall rates of physical and sexual abuse of children is down
• The rates of rape/sexual assault and violence against intimate partners in the US is 25% of what it was a couple of decades ago.
We live in an environment where all politics is designed to ramp up fear and outrage. Where our media, both mainstream and Internet, awefulize about nearly everything, where people have short attention spans, and fail to understand nuanced problems.
The current "be afraid" broadcast coverage of San Bernardino is another opportunity to instill fear in the public about mass shootings. It sells commercials, but misinforms the public. The press and most politicians characterize these mass shootings as either the work of misguided crazies if they are Americans, or terrorists if they are not.
And then the media complains about the public's ignorance, and basks in the fact of peoples' acceptance of extreme political views, followed by hand-wringing about why people are so angry, frightened and cynical.
Polls show that Americans are afraid of Muslims. A 2014 Pew survey asked Americans to rate various religious groups on a 0 to 100 scale, with a higher score indicating more positive feelings.
• Republicans (including people who lean Republican) gave Muslims a rating of 33, on average — one point lower than atheists and far lower than any other religious group.
• Democrats had more positive feelings toward Muslims, but were still chilly; they gave Muslims an average rating of 47, slightly above atheists and Mormons and below other religious groups.
According to a Public Religion Research Institute poll conducted earlier this year, 77% of Trump supporters believe "the values of Islam are at odds with American values and way of life," versus 72% percent of other Republicans, while 43% of Democrats said the same.
After fifteen years of non-stop war against the Muslim world, it may make sense that Americans are insecure about Muslims. But, it is the media, and the 2016 Republican candidates who have ginned up this fear, against the reality of our actual experience.
It shouldn't be difficult for either the candidates, or the media, to put public safety in a context of the past 20 years.
The facts above show that we are safer than at any time in the last 50 years, but that doesn't mean we are safe, or that we do not have a problem with potential terrorist acts at home. We do, and we need to be vigilant. We also need to develop better techniques to identify potential domestic terrorists, and to teach citizens how to react in a potentially threatening situation.
Restrictive gun control wouldn't hurt either.
The quantifiable improvement in crime and homicide rates in particular, should give us some hope that we can do better. But none of that happens unless we chose facts over fear.
Or, if we let fear drive us from our long-held values as a people.