Luckily, it only comes up every four years: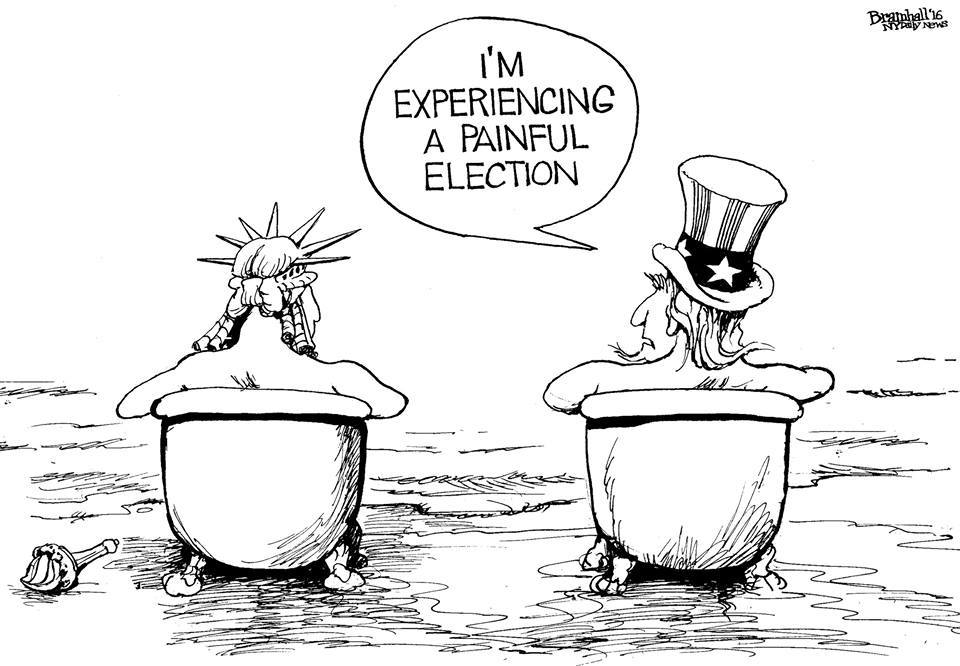 Colin Powell's emails were hacked, and America loved it: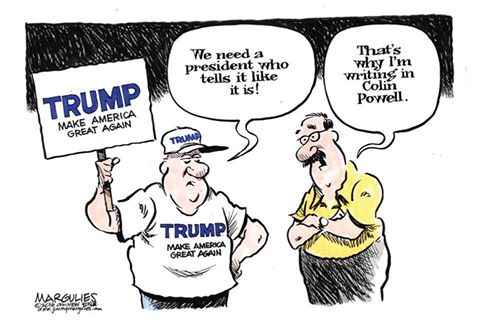 OTOH, Powell lied at the UN about WMDs. That helped start an unnecessary war in which many died. People have short memories. His standing should not be revived by a few blunt emails.
Hillary is back on the road. Is it too little vision, too late?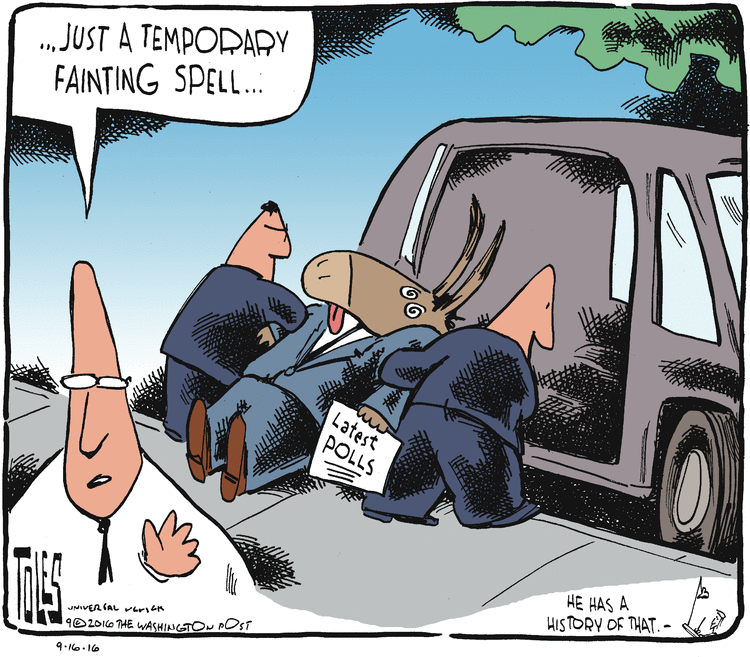 Dems should be ashamed, ashamed that their candidate runs so poorly with the young. That she is an ineffective campaigner. This is reminiscent of the summer of 1988, when Dukakis spent a week in August in Nantucket thinking he was ahead in the polls (Clinton spent two weeks in the Hamptons). She and her team are badly misdiagnosing what drives voters. Every response seems weak and ineffective.
Wells Fargo caught in phony account scheme: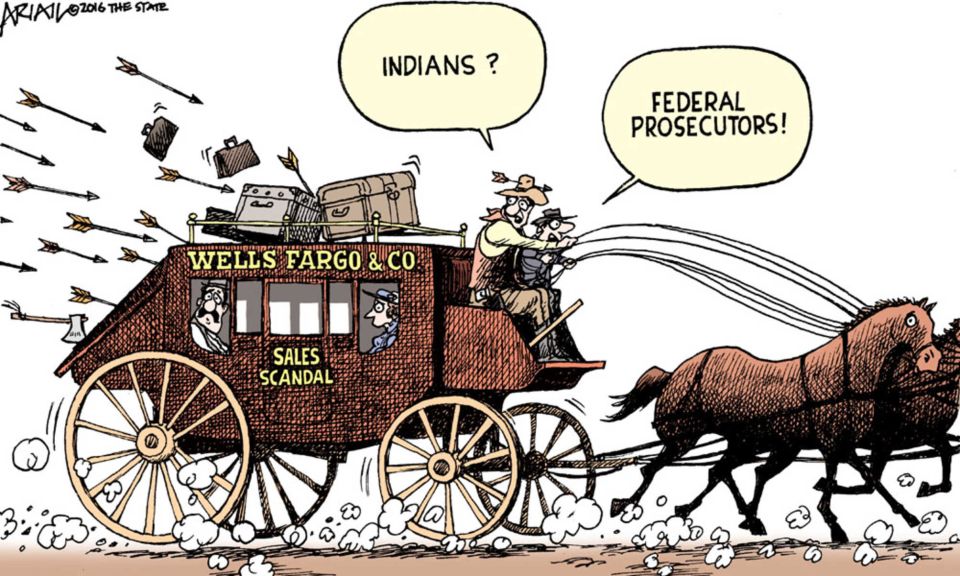 Wells fired 5300 "low level" employees, roughly 1% of the workforce, for signing up customers for checking accounts and credit cards without their knowledge. About 2 million sham accounts were opened, complete with forged signatures, phony email addresses, and fake PIN numbers, created by employees who were hounded by supervisors to meet daily account quotas. But the executive at the top of this hot steaming pile, Carrie Tolstedt, left in July with a $125 million retirement package.
Trump retracts his birther scam with an untrue swipe at Hillary Clinton: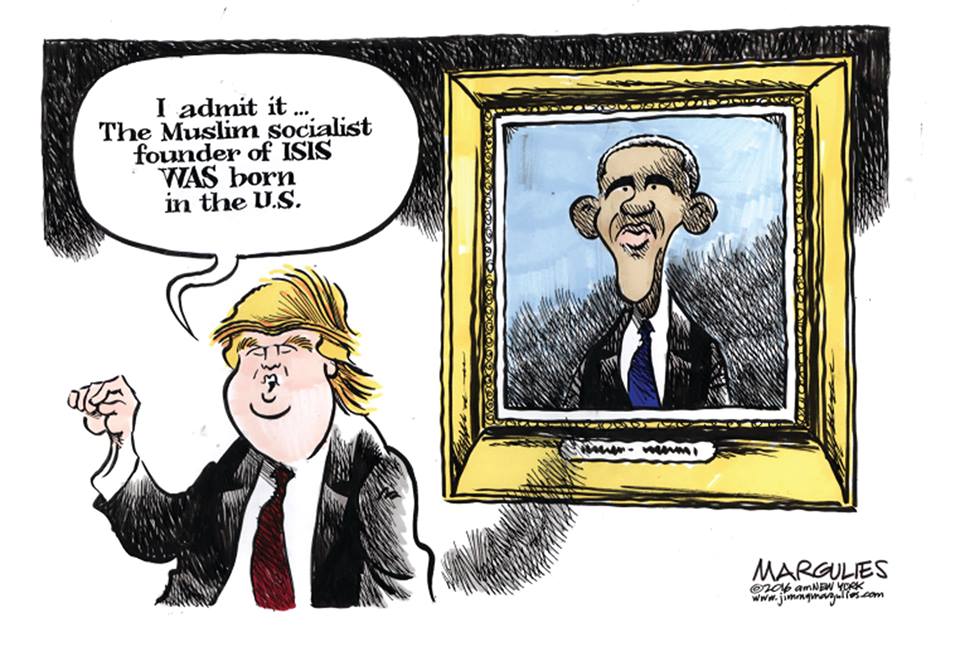 From Mark Shields  on the NewsHour about Trump's birther nonsense:
He wasn't only the loudest and the highest-profile and the most persistent and the most well-publicized birther, he, Donald Trump…lied. He lied consistently and persistently.

And, today, without explanation or excuse, he just changed his position and tried to absolutely falsely shift the blame onto Hillary Clinton…he debased democracy. He debased the national debate. He appealed to that which is most ignoble or least noble in all of us.
From David Brooks on the NewsHour:
Usually, there's some tangential relationship to the truth…But now we're in a reverse, Orwellian inversion of the truth with this. And so we have a team of staffers and then the candidate himself who have taken the normal spin and smashed all the rules. And so we are really in Orwell land. We are in "1984." And it's interesting that an authoritarian personality type comes in at the same time with a complete disrespect for even tangential relationship to the truth that words are unmoored…And so what's white is black, and what is up is down, what is down is up. And that really is something new in politics.