"In our age there is no such thing as 'keeping out of politics.' All issues are political issues, and politics itself is a mass of lies, evasions, folly, hatred and schizophrenia." – George Orwell
Feeling blitzed by the election? Science has an answer. Research by neuroscientists have led to a list of 10 songs which reduce stress. According to Dr. David Lewis-Hodgson of Mindlab International, which conducted the research, "Weightless" has been named as the most relaxing song ever, which reduces a person's stress by 65%. Your mileage may vary.
The most interesting thing so far in the analysis of who voted is the number of Democrats that didn't vote: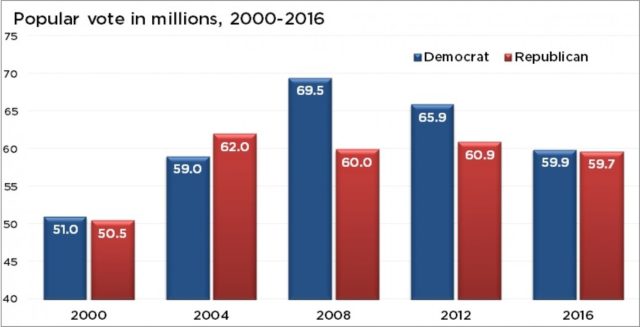 While America hasn't counted all the votes yet, Clinton's total vote is down significantly from both Obama elections. On the margin, people apparently thought that they didn't have sufficient reason to show up for Clinton. Everybody knew what Donald Trump's top three issues were. Despite an issue-laden website, nobody knew what Hillary Clinton's' top three issues were, they just knew she was against DT.
Krystal Ball (yes her real name) was a candidate for Congress in Virginia a half dozen years ago and has been writing since. She has a column up at HuffPo: The Democratic Party Deserved To Die in which she says the following:
In 29 states, truck driving is the number one job and it is one of the few jobs left that can provide a middle class living for high school grads. What will happen to the 1.5 million families who get their daily bread from a truck driver when all of those jobs are eliminated by driverless trucks? It's not a matter of if but when. Are we going to teach all those drivers to code or retrofit windows or whatever other pathetic nonsense we've held up as a solution? This new reality is upon us. The markets are not going to magically fix it.
"Stronger Together" meant nothing to all these people that felt that they were left behind by globalization, free trade agreements and technology. Democrats have been on an 8-year slide from electing a President with veto proof majorities in Congress to holding zero power in DC. Maybe this will reignite the revolt in the party to ditch its leadership and get back to its roots.
Orange County CA among the most Republican counties in CA, finally votes for a Democratic Presidential candidate, and the rest of the country pulls up the ladder. WTF?
On Election Day, most voters use electronic or optical-scan ballots. Nearly half of registered voters (47%) live in jurisdictions that use only optical-scan as their standard voting system, and about 28% live in DRE-only jurisdictions, according to Pew's analysis of data from the Verified Voting Foundation, a nongovernmental organization concerned with the impact of new voting technologies on election integrity. Here is how votes are tallied in America: