"My dream is of a place and a time where America will once again be seen as the last best hope of earth" –Abraham Lincoln
Lincoln believed that America should be a model for the world. He felt that the best way to achieve that was to end the divisiveness, to make America a land of hope and freedom for all. He had the courage to confront the political and cultural divisions caused by slavery, and he forced America to choose between allowing statutory inequality for some, and freedom for all.
If that was what Donald Trump meant by making America great again, he might have gotten Wrongo's vote. Sadly, his flurry of recent cabinet appointments seem to indicate his idea of a great America leads him in a completely different direction. He's announced Mike Flynn as his National Security Advisor, Jeff Sessions as his Attorney General and Rep. Mike Pompeo of Kansas as his director of Central Intelligence.
You will see millions of words written about their qualifications, so no need to guild those lilies here.
All three will be seen by those who gave Clinton 1.3 million more votes than Trump as mind-bogglingly disastrous choices. You be the judge of whether this is the type of swamp-draining Trump voters expected.
Nobody enters the White House well-prepared, but this is what's coming: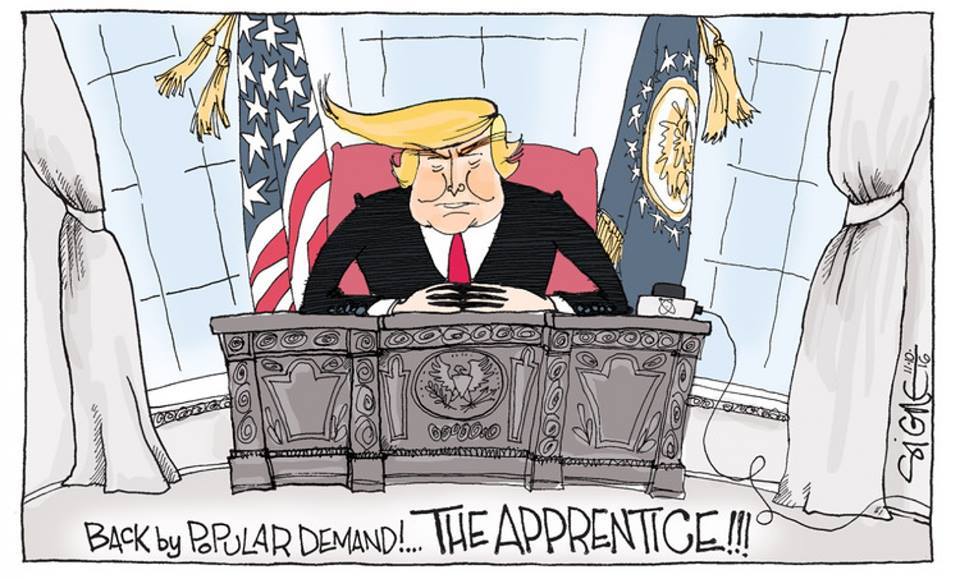 Not all promises will be kept in a Trump administration: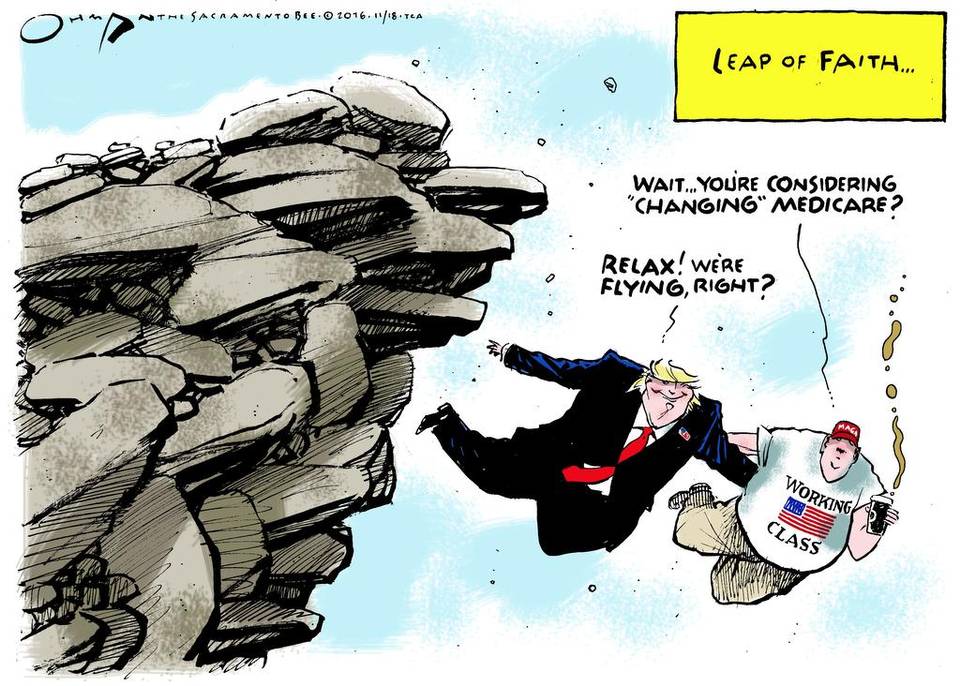 Promises are made to be broken, particularly when Paul Ryan wants to be helpful: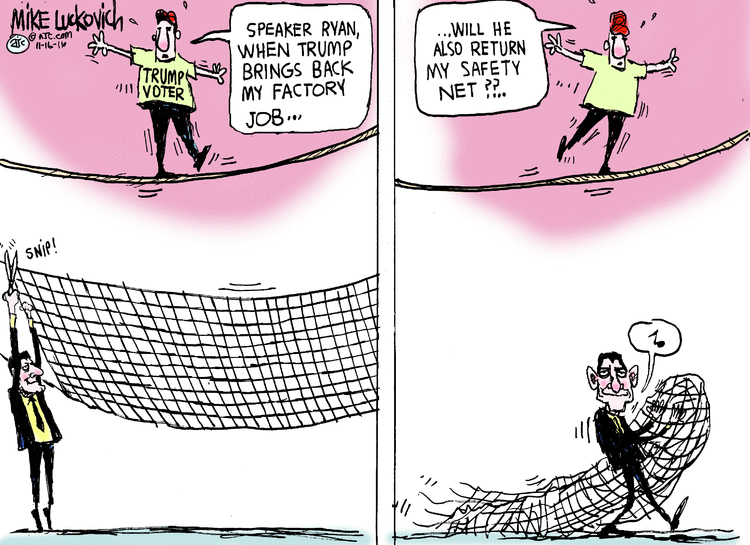 Ryan and Trump met to talk things out. Trump was happy with the meeting: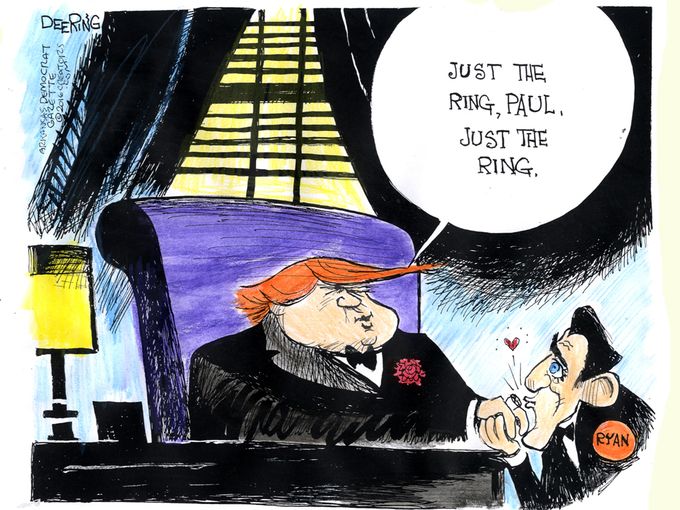 DJT won't stop tweeting. That could lead to mercifully short State of the Union addresses: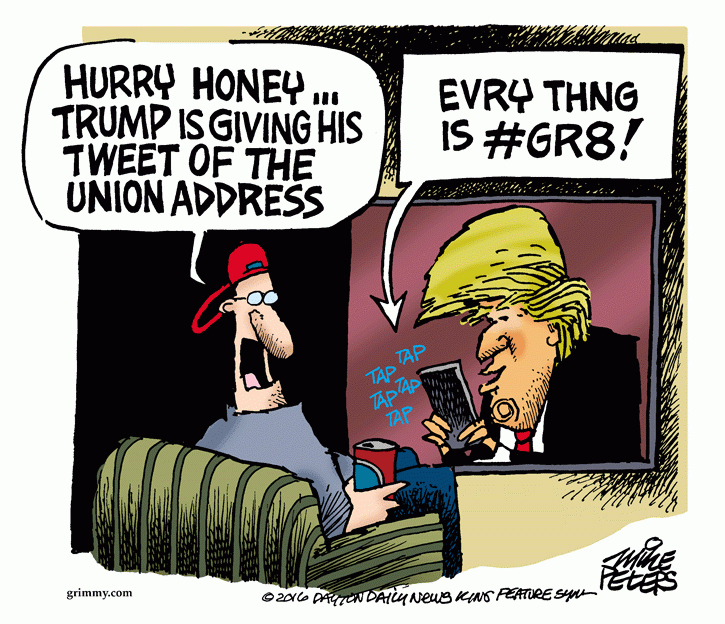 The Dems appear to be re-electing their loser team. Who thinks that leads to anything good?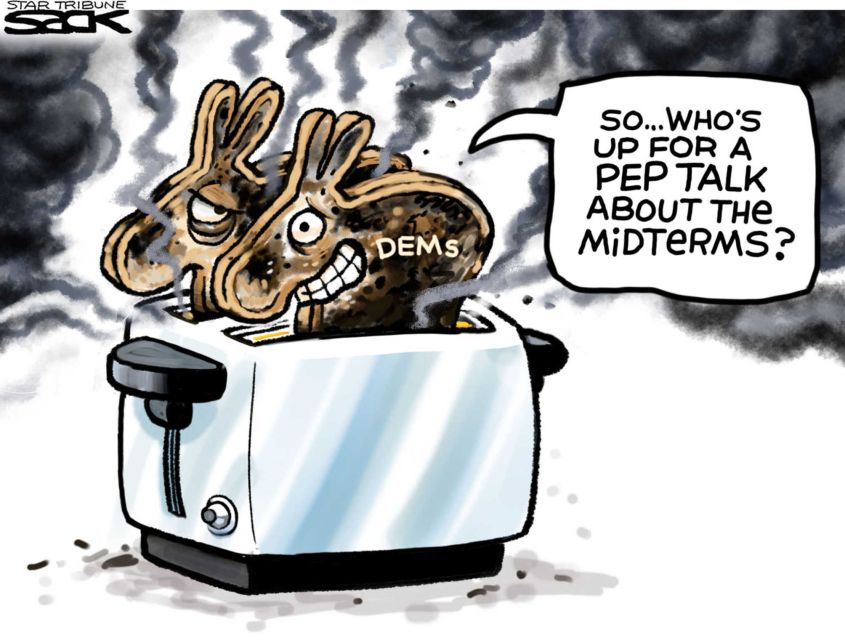 Chuck Schumer has been re-elected Senate Minority Leader. Nancy Pelosi will most likely be re-elected Minority Leader in the House. Yet, she totally missed the reality of what happened in the 2016 election. Here is her analysis of the election results: (emphasis by the Wrongologist)
We cannot be taking the full responsibility for what happened in the election…As far as we are concerned, the problem was more with the communication than it was with our policy…I believe the Comey letter was a foul deed…It was the wrong thing to do.
Not her fault? We hear all the time that elections have consequences. It's time for the consequences to rain down on Pelosi, among other Democrats.
Democrats gained only six House seats in the 2016 elections, meaning that they will remain in the minority for the fourth consecutive Congress under Pelosi's leadership. And the 30 or so Democratic Congresspersons who are now fighting Pelosi want to break the party's seniority rule, which guarantees senior leadership posts go to the longest-serving members.
This election proved that the Democrats have no bench of young politicos who can carry the party in 2018 and beyond. The question is: Who will be the face of Democratic opposition? Shouldn't it be someone most of America can relate to?
You know, someone who isn't an elderly rich San Franciscan.
Unlike the House GOP, where committee leadership depends on the Party's decisions, House Democrats assign committee leadership by seniority. The result is that the ranking committee Democrats stay in the jobs long enough to get very old. For example, Pelosi is 76. The Judiciary Committee's John Conyers is 87. Sandy Levin, on the Ways and Means Committee, is 85.
Nobody is saying that these are bad people, but the average age for ranking Democratic members is 68, compared to 60 for House Republicans.
It's time for new ideas and younger blood to run the Democratic leadership.
She's gotta go.