(See below for the Daily Escape)
While America's focus has been on the Orange Overlord's blizzard of executive orders, and his public love-making with Putin, we were distracted from some of the actions by the GOP's Congressional worms who are intent on chewing through our regulatory protections.
Did you feel burdened by a Security and Exchange Commission (SEC) rule requiring that American corporations doing business overseas reveal how much money they're spending in foreign countries? This is called the Resource Extraction Rule, and apparently, it has been a terrible burden for Exxon and other oil firms.
VOX reported that, on the same day the Senate confirmed Rex Tillerson as Secretary of State, the House voted to kill a transparency rule for oil companies that Tillerson once lobbied against while CEO of Exxon Mobil. Now it's on to the Senate and the Orange Leader for action:
Using the little-known Congressional Review Act, the House GOP voted on Wednesday to kill an Obama-era regulation that would require publicly traded oil, gas, and mining companies to disclose any payments that they made to foreign governments, including taxes and royalties.
The Resource Extraction Rule is part of the 2010 Dodd-Frank Act. Back then, senators from both parties included a provision requiring greater disclosure from mining and drilling companies' activities abroad. The hope was to cut down on corruption in resource-rich developing countries by increasing transparency.
Over the past six years, the SEC tried to craft a rule that would give the legislation teeth. But the SEC's first attempt at regulation was struck down by the courts in 2012. The rule didn't actually get finished until June 27, 2016. As Charlie Pierce says: (emphasis by the Wrongologist)
In other countries, resource extraction is a polite way of describing corruption and bribery on a grand scale, and it's also a dead serious matter for local activists who are trying to take on international corporations and their native plunderers in local government.
Remember the Congressional Review Act (CRA). It is the mechanism the GOP will use to undo much of what the Obama administration did in the areas of corporate responsibility and environmental justice.
At its core, the CRA states that any "recent" regulation (the Act's definition of recent means it only applies to those passed by the Obama administration after June, 2016) can be repealed by a majority vote of both houses of Congress. Any repeal vote taken by the Senate cannot be filibustered, and the list includes more than 50 Obama-era regulations.
So far, the Stream Protection rule that restricted coal companies from dumping debris and waste into nearby waterways has been revoked, along with the Social Security gun rule that prevented mentally impaired persons from buying guns.
Now, they've gutted the Resource Extraction rule.
Under the CRA, the SEC is barred from crafting a new rule that has "substantially the same form" as the repealed regulation. So, Congress has thrown a rose to the oil and gas and mining industries that will be difficult to reverse.
Despite GOP concerns, similar rules are in place in the European Union. Reporting by the United Kingdom, France, Norway and Canada shows $150 billion in payments to governments in more than 100 countries.
Sounds like something citizens should know about.
The GOP's argument is that American oil and gas companies need to make these under-the-table payments, in order to compete in third world countries.
This is America under the GOP: We can't afford to provide the world's best education to our kids. We can't afford to take care of our elderly, but we absolutely must have policies that allow Exxon and friends to bribe foreign governments.
The Daily Escape: The National Library of China, in Beijing's educational district.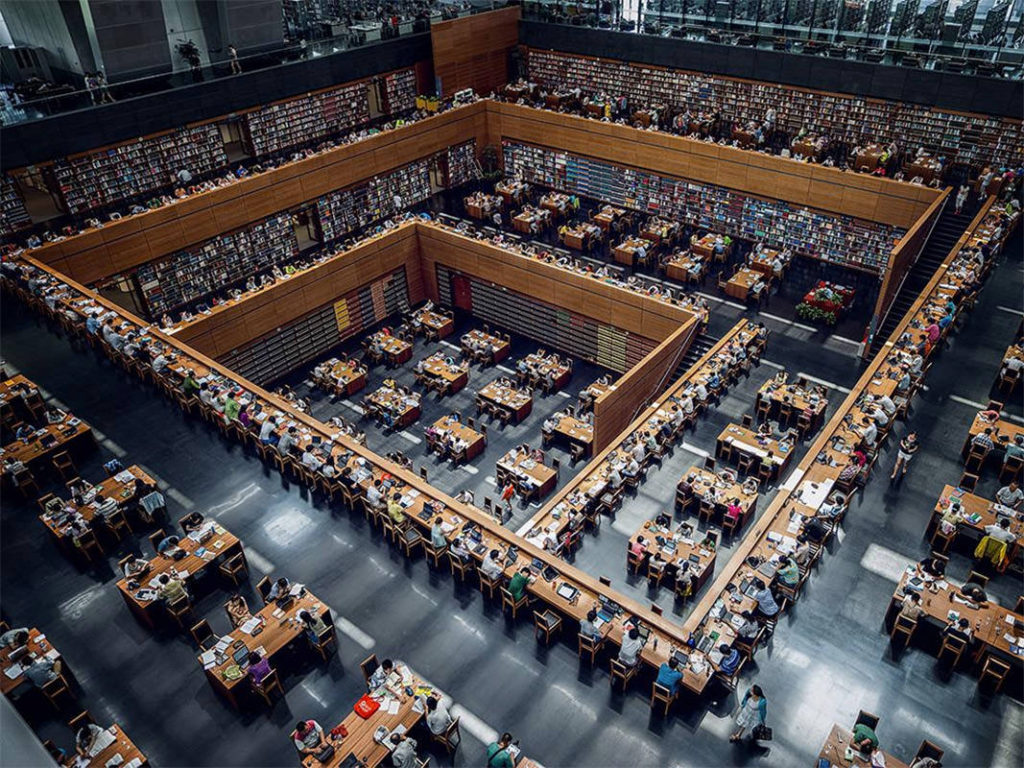 (Image by Tian-yu Xiong for the National Geographic)