The Daily Escape: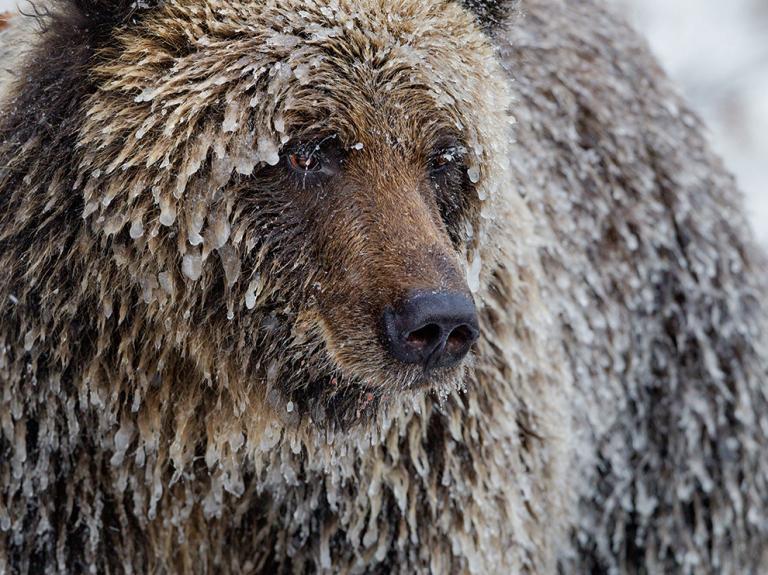 (Yukon Bear before hibernation)
The Trump administration has drafted preliminary economic growth forecasts for its federal budget planning that rely on assumptions that are far rosier than projections made by independent agencies and most private forecasters, according to several people familiar with the discussions.
Imagine. The Trump Team ordered government economists to cook up rosy economic forecasts upon which to base the latest Republican fantasy sales pitch about trickledown economics.
Trump's "the economy will be great" promises made during the election are now turning into policy and legislation. The problem is that the future they are cooking up for us is most likely unobtainable. Consider that recent GDP growth has been around 2%, while Trump is telling us to expect growth of between 3.0% and 3.5% for the next 10 years. But the Trumpets have a plan:
Trump officials believe a regulatory rollback and a tax-code revamp will unleash growth that drives a recovery in productivity, sends business investment higher and draws idled workers back to the labor force. They also assume interest rates would remain low because the US would become a more attractive place to park money.
Most economists believe sustained growth at more than 3% will be difficult to achieve unless there is a sharp rebound in productivity growth, while the US labor force also grows. Few are projecting that both of those will happen. Worker productivity growth has slowed to 0.7% a year since 2010, a sharp slowdown from rates exceeding 3% in the late 1990s and early 2000s.
So the simultaneous equations to achieve growth include increased spending on military and infrastructure, tax reform, cuts in regulations, and not touching granny-starver Paul Ryan's favorite target of cuts to Social Security and Medicare.
The WSJ says that the Trump team gave the Council of Economic Advisers (CEA) staff the growth targets that their budget should produce, and asked them to backfill other estimates to justify those numbers.
Business school logic says that could work if the baseline target is realistic. Matt Yglesias at Vox points out that under Trump's budget, the deficit would be larger; but the economy would be 17% larger and therefore, the deficit as a percentage of GDP would be smaller (perhaps small enough for the GOP to again say "deficits don't matter?").
So, Trump has an overly optimistic budget based upon phenomenal growth which no one else believes will happen, and he will hand off this budget grenade to Congress. If Congress balks, or does not find a way to make Trump's budget happen, accusations will be tweeted from The White House regarding how Congress can't get anything done.
It will be everybody's fault except the Donald's.
This reminds Wrongo of his days in the Fortune 500. Corporate HQ orders an extremely aggressive budget number. The number is missed, and people are terminated. Things continue to slide, and a new CEO is hired, who gets another "stretch" budget that is again missed.
How many times do we need to watch this movie? Trump has declared bankruptcy six times.
Will this make seven?
Here is Alex Dezen with "A Little Less Like Hell":
Lyric:
Tell me who I gotta talk to
Tell me who I gotta kill
Just to make this place
Feel a less like hell